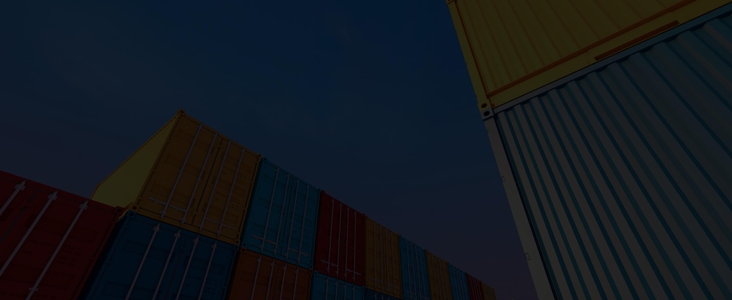 Container Shipping to Indonesia
FCL and LCL freight forwarding: information and online quotes
Effortless Shipping
Real-Time Tracking
24X7 Customer Support
Updated on 29 Aug 2022
11 min read
As an island archipelago, Indonesia impresses the global market with its contributions in e-commerce and potentially booming import economy. It is expected that the e-commerce market in Indonesia will continue to grow, increasing import traffic in the island archipelago.
If you are in the e-commerce business or you want to expand your reach and import to Indonesia, you have a lot of options and can ship from almost any country and origin. Ocean and air freight lanes are the most common ways to ship containers to Indonesia.
In this article, we outline everything you need to know about shipping a container to Indonesia, including your ocean lane shipping options, routes, cost, transit time, and more.
What are your options for container shipping to Indonesia?
To ship a container to Indonesia, you will need to engage ocean freight shipping services, which are more economical but may be slower compared to air freight. Nevertheless, the pros outweigh the cons.
When shipping via ocean freight, you can opt for either less than container load (LCL) or full container load (FCL) shipping.
Less than Container Load (LCL) to Indonesia
Less than Container Load (LCL) shipping is the most common option selected when importing to Indonesia. In this freight service, your goods will be consolidated with other consignments from different sellers. After consolidation, these will fill a 20-foot unit and be shipped together to the destination country.
Because LCL requires consolidation and ships several consignments at once, it's a very economical option but can take longer compared to FCL shipping. When shipping LCL, you need to make sure that your cargo does not occupy half of the container.
Full Container Load (FCL) to Indonesia
If you want your cargo to arrive at Indonesia faster or your goods require isolation, you can ship via FCL or full container load. In this ocean freight option, you are essentially paying for the space in an entire container. The plus side is that you get to ship your goods in isolation as this shipping option does not require consolidation.
How much does it cost to ship a container to Indonesia?
There are a lot of things that must be considered to determine how much your shipment to Indonesia will cost. These include:
Nature of the goods
Ocean freight service chosen (LCL or FCL)
Weight of the goods
Volume of the goods
Distance between your port of origin to the destination port in India
Type of shipping service (door-to-door, port-to-port, etc.)
Most freight forwarders can provide you with an estimate of your shipping costs.
What type of cargo can be sent in a container?
While ocean freight shipping gives you more liberty as to the type of goods you can ship, you need to take into account the rules and restrictions of your destination country. Indonesia places burdensome restrictions on specified goods, some of which require a special importing license above the API requirement. These goods include, but are not limited to, the following:
Agriculture products
Beverages
Cosmetics
Electronic products
Food products
Footwear
Household appliances
Textiles
Toys
Aside from these goods that require a separate license to import, Indonesia also limits the quantity of import for certain goods, such as sugar products and poultry feeds.
How long does it take to ship a container to Indonesia?
Similar to determining the cost of your shipment, you also need to take a look at several factors to determine the transit time. Your cargo can reach Indonesia anywhere from 1 to 50 days, depending on factors such as:
Where your cargo is coming from/ point of origin
Shipping option selected (LCL or FCL)
Shipping route - whether direct or with multiple stops
Here are some estimated transit times per country of origin.
America to Indonesia
Canada-26 to 45 days
United States - 24 to 47 days
Europe to Indonesia
Belgium - 31 to 39 days
Denmark - 43 to 47 days
Finland - 49 days
France - 35 days
Germany - 33 to 37 days
Italy - 36 to 40 days
Lithuania - 50 days
Netherlands - 39 days
Norway - 49 days
Poland - 40 days
Portugal - 43 days
Russia - 22 to 45 days
Slovenia - 32 to 33 days
Spain - 28 to 45 days
Sweden - 34 to 40 days
United Kingdom - 29 to 45 days
Africa and the Middle East to Indonesia
Morocco - 40 days
Saudi Arabia - 14 to 31 days
United Arab Emirates - 17 to 22 days
Asia and Oceania to Indonesia
Australia - 9 to 15 days
Bangladesh - 10 to 12 days
China - 7 to 32 days
Hong Kong - 6 to 10 days
India - 14 days
Japan - 9 to 15 days
Malaysia - 2 to 8 days
New Zealand - 24 days
Philippines - 9 to 11 days
Singapore - 1 to 5 days
South Korea - 10 to 14 days
Sri Lanka - 11 days
Taiwan - 7 to 12 days
Thailand - 5 to 6 days
Vietnam - 2 to 9 days
What container capacity do I need for my cargo to Indonesia?
When shipping via ocean freight, your cargo can be placed in 20-foot or 40-foot standard-sized containers. If you select LCL, it is recommended that your goods do not occupy more than half the container as it will become less cost-efficient than simply selecting FCL. LCL is a good option for goods with a volume of up to 15 CBM. If your goods are more than that, check the prices between FCL and LCL and see which one is more advantageous. More often than not, FCL shipments will be faster but more expensive than LCL.
If you'll be shipping via FCL, you don't need to worry about the size of your cargo. Your goods will be shipped in isolation, so you can ship goods that either occupy the entire standard unit or not. The only limit is that the goods should not exceed 20 tonnes for 20-foot containers or 30 tonnes for 40-foot containers.
Which mode of ocean shipping should I choose, FCL, LCL, or Break Bulk?
FCL, LCL, and breakbulk are all ways you can get your container from the origin country to Indonesia. Here are some tips to help you choose which one best suits your priorities and shipment concerns.
Less Than Container Load (LCL) Shipping to Indonesia
LCL is the right choice for you if:
Your goods are small in size or you are shipping in small quantities
Your cargo is less than half of a standard 20-foot or 40-foot container
Your cargo can be consolidated with other shipments
Your cargo is not fragile or delicate and can withstand frequent handling
Your goods are not needed in Indonesia at a specified time
Full Container Load (FCL) Shipping to Indonesia
On the other hand, FCL is best for you if:
You are shipping in large quantities
Your cargo is fragile and requires careful handling
Your cargo is bulky, heavy, or large
Your cargo requires isolation
Your goods are expected in Indonesia at a specified time
Break Bulk
For shipments that cannot fit a standard container, you can opt for breakbulk shipping, where your goods will be shipped individually and in separate containers.
Customs Clearance in Indonesia
Before shipping to Indonesia, you need to be aware of some customs regulations. Importers seeking to bring their goods into the Indonesian border need to register themselves as an importer. This is done by:
Obtaining a customs identification number or NIK from the Indonesian Directorate General of Customs and Excise.
Getting an Importer Identification Number or API, which is a license to import to Indonesia.
This is on top of other customs requirements, which generally include:
Commercial invoice
Letter of credit/ other payment terms depending on the contract between the parties
Packing list
Certificates of origin
Importer and exporter code obtained from the Indian Directorate General of Foreign Trade
Bill of lading or airway bill, which will be provided by Shipa Freight
Other documents, depending on the nature of goods being shipped.
Shipping a container to Indonesia can be a difficult and confusing process, what with all the customs clearance requirements. It's highly recommended that you engage a reliable freight forwarder who can help you navigate the ins and outs of your shipment.
For a comprehensive list of customs clearance requirements and examples, see our full documents list.
Which Incoterms would be the right choice for my shipment?
Importers and buyers can be protected by using the right Incoterms, which will help determine their responsibilities and liabilities throughout the shipment process.
Best Incoterms for Exporters
CPT (Carriage Paid To): The seller brings the goods to the agreed destination, and carries out a contract of carriage. They are liable until they have been handed to the carrier.
CIP (Carriage and Insurance Paid To): The responsibilities and liabilities are the same as in CPT, but with the added requirement to obtain insurance.
DAP (Delivered At Place): The seller must deliver the goods to the buyer's selected location and is responsible for the majority of the shipping process.
DDP (Delivery Duty Paid): The seller holds responsibility from the beginning to the end of the shipping process. This leaves the buyer with minimal responsibilities.
FCA (Free Carrier): The seller delivers the goods to the carrier and shoulders the costs of customs.
Best Incoterms for Importers
FCA (Free Carrier): The seller delivers the goods to the carrier and shoulders the costs of customs
EXW (Ex Works): Perfect for first-time sellers and importers, the EXW Incoterm puts more responsibility on the buyer's part, from picking up the goods to arranging transport.
Processes to follow to ship a container to Indonesia
Engage a freight forwarder: Freight forwarders are more knowledgeable about the ins and outs of shipping to Indonesia. They can help you make your shipping experience more seamless and stress-free.
Consolidation: Applicable in LCL shipping, consolidation is when your cargo is grouped with consignments from other sellers.
Fumigation: This process is conducted by a professional, with approval from a licensing authority. It is done to get rid of pests, termites, and other harmful organisms in containers.
Deconsolidation: Applicable in LCL shipping, consolidated cargo will be deconsolidated upon arrival.
Customs Clearance: Before import becomes successful, the goods need to go through customs clearance. This is usually a quick process, provided that you have the proper and complete documents. Pick Up or Delivery: Your cargo is ready for pickup or delivery, according to the service you have selected.
Main container ports of arrival in Indonesia
The Port of Jakarta is more popularly known as the Tanjung Port. It is located in the North of Jakarta and is currently under development to be equipped to move the largest container ships. The Port of Jakarta is one of the busiest ports in Indonesia, owing to its advanced technology, facilities, and contribution to Indonesia's cargo traffic.
Owned By: Indonesian Port Corporation (IPC) Annual Container Volume: > 6.59 million TEUs UN/LOCODE: IDJKT
The Port of Surabaya is also known as the Port of Tanjung Perak. It ranks second among the busiest seaports in Indonesia and serves as the center of inter-land shopping for East Indonesia. Surabaya is located in East Java, a strategic location for an ocean port.
Owned By: PT Pelabuhan Indonesia III Annual Container Volume: > 3.86 million TEUs UN/LOCODE: IDSUB
Also known as Port of Tanjung Emas, the Port of Semarang is located in Semarang Indonesia, which is the capital of Java. The Port of Semarang has a long history of import and export practices, known for the export of sugar and agricultural products in the nineteenth century.
Owned By: PT Pelabuhan Indonesia III Annual Container Volume: > 731,289 TEUs UN/LOCODE: IDSRG
Why Ship a Container to Indonesia With Shipa Freight?
Shipa Freight is a trusted freight forwarder who can help you ship your container to Indonesia. We have a digital-first platform that makes it extremely easy and stress-free for you to send cargo anywhere around the world. Enjoy the convenience of our platform for the following services and more:
Online freight quotes
Booking
Tracking your shipment
Payment
We aim to make your shipping experience as easy and convenient as possible. Get started right now and get your free quote for shipping your container to Indonesia.