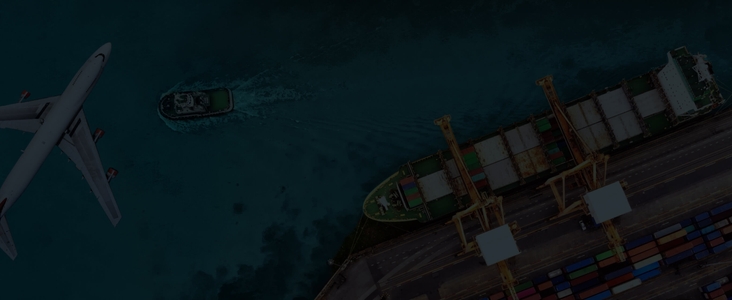 Container Shipping to Australia
FCL and LCL freight forwarding: information and online quotes
Effortless Shipping
Real-Time Tracking
24X7 Customer Support
Updated on 29 Aug 2022
11 min read
Millions of cargo arrive in Australian ports each year, with businesses expanding their reach to the country and importing their products to the Australian market. Container ships are the primary transporters of inbound freight to Australia.
Whether you have a business branch in Australia or you're importing products for an Australian buyer, being aware of freight rules, requirements, and options to send your cargo to Australia will help you achieve a more seamless shipping experience.
In this complete guide, we outline everything you need to know when shipping a container to Australia, including your freight options, customs clearance requirements, types of goods you can import, and more.
What are your options for container shipping to Australia?
To ship a container to Australia, you need to choose ocean freight services. Under this freight option, you can avail of either less than container load (LCL) or full container load (FCL) shipping.
Less than Container Load (LCL) to Australia
If you are shipping in small quantities or your cargo does not take up more than half the capacity of a standard 20-foot container, you can ship it via LCL. In this freight service, your cargo will be consolidated with shipments from other sellers to fill an entire container.
Because of this, there is a tendency for the delay with LCL shipping as the vessel will need to wait for the container to be filled before it can begin its journey to Australia. However, if time is not of the essence, LCL can be an economical choice.
Full Container Load (FCL) to Australia
FCL shipping is ideal for those shipping in large quantities or cargo with a large volume. However, FCL shipping can also accommodate small goods. In this freight option, you shoulder the costs of an entire 20-foot unit and your cargo will be shipped alone. This means that the departure and transit time for your container will be relatively faster than in LCL.
How much does it cost to ship a container to Australia?
To determine the cost of your shipment to Australia, you need to look at several factors, including:
The nature of the goods you are shipping
Your freight service option: LCL or FCL
The volume and weight of your goods
The distance between the point of origin and destination port
The shipping service selected (port-to-port, door-to-door, etc.)
A freight forwarder can give you an accurate estimate of your shipment. Visit the Shipa Freight website to get a free quote today.
What type of cargo cannot be sent in a container to Australia?
Container shipping allows you to ship more types of goods compared to air freight, which has limiting regulations as to the type of cargo that can be transported via plane. However, you need to be aware of the restricted and prohibited imports set forth by the Australian Customs and Border Protection Service. Some goods subject to import restrictions in Australia include:
Anabolic or androgenic substances
Antibiotics
Asbestos
Dog and cat fur products
Glazed ceramic ware
Chewing tobacco
Cigarette lighters
Cosmetics with toxic materials
Crowd control equipment
Cultural heritage goods
Daggers and knives
Electric fly swatters
Endangered animal and plant species
Firearms and ammo
Fish
Growth hormones
Ice pipes
Incandescent lamps
Laser pointers
Narcotics
Novelty erasers
Ozone depleting substances
Pencils with toxic material contents
Pesticides and other hazardous chemicals
Plastic explosives
Pornography
Protrusion-type dog collars
Rough diamonds
Security sensitive ammonium nitrate
Signal jamming devices
Substances originating from humans and animals
Suicide devices
Synthetic greenhouse gases
Tablet presses
Therapeutic substances and drugs
Toys with toxic material contents
Unmanufactured leaf tobacco
Warfare goods and weapons
A more comprehensive list can be found on the Australian Customs and Border Protection Service website.
How long does it take to ship a container to Australia?
The length of transit for your goods will depend on various factors, but primarily the origin of your shipment. The further the port of origin, the longer the transit time. On average, you can expect your goods to arrive in Australia anywhere between 8 to 64 days. Below are more accurate transit time estimates categorized by point of origin.
America to Australia
Canada - 26 to 45 days
Columbia - 20 days
Panama - 18 days
United States - 28 to 59 days
Europe to Australia
Belgium - 44 to 58 days
Germany - 55 to 57 days
Slovenia - 34 to 51 days
Spain - 41 to 64 days
Sweden - 49 to 57 days
United Kingdom - 39 to 53 days
Asia to Australia
Bangladesh - 21 to 23 days
China - 15 to 33 days
Hong Kong - 13 to 22 days
Indonesia - 13 to 24 days
Japan - 19 to 33 days
Malaysia - 13 to 23 days
Philippines - 19 to 22 days
Singapore - 8 to 19 days
South Korea - 20 to 33 days
Taiwan - 15 to 19 days
Thailand - 15 to 24 days
Vietnam - 14 to 23 days
What container capacity do I need for my cargo to Australia?
If your goods weigh less than 100 kg and have a volume of less than 1 CBM, you can consider shipping via air freight. However, do keep in mind that freight forwarders do not handle shipments of goods less than 35 kg. In these instances, engaging an international courier service is recommended.
If you choose to ship your container via LCL freight services, your cargo should not occupy more than half of the standard 20-foot or 40-foot container. Typically, LCL shipments have a volume of up to 15 CBM and occupy no more than six standard pallets. Beyond 15 CBM, FCL becomes a cost attractive alternative.
On the other hand, with FCL shipping, the only volume limitation is what you can fit in the container. The only limit is that the cargo should weigh more than 20 tonnes for a 20-foot container and 30 tonnes for a 40-foot container.
Which mode of ocean shipping should I choose, FCL, LCL, or Break Bulk?
The shipping method you choose for ocean freight would depend on factors like the nature of the goods you are shipping, the size and volume of your cargo, and your priorities when it comes to the shipping duration, costs, etc.
Less Than Container Load (LCL) Shipping to Australia
You should choose less than container load shipping if:
You are shipping in small quantities
Your cargo does not occupy more than six standard pallets or half the capacity of a container
Your cargo is not delicate, perishable, or fragile and can withstand frequent handling and consolidation
Your shipment is not urgent and you can afford the slightly longer transit time caused by the process of consolidation and deconsolidation
Full Container Load (FCL) Shipping to Australia
Full container load shipping may be more ideal for you if:
You are shipping in large quantities or your cargo has a large volume
Your cargo is heavy and bulky
Your cargo requires minimal and careful handling
Your cargo is better off isolated in a single container
Your cargo is fragile and delicate
You need a shorter transit time than LCL can offer
Break Bulk
Shipments that cannot fit in a single container can be sent via breakbulk shipping where instead of the usual intermodal container shipment, your goods will be transported individually and in separate containers.
Customs Clearance in Australia
Australia has unique customs clearance requirements, especially for commercial importers. For goods that are more than $1,000 AUD in value, you need to provide an import declaration form to the Australian customs authorities. There are two types of declarations that commercial importers need to make when shipping to Australia, depending on their unique shipping circumstances:
Warehouse Declaration (N20): Must be completed if you will be sending your imported goods to an Australia-based warehouse licensed by Australian customs
Import Declaration (N10): Must be completed if the goods will be forwarded directly to your facilities in Australia or to the facilities of your customers.
These declarations can be made either in paper form or through Australia's online integrated cargo system (ICS). Aside from the declaration forms, you should also provide standard customs documents that may be required. These include:
Commercial invoice
Letter of credit/ other payment terms depending on the contract between the parties
Packing list
Certificates of origin
Importer and exporter code obtained from the Indian Directorate General of Foreign Trade
Bill of lading or airway bill, which will be provided by Shipa Freight
Check our documents list to learn more about the customs clearance paperwork you need to complete and see examples.
Which Incoterms would be the right choice for my shipment?
Not sure which Incoterms to use for your shipment? Knowing the right one can help protect you against liability throughout your shipping experience. Here are some of the best Incoterms to use.
Best Incoterms for Exporters
CPT (Carriage Paid To): You, as the seller, will be responsible for bringing the goods to the agreed destination and bear all risks until the goods have been handed over to the carrier. Under this Incoterm, you are also in charge of carrying out a contract of carriage.
CIP (Carriage and Insurance Paid To): This Incoterm is similar to CPT, except with the added responsibility on your part to create a contract of insurance.
DAP (Delivered At Place): Under the DAP Incoterm, you must deliver the goods to the buyer's chosen location, making you responsible for the majority of the shipping and transportation process.
DDP (Delivery Duty Paid): The DDP Incoterm puts most transport responsibilities on you from beginning to end with minimal liabilities on the buyer.
FCA (Free Carrier): You should deliver the goods to the carrier nominated by the buyer and bear the responsibility for customs costs. This is best used for containerized cargo.
Best Incoterms for Importers
FCA (Free Carrier): You should deliver the goods to the carrier nominated by the buyer and bear the responsibility for customs costs. This is best used for containerized cargo.
EXW (Ex Works): More responsibility is put on the buyer in the EXW Incoterm, obligating them to pick up the goods at your premises.
Processes to follow to ship a container to Australia
The first step of shipping a container to Australia is looking for a freight forwarder who can help you with your import. A freight forwarder knows the ins and outs of shipping to the destination country and can help your shipment go smoothly.
Once you have registered your shipment, it's time to load the goods into the container at your port of destination. If you selected LCL shipping, your goods will be consolidated with other consignments.
When all goods have been loaded, the fumigation process begins to kill pests, insects, and other harmful living organisms that may damage the goods and transfer diseases. This is done by a certified fumigator with approval from the right licensing authority.
Once the goods arrive in Australia, LCL shipments will undergo deconsolidation. This is followed by customs clearance. If you provide all the required documents, customs clearance should be a breeze and run quickly.
When the goods have been cleared for import, they can now be picked up in the destination port or delivered to the buyer's destination.
Main container ports of arrival in Australia
The Port of Melbourne is the largest maritime hub in Australia, mainly handling containerized and general cargo. The port is considered one of the economical assets in the country, especially in the areas of Victoria and South East Australia. All types of cargo are accommodated, including dry, liquid, and breakbulk.
Owned By: Victorian Ports Corporation Annual Container Volume: > 2.88 million TEUs. UN/LOCODE: AUMEL
The Sydney Harbour is a highly acclaimed port, thriving in maritime activities and contributing to the economic development of Sydney, Australia. It is considered the busiest waterway in the country, accommodating over 1,200 large commercial vessels annually. The Sydney Harbour moves 212 million tonnes of cargo each year.
Owned By: New South Wales Government Annual Container Volume: > 2.5 million TEUs. UN/LOCODE: AUSYD
Hailed as Australia's largest capital city port, the Port of Brisbane is one of the fastest-growing container ports in Australia. It ranked as the third busiest port in the country, handling over 31 million tonnes of trade annually.
Owned By: APH Consortium Annual Container Volume: > 1.3 million TEUs. UN/LOCODE: AUBNE
Why Ship a Container to Australia With Shipa Freight?
Working with a freight forwarder is highly recommended to ensure that your shipment to Australia goes smoothly and ends successfully. Shipa Freight can help you ship your container to Australia with more ease and confidence through our digital platform that offers thousands of freight routes, online booking options, shipment tracking features, and more.
We help businesses of all sizes with their shipping needs. Enjoy hassle-free shipping, online navigation, 24/7 customer support, and more. Ready to get started? Get your free quote today.