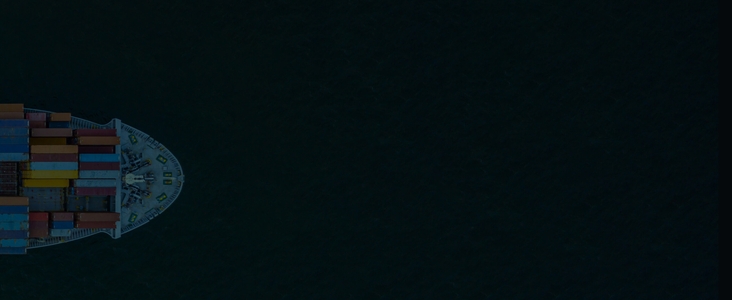 Container Shipping to India
Get information and online quotes for FCL and LCL shipping
Effortless Shipping
Real-Time Tracking
24X7 Customer Support
Updated on 29 Aug 2022
12 min read
India is slowly but surely positioning itself as a hub that's friendly to international businesses, undertaking efforts to simplify their import and export procedures. This presents a world of opportunities for sellers to reach the Indian market.
If you are planning to ship a container to India and expand your business in the country, here is everything you need to know about shipping to India. Learn your options, customs requirements, Incoterms, and more in this complete guide.
What are your options for container shipping to India?
Shipping a container to India would require the services of ocean freight. Your goods will be sent by sea, either through less than container load (LCL) or full container load (FCL). These two freight options differ in terms of how your goods are shipped, the duration of shipment, and costs.
Less than Container Load (LCL) to India
In less than container load (LCL) shipping, your goods should not occupy half of an entire 20-foot unit. This is perfect if you're looking to ship in small quantities or your cargo does not exceed the recommended size for LCL. In this mode of ocean freight, your goods will be consolidated with other consignments upon loading and deconsolidated upon unloading to fill the entire container capacity.
Because of this procedure, LCL shipping can take a little longer than FCL shipping because the vessel will have to wait for other goods to consolidate with yours before it begins transit. However, you get to enjoy lower costs because you're sharing the space and transport costs with other shippers.
Full Container Load (FCL) to India
Full container load shipping, on the other hand, is ideal for bigger cargo or if you're shipping large quantities. In FCL, you shoulder the cost of the entire 20-foot unit but your cargo will be shipped alone, enabling the vessel to leave immediately and get your cargo to India a little faster compared to LCL.
How much does it cost to ship a container to India?
The cost of shipping a container to India would depend on a variety of factors, including:
Nature of the goods
Ocean freight service chosen (LCL or FCL)
Weight of the goods
Volume of the goods
Distance between your port of origin to the destination port in India
Type of shipping service (door-to-door, port-to-port, etc.)
It's also worth noting that shipping to India is relatively more expensive than in other countries because of inflated duty tariff rates.
What type of cargo can be sent in a container to India?
An advantage that you have by opting for ocean freight shipping is that you have more liberty in terms of the types of goods you're looking to ship in a container to India. However, you should be aware of the restricted and prohibited goods for importation set forth by the regulations of the destination country. The Directorate General of Foreign Trade website has a full list of restricted and prohibited goods, but below are some examples.
Restricted Goods
Cardamom, mace, and nutmeg
Jewelry
Maps
Modems and phones
Oil products
Perishable goods
Prohibited Goods
Alcoholic drinks
Animal products
Circuit boards
Coffee
Fire extinguishers
Prescription and non-prescription drugs
How long does it take to ship a container to India?
Depending on the destination of the cargo and the shipping option you select, the transit time of your shipment would differ. It can take anywhere from five to 58 days for your cargo to arrive in India. Keep in mind that transit times can differ also depending on whether your shipment route is direct or has multiple stops. Below are the estimated transit times according to the country of origin.
America to India
Canada - 50 to 58 days
United States - 30 to 54 days
Europe to India
Belgium - 33 to 43 days
Croatia - 33 to 39 days
Denmark - 22 to 35 days
France - 26 to 33 days
Germany - 22 to 35 days
Greece - 19 to 30 days
Italy - 23 to 33 days
Lithuania - 44 to 55 days
Netherlands - 33 to 35 days
Norway - 33 days
Poland - 36 to 40 days
Slovenia - 29 to 31 days
Spain - 24 to 43 days
Sweden - 36 to 50 days
Ukraine - 34 to 41 days
United Kingdom - 29 to 50 days
Asia and Oceania to India
Australia - 15 to 36 days
China - 11 to 27 days
Hong Kong - 11 to 22 days
Indonesia - 11 to 24 days
Japan - 19 to 29 days
Malaysia - 5 to 11 days
New Zealand - 27 to 38 days
Philippines - 17 to 23 days
Singapore - 5 to 10 days
South Korea - 17 to 23 days
Taiwan - 13 to 21 days
Thailand - 13 to 20 days
Vietnam - 11 to 23 days
What container capacity do I need for my cargo to India?
Shipping containers for ocean freight come in 20-foot and 40-foot standard sizes. LCL shipping is ideal for cargo up to 15 CBM. For any shipment below 100kg it is recommended to look at air freight as the offer may be similarly priced. On the other hand, if your cargo exceeds the volume of 15 CBM, considering FCL shipping may provide a more cost-effective solution
For FCL shipping, you don't need to worry about the size or volume of your cargo. Because you are paying for the space of an entire 20-foot or 40-foot container, you can ship in any size or quantity that can fit the standard unit. The only limitation is with the weight, 20 tonnes for a 20-foot container and 30 tonnes for a 40-foot container.
Which mode of ocean shipping should I choose, FCL, LCL, or Break Bulk?
Your needs and priorities matter when determining what mode of shipment you should choose to get your cargo from its origin to your destination port in India. Here are some tips to help you make your decision between LCL, FCL, or breakbulk shipping.
Less Than Container Load (LCL) Shipping to India
Shipping to India via LCL is most ideal if:
You are shipping in small quantities
Your cargo does not occupy half of an entire 20-foot or 40-foot container for cost efficiency purposes. Otherwise, you should consider shipping via FCL instead.
Your cargo can withstand frequent handling
Your cargo is suitable to be shipped with other consignments
Your goods are not needed in India at a specified time
But if the following are true, you should not choose LCL shipping and instead should opt for other options:
Your cargo is large, heavy, or bulky
Your cargo is fragile
Your cargo requires careful and minimal handling
Your cargo is better off in isolation to prevent damage
Your goods are expected in India at a specified time.
Full Container Load (FCL) Shipping to India
Full container load is best for cargo that meets the following conditions:
Delicate or fragile
Too heavy for air freight
Expected in India at a specified time
Requires minimal handling or isolation
Break Bulk
If your cargo cannot fit in a 20-foot or 40-foot container, it will have to be shipped via breakbulk shipping. In this mode of shipment, your goods will be transported individually instead of the usual intermodal container shipment.
Customs Clearance in India
Because India is undertaking efforts to make imports easier, the process of customs clearance has become more simplified. Import licensing for many categories of consumer products has been eliminated and import clearance facilities are being developed to improve procedural transactions.
India boasts of an electronic data interchange system that your freight forwarder can use as a platform to submit declarations in advance to speed up the clearance process when your goods arrive at the border. Import declarations for container shipping to India also include guidelines that allow you to determine the duties and taxes payable upon import and pay them electronically.
These new rules make importing to India much easier and more hassle-free. But as with other countries, there are documents that you need to provide to ship to India to meet customs clearance requirements.
These include:
Commercial invoice
Letter of credit/ other payment terms depending on the contract between the parties
Packing list
Certificates of origin
Importer and exporter code obtained from the Indian Directorate General of Foreign Trade
Bill of lading or airway bill, which will be provided by Shipa Freight
Other documents may be required depending on the nature of the goods you are shipping. For a more comprehensive list and examples of customs clearance requirements, visit our full documents list.
Which Incoterms would be the right choice for my shipment?
Knowing the right Incoterms to use for your shipment can help properly determine liability in case of damage to or loss of the goods. Being aware of the Incoterms that apply to your shipment and which one is most suitable to use can protect you as an importer.
Best Incoterms for Exporters
CPT (Carriage Paid To): The seller is responsible for bringing the goods to the agreed destination and bears all risks until the goods have been handed over to the carrier. Under this Incoterm, the seller is also in charge of carrying out a contract of carriage.
CIP (Carriage and Insurance Paid To): This Incoterm is similar to CPT, except with the added responsibility on the seller's part to create a contract of insurance.
DAP (Delivered At Place): Under the DAP Incoterm, the seller must deliver the goods to the buyer's chosen location, making them responsible for the majority of the shipping and transportation process.
DDP (Delivery Duty Paid): The DDP Incoterm puts most transport responsibilities to the seller from beginning to end with minimal liabilities on the buyer.
FCA (Free Carrier): The seller should deliver the goods to the carrier nominated by the buyer and bears the responsibility for customs costs. This is best used for containerized cargo.
Best Incoterms for Importers
FCA (Free Carrier): The seller should deliver the goods to the carrier nominated by the buyer and bears the responsibility for customs costs. This is best used for containerized cargo.
EXW (Ex Works): More responsibility is put on the buyer in the EXW Incoterm, obligating them to pick up the goods at the seller's premises. This is recommended for sellers who are not familiar with the ins and outs of importation.
Processes to follow to ship a container to India
Engage a freight forwarder: A reliable freight forwarder can help your shipment go smoothly, ensuring all customs requirements are met and your cargo gets from point A to B with minimal hassle.
Consolidation: If you select LCL shipping, your cargo will be consolidated with other consignments belonging to other shippers and loaded into one container.
Fumigation: The fumigation process is conducted before all containers begin transit to ensure that pests, termites, and other harmful organisms are killed. This process is conducted by a certified professional with approval from a licensing authority.
Deconsolidation: Upon arrival, cargo shipped via LCL will undergo deconsolidation.
Customs Clearance: The cargo needs to be cleared by India's customs authorities. This can go very smoothly as long as you have the required documents.
Pick Up or Delivery: Once the cargo has been cleared, it can be picked up by the authorized receiver. In case of door-to-door delivery, the cargo will be delivered to the specified destination.
Main container ports of arrival in India
The Nhava Sheva Port, more popularly known as the Jawaharlal Nehru Port, is located in Navi Mumbai India. It is the biggest container port in the country and accounts for more than half of the total volume of containerized cargo across India's major ports. It is considered the premier container port in the country and connects over 200 ports globally.
Owned By: Government of India Annual Container Volume: > 5.05 million TEUs. UN/LOCODE: INNSA
The Mundra Port is a major economic gateway that provides multimodal connectivity in Northern India. It is the country's largest commercial port and boasts of advanced infrastructure for faster evacuation of cargo and a shorter turnaround time. The Mundra Port handles the largest bulk vessels in the world.
Owned By: Adani Group Annual Container Volume: > 5.6 million TEUs. UN/LOCODE: INMUN1
The Haldia Port is located at the meeting point of the Haldi River and the Hooghly River in West Bengal, India. It is considered a major seaport and is currently undergoing development to become a trade port for bulk cargo. The fourth biggest port in India, the Haldia port handles large vessels and is equipped with a container-handling facility.
Owned By: India Ministry of Shipping Annual Container Volume: > 1.5 million TEUs. UN/LOCODE: INHAL
Why Ship a Container to India With Shipa Freight?
For container shipping to India, choose Shipa Freight as your freight forwarding partner. Catering to businesses and enterprises of all sizes, our digital services can help you ship with ease and confidence. There are a plethora of reasons you should work with us, including:
Vast global logistics network
Knowledge of import and export in India
Instant and accurate quotes for shipments around the world
Online booking and appointment
24/7 Customer Support
No customs difficulties
And more
Ready to ship with us? Get your free quote today.