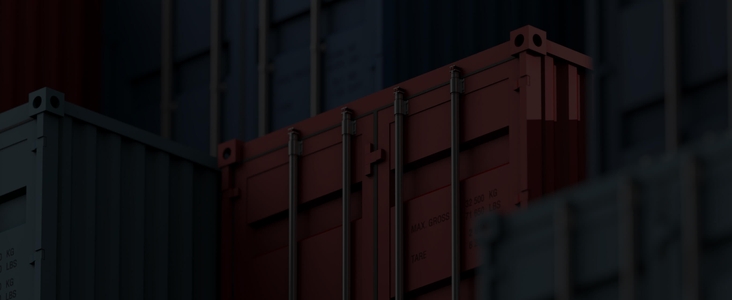 Container Shipping to China
Get information and quotes for FCL and LCL shipping
Effortless Shipping
Real-Time Tracking
24X7 Customer Support
Updated on 29 Aug 2022
12 min read
China is a big player when it comes to container imports and exports, setting a record volume of $2.75 trillion worth of imported goods in 2020. Container shipping via ocean freight is often the preferred option to get cargo to and from China.
In this article, we lay down everything you need to know about container shipping in China to help you get started with your shipments.
What are your options for container shipping to China?
For container shipping to China, your cargo will be transported by sea via ocean freight from a port of origin to a port in China. In this shipping option, your goods can be transported via Less than Container Load (LCL) or Full Container Load (FCL).
Less than Container Load (LCL) to China
If you are shipping goods in small quantities or sizes, you can opt for a less than container load shipping option. In this ocean freight service, your cargo will be shipped with those belonging to other shippers.
Consolidated, all cargos that fit any container will be shipped together to the destination port. Hence, LCL shipments can take longer to arrive. However, you can enjoy a cheaper shipping fee because you share the transport costs with other shippers.
Full Container Load (FCL) to China
On the other hand, if you are shipping large volumes of cargo, there is the option to ship using Full Container Load (FLC) ocean freight services. Your cargo, which should accommodate at least half the capacity of a 20-foot container, will be shipped alone. In essence, you pay for your accommodation of the full container and can have your goods shipped immediately.
This is also the ideal option for cargo that is fragile or requires more careful handling because your cargo will not be mixed with other shipments.
How much does it cost to ship a container to China?
The cost of shipping a container to China would depend on a lot of factors. These include:
The type of goods you are shipping
The ocean freight service you choose (either LCL or FCL)
The weight of your cargo
The volume of your cargo
The distance between your port of origin and port of destination in China
Whether you opt for port-to-port or door-to-door service
The time, the year, and other events (i.e. busy season, container shortage, blockage, accidents, etc.)
Among these factors, the one that influences the cost of your shipment the most is the volume of your cargo. If you are shipping cargo that weighs more than 100kg, ocean freight service is more recommended for your shipment. Huge quantities or sizes of cargo can be shipped via FCL. If your cargo is less than 100kg and has a small volume, then you might want to consider air freight as it provides at a sensibly similar price with a much better transit time.
Do note that a lot of freight forwarders, including Shipa Freight, don't accept consignments that are less than 35kg. In these instances, it is better for you to engage an international courier service instead.
What type of cargo can be sent in a container?
A full 20-foot container can hold goods equivalent to 300 shopping carts, which is 10 standard pallets or 11 Euro pallets! Unlike in air freight where there are a lot of goods and materials prohibited on planes, you have more liberty to ship any type of cargo you need to get from where you are to China.
Container cargo can accommodate anything from toys, televisions, clothing, gadgets, computers, etc. Commercial agencies typically make use of ocean freight to ship the following most common cargo:
Dried Food
LNG, CNG, and other gas-based fuels like crude oil, volatile fuels, petroleum
Cars and other vehicles
Machinery, equipment, and factory parts
Dry bulk cargo and any goods in loose quantities
How long does it take to ship a container to China?
The transit time for container shipping to China would depend on your ocean port of origin. Another factor that can affect the duration of your shipment is whether you are shipping via LCL or FCL. Below are average transit times to give you an idea of how long your shipment will take:
LCL Shipments: depending on your country and port of origin, LCL container shipments to China can take 11 to 50 days.
FCL Shipments: depending on your country and port of origin, FCL container shipments to China can take 4 to 51 days.
Country of Origin|LCL or FCL|Average Time| ------- | ---------------- | ---------------- |----------: United Kingdom|FCL|56 days Indonesia|LCL|18 - 26 days Indonesia|FCL|10 - 32 days United States|LCL|28 - 50 days United States|FCL|20 - 52 days Canada|LCL|21 - 37 days Australia |LCL|36 days Australia |FCL|19 - 28 days India|LCL|18 - 23 days India|FCL|19 - 68 days
What container capacity do I need for my cargo to China?
Containers usually come in a standard size of 20 foot per unit, but there are also larger containers measuring 40 foot. LCL freight services are more cost advantageous on your end if your cargo fits in less than six standard pallets or cargo with a volume of up to 15 CBM. Beyond those volumes, your LCL shipment's cost may come close to the one of FCL.
On the other hand, FCL freight services can ship any volume of cargo, regardless of whether it takes up the entire capacity of the container or not. It depends on you if you want to have the entire container to get your cargo to China. The only limit is that your cargo should not weigh more than 30 tonnes for 40-foot containers or 20 tonnes for 20-foot containers.
Which mode of ocean shipping should I choose, FCL, LCL, or Break Bulk?
The type of ocean shipping you should choose would depend on your needs and preferences. For the best choice, you first need to determine your priorities, i.e. how fast you want your cargo to arrive, your budget, and other key considerations. The pointers below can help you make an informed decision.
Less Than Container Load (LCL) Shipping to China
LCL freight shipping is right for you if:
You are shipping in small quantities
You don't mind your cargo being shipped with consignments belonging to other shippers
The shipment to China is not urgent
On the other hand, you should not choose LCL if:
Your cargo is big or heavy
Your cargo is fragile or delicate
Your cargo cannot withstand excessive handling and movement
You need your cargo to arrive fast
Full Container Load (FCL) Shipping to China
You can opt for FCL freight shipping if the following are true for your shipment:
Your cargo has a volume of at least 15 CBM or can occupy more than half of a 20-foot container
Your cargo is delicate or fragile but too heavy for air freight
Your cargo is heavy
You need your cargo to arrive in China faster
Your cargo requires minimal handling and isolation to prevent damage
Keep in mind that for FCL shipments, you need the necessary equipment for loading and unloading. In LCL shipments, consolidation and deconsolidation are necessary.
If your cargo cannot fit the standard 20-foot or 40-foot container, you can opt for break bulk shipping. In this mode of ocean freight shipment, your cargo will be loaded and transported individually and not in intermodal containers.
Break bulk shipping is a good option for cargo that is transported in bags, crates, barrels, boxes, drums, or for those of extreme size and length.
Customs Clearance in China
As with any international shipment, your cargo will need to clear Chinese customs before you can receive it. For a seamless transaction with local customs, you need to be ready with the necessary clearance requirements and paperwork, which include:
Commercial Invoice
Packing List
Certificate of Origin
Letter of Credit or other payment terms (depends on the contract between the parties involved)
For ocean freight: Bill of Lading. For air freight: Airway Bill (will be provided to you by Shipa Freight)
Chinese customs may require other documents. We have a document list you can refer to to help you understand the requirements of customs clearance. There are also examples in there to make it easier for you to provide the required paperwork.
Which Incoterms would be the right choice for my shipment?
Familiarizing yourself with the proper Incoterms will help you get familiar with logistics language and protect your interests when importing and exporting goods. The following are the incoterms that relate to container shipping to China:
Best Incoterms for Exporters
CPT (Carriage Paid To): If the buyer engages the services of a freight forwarder to transport the cargo, the seller/ supplier holds the responsibility to arrange transport and pay all costs.
CIP (Carriage and Insurance Paid To): This is similar to CPT, except with the added responsibility on the part of the seller/ supplier to provide minimum insurance coverage for the cargo.
DAP (Delivered At Place): The seller/ supplier remains responsible for the cargo until it arrives at the agreed destination. The buyer, on the other hand, is responsible for unloading the goods when it arrives.
DDP (Delivery Duty Paid): The seller/ supplier arranges all modes of transportation, as well as customs clearance requirements. The seller also shoulders the fees for import or export.
FCA (Free Carrier): The FCA Incoterm is used when the goods are cleared for export and the seller/ supplier becomes required to load the cargo in the buyer's shipping carrier. Once the cargo is loaded, all responsibility is passed onto the buyer.
Best Incoterms for Importers
FCA (Free Carrier): The FCA Incoterm is used when the goods are cleared for export and the seller/ supplier becomes required to load the cargo in the buyer's shipping carrier. Once the cargo is loaded, all responsibility is passed onto the buyer.
EXW (Ex Works): An Incoterm that applies to all modes of transportation. It says that all responsibility is on the buyer the moment the cargo leaves the seller's premises.
Importing from China: CIP or FCA
It's recommended to use the FCA incoterm when importing from China because it is more secure and competitive. It offers importers the responsibility of paying for, contracting, and managing the shipment. Hence, there is lower risk because you get a clear picture of the expenses from the get-go which helps avoid problems from occurring.
Processes to follow to ship a container to China
To begin your shipment, it's ideal to work with a freight forwarding service to ensure that your shipment goes smoothly and that all customs requirements are met.
Once your shipment has been scheduled, it begins the process of consolidation where several shipments from different consignees are combined and loaded into one container. This process helps reduce transportation costs. This might sound familiar as consolidation is also referred to as LCL shipping. This step is skipped if you opted for FCL freight services.
To prevent the transfer of organisms, the fumigation process is undertaken which involves killing and getting rid of pests, terminates, and other harmful living organisms. To conduct fumigation, approval must be obtained from a licensing authority. After the process, a fumigation certificate is issued.
When the cargo arrives in the destination port, it needs to go through customs clearance. With the right documents and paperwork, customs clearance can be a breeze. Refer to the requirements listed above so you can prepare your customs paperwork.
After your cargo is cleared, you can now pick it up from the port of destination. But if you opted for door-to-door shipments, you should wait for your cargo to arrive at your listed destination address.
Main container ports of arrival in China
The port of Shanghai is the busiest container port in the world and China's most crucial gateway for foreign trade. It is home to the largest automated container terminal in the world and also houses a deep-sea and river port.
Owned By: Shanghai International Port Company Ltd Annual Container Volume: Over 40 million TEUs UN/LOCODE: CNSHA
The port of Xiamen is one of the largest container seaport in China (eighth place) and offers routes that lead to the major ports in over 50 countries. The port has 74 berths and nine container terminals.
Owned By: Xiamen Port Authority Annual Container Volume: Over 10 million TEUs UN/LOCODE: CNXMN
The port of Guangzhou is the largest port in the South territory of China. It connects to hundreds of ports in over 80 countries around the world. This port is mostly used and more ideal for those importing in the province of Guangdong.
Owned By: Guangzhou Port Group Co Annual Container Volume: Over 15 million TEUs UN/LOCODE: CNNSA
Why Ship a Container to China With Shipa Freight?
Shipa Freight can help you ship a container to China with our digital-first freight forwarding services for businesses of all sizes. Our goal is to make your shipping as easy as possible, and we do so through our state-of-the-art online platform where you can manage your imports and exports.
You should ship with us because with Shipa Freight, you can enjoy:
Instant online quotes
Quick and straightforward online booking and payment
One single platform for your entire supply chain shipping process
Helpful customer support that's available 24/7 via phone, email, and online chat
Transparent shipping documents
No customs difficulties
Full compliance with international and local shipping rules and regulations.
Get started on your shipment with Shipa Freight and get your cargo container to China quickly and easily.