5 Largest Ports in Philippines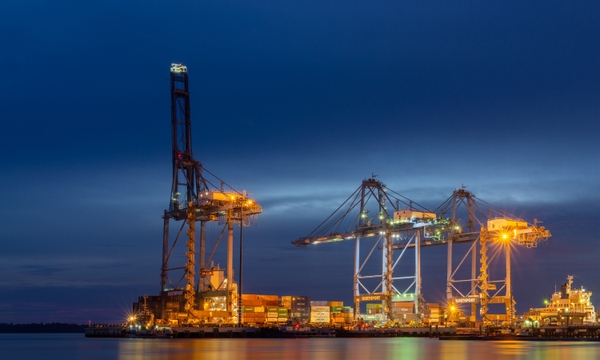 Effortless Shipping
Real-Time Tracking
24X7 Customer Support
Updated on 27 Jan 2022
6 min read
The Philippines, being an archipelago of more than 7,000 islands, is a maritime country, thus has the busiest ports in the world. The top five biggest ports are Manila International Container Port, Manila North Harbor Port, Subic Bay Freeport Zone Shipyard and Boatbuilding Compound Port, Batangas International Port, and Cebu City South Harbor Port.
There are also many major ports all over the country catering to general cargo, namely Iloilo International Port, Davao City Port, Zamboanga International Port, General Santos City, Tacloban Coastline Seaport, and Ormoc Seaport. The maritime industry is one of the fastest-growing industries in the Philippines, especially because of the increased demand for imported raw materials to fuel Philippine manufacturing.
Foreign investors find Manila Bay ideal for shipbuilding while local entrepreneurs who lack the capital but have the know-how set up their own personalized factories. Around 32 companies manufacture different kinds of ships other than barges including tugboats, ferries, fishing boats, lighters, and others. Cebu Shipyard & Engineering Co. Incorporated, one of the major Philippine shipbuilding companies, has pioneered in building different types of ships including fast ferries and LPG carriers.
The Philippines is included in the major shipping routes, which made it a natural hub for transshipment operations. It provides direct services to many ports across the world such as Guam, Papua New Guinea, Brunei Darussalam, and Thailand. The country is very accessible via land, air, and sea with easy access both from coastal and inter-island seaports all over the archipelago. Cargo vessels can sail nonstop from Manila's South Harbor to Indonesia or China because of their strategic geographic location.
The Philippine government has prioritized the improvement of ports in the country to boost trade amid its aggressive infrastructure development program. Among the processes it has adopted include reviewing outdated laws for a more efficient administration of public ports all over the archipelago.
Meanwhile, licensing fees are set aside for maintenance and operation costs of major seaports while wharfage charges are given to be used for improvements. These were some of the policy reforms made by the Maritime Industry Authority (MARINA), which was established under Executive Order No. 984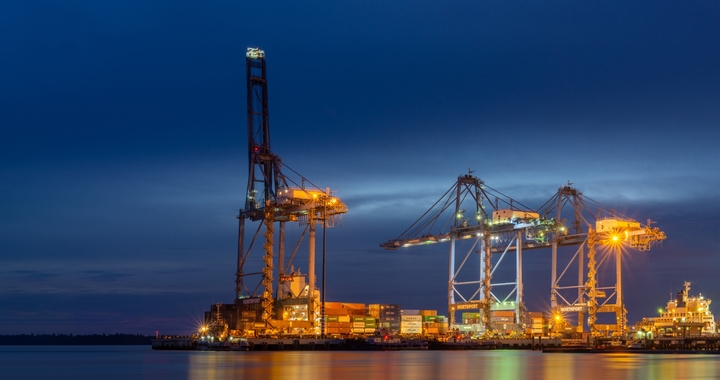 1. Manila International Container Port
The Manila International Container Port is a seaport located in the eastern part of the capital, Metro Manila, and is managed by the Manila International Container Terminal Services Incorporated (MICT). MICT is a private company whose major shareholders are Filipino tycoon Antonio L. Cojuangco, Jr., JG Summit Holdings of Filipino businessman John Gokongwei, Indonesian billionaire Stephen Riady and American shipping-line firm Wilhelmsen Lines AB through its local subsidiary Filipinas Orient Line Incorporated.
The Manila Port covers a total area of 1,082 hectares (2633.8 acres) and is composed of:
Main Pier, which is divided into West and East with 4 berths, each capable of handling up to 25 containers or 20 TEUs
Lapu-Lapu Docking System (LLDS), a Ro/Ro ramp facility for passenger and roll-on / off (RORO) vessels
Intra-Asia Ramp – The Asian portion of MICT will be served by two berths: Berth 13 and Berth 31, each capable of handling vessels ranging from 5,000 to 8,000 twenty-foot equivalent units (TEUs) every 80 linear meters. The two berths will provide the intra-Asia vessels with a quick turnaround time, enabling them to traverse the distance between Southeast Asia and the Red Sea in just one week.
2. Manila North Harbor Port
The Manila North Harbor Port is located north of Luzon Island on Manila Bay. It was inaugurated on January 21, 1975, under Presidential Decree No. 764 issued by President Ferdinand E. Marcos, which aimed at promoting trade and industry through the development of an integrated North Harbor complex composed of land reclamation facilities, freight handling terminals, and new warehouses for domestic exports/imports.
The port serves some shipping lines such as Aboitiz Shipping Corporation (ASC), Berjaya Philippines, Cebu Ferries Corporation, Lite Shipping Corporation, and Montenegro Lines.
The Manila North Harbor Port has a total area of 780 hectares (1,919.5 acres), divided into four functional areas:
The Central Business District (CBD), which covers an area of 70.91 hectares, is treated as a land-based extension of the international seaport.
Cargo Holding and Loading Area, which is composed of five container yards with a holding capacity of 10,000 twenty-foot equivalent units (TEU)
Logistics and Industrial Park, where special economic zone locators like Global Gateway Logistics City and International Container Transshipment Terminal are located
Freight Village, which is intended for cargo trucks while Light Industries Park caters to small and medium manufacturers.
The North Harbor Port has at least eleven berths including the Main Berth, West Berth, East Berth, South Pier, Pure Car and Truck Terminal (PCTT), and ExpressRail Link to the North Luzon Railways Corporation (Northrail) in Caloocan City.
3. Subic Bay Freeport Zone Shipyard and Boatbuilding Compound Port
Olongapo-Subic Bay Freeport Zone Shipyard and Boatbuilding Compound Port is located on Subic Bay of Zambales Province of Central Luzon Region on Luzon Island at the entrance of Manila Bay. It was inaugurated on October 1, 1980, through Presidential Decree 1247. Its main purpose is to develop, promote and maintain an efficient shipyard and boatbuilding industry within the Subic Bay Freeport Zone.
4. Batangas International Port
Batangas International Port is located on Batangas City of the Luzon Island in Southwestern Philippines. The Batangas International Port has a total area of 700 hectares (1,700 acres), divided into two functional areas: the open storage yard and 18.22 kilometers (11.3 nautical miles) of berthing space for container vessels; and general cargo facilities with warehouses, cold storages, and inter-island fish landing port complex.
5. Cebu City South Harbor Port
The Cebu Port is located on South Road Properties (SRP) of Cebu City on Mactan Island of Central Visayas Region. It was inaugurated on June 19, 1940, as a division port of Manila under Executive Order No. 392 issued by President Manuel L. Quezon as part of his economic development program for Central Philippines, which also includes Bohol ports of Tagbilaran and Tubigon, Siquijor Port, and Negros Oriental ports of Dumaguete and Bais.
It has 5 piers that are capable of handling vessels with large capacity. Its piers are located at the south portion of the SRP - Pier 2 / 3 for international sea travel, Pier 4 is used by vehicles bound to Cebu City and cities in Central Visayas while Piers 1 & 5 serves domestic port call. The Cebu Port has a total area of 74 hectares (183 acres) which covers the SRP. It also houses shipping lines such as Starlite Ferries, Montenegro Lines, and Supercat.
Cebu International Port Authority (CIPA), which manages ports in Cebu province, has built new facilities to decongest its ports. The construction of the $500 million North Reclamation Project Phase 1 began in 2007 and was completed in 2011. It features a 330-meter main access channel and 100,000 square meter terminal area for general cargoes like steel and other dry bulk cargo as well as at least two container berths with a total pier length of 500 meters that can accommodate barges and feeder vessels.
If you are considering shipping to a Philippine port, reach out to Shipa Freight to ensure a stress-free shipping experience. Get a free quote today.