Shipa Freight and iContainers to Merge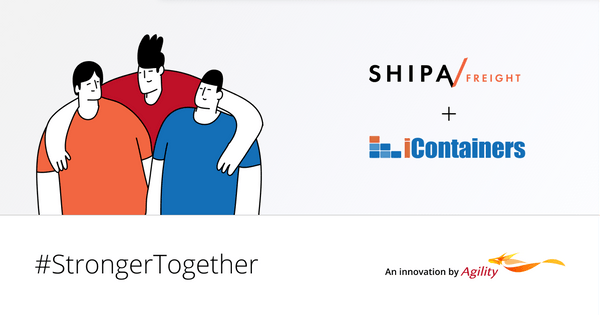 Effortless Shipping
Real-Time Tracking
24X7 Customer Support
Updated on 25 Apr 2022
2 min read
KUWAIT – Agility, a global leader in supply chain services, infrastructure, and innovation today announced that its digital freight forwarding arm, Dubai-based Shipa Freight, will merge with Barcelona-based iContainers, a pioneer in online freight platforms.
Shipa Freight and iContainers will combine technology platforms and operations. The combined company, wholly owned by Agility, will be one of the top-five most-visited online freight forwarding platforms globally.
The merger will create one of the most comprehensive suites of digital forwarding services available, including:
Standard air and ocean freight shipments for business customers, ranging from small and medium-sized enterprises (SMEs) to multinational companies requiring spot shipments.
Household relocation services for individuals moving from one country to another.
Agent services for local forwarding companies that are looking for international partners in key markets.
"White label" digital forwarding services that can be seamlessly integrated into B2B e-commerce platforms.
The digital forwarding market has spiked with the rapid acceleration of e-commerce and the desire of merchants, B2B sellers and entrepreneurs to have self-service tools that allow them to manage their own logistics and provide them with a greater control and visibility of their supply chain.
"Digital forwarding was growing before the pandemic, and the pandemic has accelerated digital adoption. This is especially true among small businesses looking to find a trusted partner to support them through the supply disruption of the last few years, said Henadi Al-Saleh, Agility's Chairperson. "We expect the digital freight forwarding market to grow by over 40% a year over the next few years. We've seen this demand reflected in rapid growth rates in Shipa Freight and iContainers' active users and revenue."
Al-Saleh said Agility "sees the number of small and medium-sized businesses trading across borders growing dramatically as sellers adapt new digital tools and prioritize online sales. The Shipa Freight - iContainers merger will create a stronger company to serve these customers."
Carlos Font, CEO of the combined Shipa Freight - iContainers entities, said: "By uniting two of the industry's leading digital forwarders, we can bring tremendous value to customers. Both have deep expertise, and joining forces will strengthen the technology platform, improve customer experience, and help expand the service offerings and geographic coverage for customers around the world."