How to Find the Right Freight Forwarder for International Shipping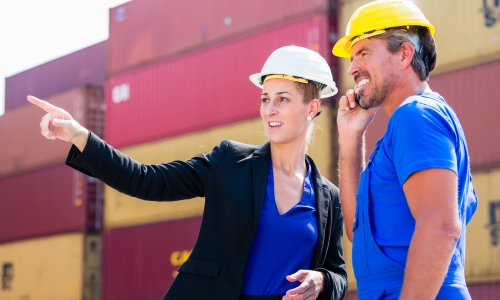 Effortless Shipping
Real-Time Tracking
24X7 Customer Support
Updated on 21 Mar 2022
8 min read
A freight forwarder can simplify the shipping process greatly, not only by managing the different elements of international freight transportation, but also by helping you ensure compliance with shipping, import, and/or export rules, regulations, and documentation requirements.
There is no shortage of international freight forwarders to choose from, but the key to success is to find one that's well matched to the needs of your business. In this article, you'll find some hints and tips to help you do just that.
What is a Freight Forwarder?
A freight forwarder is an agent who organizes shipments for individuals and companies. They provide a variety of additional services, such as ensuring that the shipment complies with laws and regulations in both the origin and final destination countries.
Who Needs a Freight Forwarder?
Anyone who wants to ship goods overseas or import goods into their country may need to hire a freight forwarder. They can be necessary when importing perishable agricultural products such as flowers, produce, meat, and fish; importing dangerous goods like hazardous waste; shipping high-value items like jewelry; or transporting precious stones and metals used for manufacturing purposes.
Freight Forwarding Services
The services a freight forwarder provides depend on the size of the company. In order to determine what a particular freight forwarder can do for your business, you need to figure out which type you are working with based on its size and capabilities.
At one end of the spectrum is a large international freight forwarder that will handle everything from getting goods through customs and regulatory agencies, transporting them across oceans and continents, arranging insurance, providing warehousing facilities at various points along your supply chain, and managing distribution throughout your entire network. Or it may be just one or two pieces of this puzzle.
On the other hand, there are small companies that focus on specific aspects such as importing or distributing within America. A medium-sized company might provide all of these services but on a smaller scale, either in a single geographic location or within a specific region.
How to Find the Right Freight Forwarder
A freight forwarder is probably going to be your most valuable ally in the international shipping process, but it is important to find one that fits your needs and not just settle for the first company you speak with. In order to choose wisely, there are several factors you should consider:
First: Know What Type of Forwarder You Need
Freight forwarders come in a number of flavors. There are various business models to select from and some forwarders specialize in certain areas, such as refrigerated goods, bulk materials, hazardous goods, or fresh produce.

If your goods have very specific handling, storage, or transportation requirements, it can be a good idea to seek out one of these specialized freight forwarders. Otherwise, you could begin by deciding which forwarder business model you prefer to work with. The main types of forwarder from which you can choose are as follows:
Online freight forwarder:
A product of the digital age, the online freight forwarder typically operates some form of platform or portal through which importers or exporters can get freight quotes online and then book, track, and pay for their shipments. Service offerings range from basic to comprehensive, but only a few of these technology-based providers can match the levels of support offered by a traditional consultative freight forwarder.
Consultative freight forwarder:
Consultative forwarders typically offer the broadest range of services. With a comprehensive network of shipping, storage, and transportation providers to call upon, this type of forwarder prefers to serve as a full logistics partner for its clients, able to manage the most complex shipments under the most unfavorable conditions. The one major drawback is cost. Prices are likely to be higher compared with those offered by other types of freight forwarding company.
Low-cost freight forwarder:
This type of forwarder competes on price, which may suit you if your budget for import/export is constrained. However, you may find that low-cost forwarders offer a limited range of services, perhaps covering just a single trade lane, or dealing only in one transportation mode.
Global freight forwarders:
These are the really large operators with offices in multiple countries. They may operate online, offline, or both. Most global freight forwarders provide a wide array of services. Some are even asset-based entities running their own ocean, air, and land-based logistics operations.
Each of these types of forwarder has its pros and cons, so you will need to consider which type is most likely to be a good fit. This will allow you to refine your search and save you from casting a wide net into an ocean of freight forwarders.
Next: Find a Few Freight Forwarders to Evaluate
Keep in mind that you will trust your chosen freight forwarder to take care of your goods from origin to destination, and that ideally, you will want to find a partner you can work with over the long term. Switching from one provider to another is likely to be labor-intensive and unproductive.

Therefore, it makes sense to begin by short-listing a few forwarders that seem compatible with your business' needs. In a future article, we'll share some guidance for actually selecting from your shortlist, but for now, let's stick to the process of hunting down some likely candidates.
Create Some Criteria
Before you start looking for freight forwarders to create your shortlist, it's a good idea to create a prioritized list of requirements. For example, there will be certain essential needs, such as:
The trade lane through which most, if not all, of your shipments, will move;

Specific transportation, storage, or handling requirements for your materials or goods;

The range of services you want a freight forwarder to cover.
When you begin your search, you can discount any freight forwarder that doesn't cover your trade lane, lacks the experience of working with the types of goods you will ship, or doesn't offer a compatible service portfolio.
You can narrow the field further by evaluating forwarders against a list of non-essential, but very-desirable requirements.
For instance, if you plan to ship your goods mainly by air, you might prefer to work with a freight forwarder that only handles airfreight and hence, has strong relationships with many different air carriers. This can be helpful when it comes to securing the best possible airfreight rates. The same principle can apply if you will use ocean freight predominantly.
Some important things to ask include:
What does this company specialize in?

How big is the company? Is it large enough that it can handle everything from customs brokerage through final delivery without subcontracting any of these tasks out? Or is it small enough that one person will handles sales and another will actually make sure things get shipped on time?

Does this company hire staff or independent contractors?

What does this company specialize in? Are they a non-vessel operating common carrier (NVOCC)? Or are they a full container load (FCL) provider?

If the answer to #4 is FCL, what do they specialize in? Dry bulk, Breakbulk, or Project cargo?

If the answer to #4 is NVOCC, what regions of the world does it ship from and to? Does it have customs brokers on staff who can clear your cargo when needed, or would you need help with these local contacts if necessary?

Does this company offer services such as packing and unpacking, crating and uncrating, and labeling and marking?

Are they a member of the Freight Forwarder Association of America (FFAA)?
Where to Look for a Freight Forwarder
Now that you have an idea of the different types of freight forwarding company and how they operate, and have some criteria on which to base your search, it's time to start looking in earnest for desirable candidates.

There is probably no easier way than to conduct a search on Google. In order to get search results that meet your needs reasonably closely, be sure to include some detail in the search terms you enter. These might include your industry or the types of materials/products you wish to ship, and perhaps the planned origin and destination of your shipments.
The only drawback to searching online is the lack of information regarding the quality or reputation of the freight forwarders presented in your search results.
If you'd like to get some impartial recommendations, you might reach out to companies in your sector that are already experienced in imports or exports, your trade association, or a freight forwarders' association like the International Federation of Freight Forwarders Associations (FIATA). Alternatively, if you don't wish to shop around too much, you can always get in touch with us here at Shipa Freight.
Why Choose Shipa Freight?
Shipa Freight combines the speed and convenience of an online freight-shipping platform with the service-oriented ethos of a consultative forwarder.
As we are a division of Agility, a leading global logistics company, Shipa Freight gives you access to a worldwide network of offices and assets, all of which exist with the express purpose of getting your freight from origin to destination—on time, every time.
If you like, you can even try the Shipa Freight platform today, just to see how simple it is to get a quote, book shipping, pay, and track your freight online.