5 Largest Ports in Canada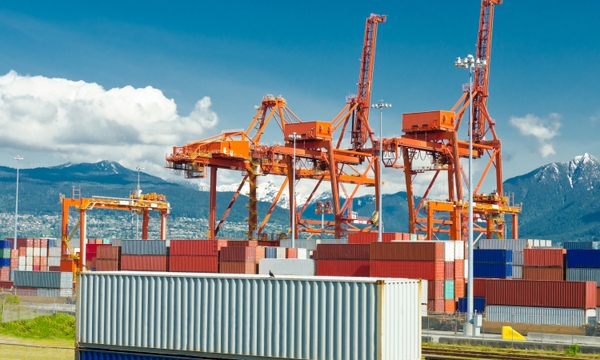 Effortless Shipping
Real-Time Tracking
24X7 Customer Support
Updated on 28 Sep 2022
10 min read
Canada is a major destination for shippers around the world, with a thriving consumer market and growing economy. But one of the bigger reasons for that is Canada's prime location, with access to the USA through oceans in the north, east, and west. It spans three territories and ten provinces from the Atlantic Ocean to the Pacific Ocean, and even touches the Arctic Ocean.
Many businesses are taking advantage of Canada's market, which leads to the growing demand for international shipping to Canada's borders. Hence, Canadian ports and airports have become very important for the country's economy, bringing in goods from around the world and fostering global trade.
For ocean freight, Canada has a large number of ports, all of which play an important role in the country's supply chain. As the country fronts major oceans, it has the world's most advanced and modern ports. These five ports, in particular, are among the largest contributors in terms of the volume of goods being imported to Canada through them.
These five Canadian seaports bring in all sorts of goods, from cars and machinery to perishable and non-perishable items. As such, they are handling billions of dollars worth of assets each year, accounting for over 20% of Canada's total yearly imports.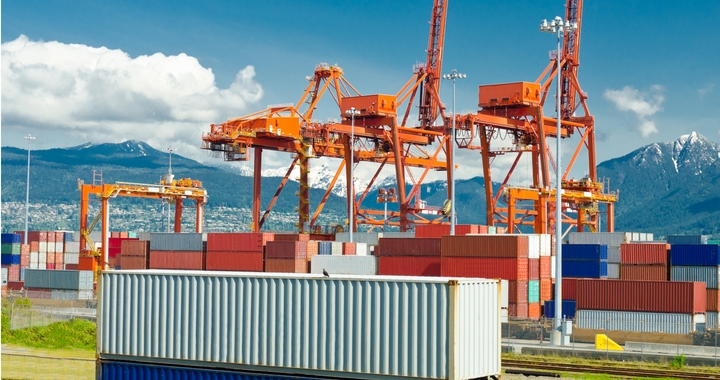 1. Port of Vancouver
The Port of Vancouver is the largest ocean port in Canada and the third-largest in North America by tonnage capacity. It's the receiver of a high volume of goods from all around the world, located close to regional distribution centers of various freight forwarding companies.
Most of the port's shipments come from Asia and are shipped all around Canada and the U.S.A. It mostly handles refrigerated goods and perishables, which are then transported to British Columbia.
The yearly trade of the Port of Vancouver amounts to $200 billion, coming from over 170 economies around the world. That said, its operations are large and busy — this is true even amid the COVID-19 pandemic. The port was affected only slightly by the effects of the pandemic, experiencing a meager 1% decline in cargo in the first half of 2020.
These numbers are mainly owing to the port's strategic location. It's right in the middle of most ocean trade routes and is accessible via interstate highways and railroads. Also, because of this, the port is a prime cruise destination for ships bound for Alaska.
In 2019, it handled over 288 cruise ships carrying a total of 1 million passengers, contributing to $3 million in revenue to its home city, Vancouver.
The Port of Vancouver is managed by the Vancouver Fraser Port Authority. It has 25 terminals for containers, break bulk, and bulk cargo and over 30,000 employees handling its daily operations. It's considered the main trading port in Canada, fostering the company's trade relations with the rest of the world.
2. Port of Montreal
The Port of Montreal is located in the Saint Lawrence River seaway. It is known as an innovative and advanced port and is, in fact, considered to be the most expensive port in Quebec. It is one of the few in Canada that incorporates and utilizes modern technology, including adopting AI technology to streamline and improve its operations.
The port mainly utilizes AI to predict the best times for container pickups and dropoffs, helping reduce delays and maintain schedule reliability. This has made goods flow through and from the port easier.
This forward-thinking approach and efforts to modernize have made the port one of the busiest in Canada, handling more than 40 million tonnes of cargo yearly. In 2019, it handled roughly 10% of Canadian imports.
The Port of Montreal connects over 140 countries and sees 2,500 trucks for shipping operations daily. Most of the cargo it handles includes liquid bulk, dry bulk, and container shipments.
The port is an important hub for Quebec and Montreal, directly affecting their economies through its direct trade route, which is the shortest route between North America, the Mediterranean, and Europe.
Because of its significance, the Port of Montreal is being funded for the creation of another container terminal. This fifth terminal will give the port a larger capacity of 2.1 million TEUs from its current handling capacity of 1.45 million TEUs.
3. Port of Prince Rupert
The Port of Prince Rupert in the North Coast Region District of British Columbia is Canada's third-largest port by cargo tonnage and container volume. It spans 1,650,000 acres of land along a 20 km waterfront.
While its activity is not as large as that of the ports in Vancouver and Montreal, it's slowly but surely growing its cargo operations, handling a large volume of goods every year.
The Port of Prince Rupert was actually built to serve as an alternative to the Port of Vancouver, which is why its global reach is vast. It was constructed shortly after the completion of the Grand Trunk Pacific Railway in 1914 and was expanded during the second world war to cater to Canada and the United States' military action.
The port is managed by the Prince Rupert Port Authority, which oversees the entry and distribution of goods throughout the British Columbian region. In 2020, the Port of Prince Rupert handled 32 million tonnes of cargo, a 9% increase from the previous year's numbers. It's been experiencing consistent growth over the last couple of years, making the port a big contender in Canada's ocean freight scene.
In fact, the port was also a partner in funding the Canadian $170 million terminal project, giving $25 million for the cause.
Unique to the Port of Prince Rupert is the Port Rupert grain terminal, which caters to the movement of wheat and barley exports from markets in North America, America, and the Middle East. It has quickly become one of Canada's most important grain facilities as it can ship over 7 million tonnes of grain annually and store more than 200,000 tonnes of grain.
The port is also a major lumber and metallurgical coal handler, exporting these products to European and Asian markets through its Westview Terminal and Ridley Coal Terminal, respectively.
It's commonly the first choice for importing natural commodities in Canada for two reasons. First, it is accessible from Canadian mines, fields, and forests. And second, it is well-equipped to handle bulk cargo brought in by the Alberta, Saskatchewan, and Manitoba regions.
4. Port of Halifax
The Port of Halifax is a data-driven port in Canada, taking advantage of data-capturing solutions in its shipments. It has adopted technologies that enable it to capture data in 15 minutes or less, bringing unprecedented information that allows it to improve its operations. Among the data this yields includes ship arrivals and departures, terminal turnaround time, wait time, and container dwell.
Despite being only the fourth-largest port in Canada, the port of Halifax has more connections than the second-largest port, Montreal. It is connected to over 150 countries worldwide and is a destination for more than 1,400 vessels.
Its location has also given it an advantage, as it's conveniently placed at the gateway of inbound and outbound traffic in North America. The port caters to roll on/off, breakbulk, and bulk cargo, as well as cruise lines, making it a leading port of call for cruise ships globally.
With Port of Halifax's data-capturing technologies, it has been able to streamline its operations, making it attractive to the trucking industry. In fact, the port has one of the fastest wait times in all of Canada and North America, with trucks only waiting a maximum of 30 minutes. Its data capturing efforts have also allowed it to impose deadlines on itself, enabling it to move cargo faster than any other port in the country.
Another stride the port has made toward digitalization concerns its digital operating system, which allows businesses and shippers to access vessel information and live ship schedules. The system also provides easy shipping management with features allowing shippers to receive and submit information about their cargo.
In 2020, the port's container berth was extended to handle up to 2 mega vessels simultaneously. This was its solution to the growing problem of container traffic on Canada's East Coast. Through the expansion, the Port of Halifax could ease the container traffic in the region and take advantage of the influx of shipments.
The Port of Halifax's characteristic of being an ice-free harbor and deep water port is worth mentioning. Because of this, it has very few tides, and its operations are not disrupted during the winter either, allowing it to accommodate vessels and resume its operations all year round. This makes it the perfect destination for in-demand cargo, such as gas, grain, oil, and other general cargo.
These characteristics make the Port of Halifax a big contributor to the Province of Nova Scotia's economy. In 2021, it contributed $4.37 billion to the province's economic output. It is also a source of income for the province's residents, employing over 22,400 men and women for its operations.
5. Port of St. John
[The Port of St. John](The Port of Halifax) is considered the largest in Atlantic Canada in the east of the country, handling over 28 million tonnes of cargo annually. Its port complex spans 120 hectares of land and 3,900 meters of waterfront. The port is located in St. John River and finds its home in New Brunswick, Canada.
The Port of St. John has good shipping connections with over 500 ports worldwide and is well connected to Canada by road and rail. Its strategic location near the Trans-Canada Highway makes it the most accessible port for road freight.
The port was developed due to the influx of shipbuilding efforts and timber trade back in the 19th century. Back then, it was the leading industrial center in its province, renowned to be a location where reputable ships were created, such as the speedy Marco Polo. The port was also an important trans-shipment port for the British empire during the first world war.
The port's placement at the mouth of the river has enabled it to build marine facilities on both sides of the St. John River. Among these include terminals for containers, dry cargo, liquid cargo, bulk, and break bulk. It also has facilities that cater to the production, handling, and movement of molasses, crude oil, and scrap metal recycling.
While not as large as other ports on this list, it is considered a major facilitator of commerce in Canada. This is because of its connectivity to Canada's inland markets through roads and railways. In addition, the Port of St. John is also a popular terminal for cruise ships and liners. Conclusion Canada's thriving economy and strategic location make it an attractive destination for goods to be distributed not only to the Canadian market but to the U.S.A. as well. The shipping ports in Canada introduced above are gigantic contributors to the country's trade operations, and they consistently grow year after year.
This list of Canadian ports identifies major players in the global shipping industry, with technological advancements, data-capturing solutions, and streamlined operations under their belt.
That said, if you are looking to ship goods to Canada and tap into the Canadian consumer market, any one of these will be able to cater to your shipping needs.
Engage in the services of a freight forwarder to help you ship goods to and from Canada through these major ocean ports. With good relationships with Canada's seaport authorities and reliable knowledge of the ins and outs of ocean freight, we can help you with your shipping endeavors.
What's more, you can get access to quotes for your trade lanes quickly with our modern and digital approach to freight forwarding. Everything you need is accessible within seconds with Shipa Freight.