Largest Ports in the World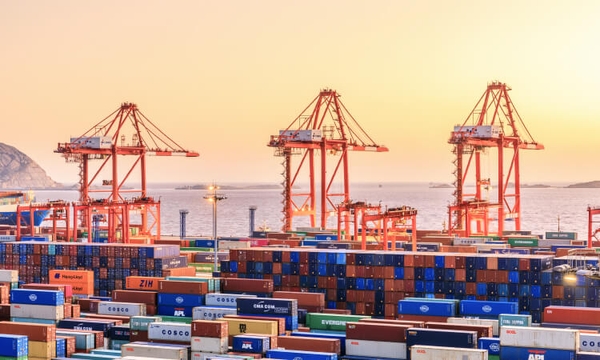 Effortless Shipping
Real-Time Tracking
24X7 Customer Support
Updated on 04 Apr 2021
7 min read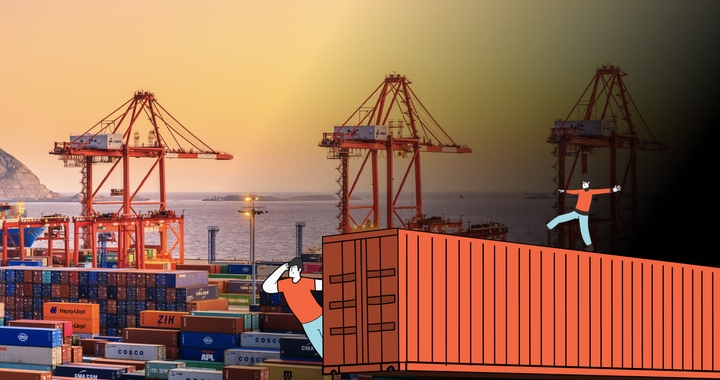 There are 835 active seaports and inland ports of varying sizes on the planet. It's the purpose of this article to focus on the ten biggest. But we're not measuring size in terms of the area of land each port occupies. As this is a container-shipping website, we're measuring a port's size by the volume of cargo that it handles every year.
Shipping volumes are typically assessed using a unit of measurement called TEUs. It stands for twenty-foot equivalent units and is calculated by dividing the length of a shipping container (in feet) by 20.
So, each 40ft container handled by a port contributes two TEUs (40 divided by 20) to that port's size rating—and every 20ft container processed in port adds one TEU. The port with the highest TEUs rating is considered the world's largest for container throughput. Easy!
The TEU figures used for this article are based on port throughput data from 2019. They reveal that most of the world's largest ports are in Asia. That's no great surprise considering the manufacturing might in that part of the world.
1. Port Of Shanghai, China
TEUs: 43.3 million
Shanghai has been the largest and busiest port in the world since 2010 when it overtook Singapore. It can handle 744 million tonnes of cargo annually.
Where Is the Port of Shanghai?
At the delta of the Yangtze River, just over 1,200 kilometers south of Beijing
Who Owns the Port of Shanghai?
International Port Group in Shanghai (SIPG)
LOCODE: CNSHG
More Port Facts:
Covers an area of 3,619 square kilometers
Infrastructure includes two bulk cargo terminals and three break-bulk terminals
Over 25% of all international trade from China passes through the port
Serves around 2,000 container ships every month
The busiest harbor in the world comprises three important container port areas in Waigaoqiao, Yangshan, and Wusongkou with a combined 125 berths for container vessels
2. Port Of Singapore
TEUs: 37.1 million
The Port of Singapore is connected to more than 600 ports in 100 countries and handles around 20% of all the world's cargo containers.
Where Is the Port of Singapore?
In the southern region of the Malay Peninsula
Who Owns the Port of Singapore?
The Maritime and Port Authority of Singapore (MPA)
LOCODE: SGSIN
More Port Facts:
Responsible for the transportation of about 50% of the world's crude oil
Cargo handling capacity is 537.6 million tonnes per year
Over 140,000 vessels visit the port each year
Terminals are located at Keppel, Brani, Jurong, Tanjong Pagar, Pasir Panjang, and Sembawang
A four-phase port expansion project is due for completion in 2040 which will give Singapore the largest container terminal in the world, enabling the facility to handle 65m TEUs annually
3. Port of Ningbo-Zhoushan, China
TEUs: 27.5 million
Formed as a collaboration between the ports of Ningbo and Zhoushan, this freight hub can handle 460 million tonnes of cargo per year.
Where Is the Port of Ningbo-Zhoushan?
On Hangzhou Bay facing Jiaxing and Shanghai in Zhejiang Province, Eastern China
Who Owns the Port of Ningbo-Zhoushan?
Ningbo Zhoushan Port Co Ltd.
LOCODE: CNNGB
More Port Facts:
Has 309 berths
Connected to over 560 ports in 90 countries
Located on China's busiest coastal shipping route
Main port areas are: Ningbo Harbor, Zhoushan, Zhenhai, Beilun, Daxie, and Chaunshan
Mostly handles imports or manufactured goods and raw materials from the Americas and Oceania
4. Port Of Shenzhen, China
TEUs: 25.7 million
The Port of Shenzhen covers 260 km of coastline in Southern China and can handle 194.9 million tonnes of freight annually.
Where Is the Port of Shenzhen?
On the delta of the Pearl River in Guangdong Province, Southern China
Who Owns the Port of Shenzhen?
Shenzhen Government
LOCODE: CNSZP
More Port Facts:
Infrastructure includes 140 berths
Over 40 shipping companies have their HQ here
230 container shipping routes pass through the port
Six new ports are planned that will eventually connect the Port of Shenzhen to Hong Kong
The port is a collection of terminals, including Chiwan Container Terminals, Shekou Container Terminals, Yantian Container Terminals (the busiest port in Shenzhen), Shenzhen Haixing, and China Merchants Port
5. Port of Guangzhou, China
TEUs: 23.2 million
Guangzhou is the largest port in Southern China. It's connected to over 300 ports in over 80 countries and has an annual cargo handling capacity of 460 million tonnes.
Where Is the Port of Guangzhou?
On the intersection of the Beijiang, Xijiang, and Dongjiang rivers
Who Owns the Port of Guangzhou?
Guangzhou Port Group Co Ltd
**LOCODE: **CNGZG
More Port Facts:
Facilities include 4,600 berths Can accommodate mega vessels Types of shipment include agricultural, manufactured, and industrial freight Serves Guangzhou City and the industrial areas of Yunnan, Jiangxi, Guangxi, Hunan, Guizhou, and Hubei
6. Port of Busan, South Korea
TEUs: 21.9 million
Busan is a major international gateway between the Pacific Ocean and Eurasian countries and the largest port in South Korea.
Where Is the Port of Busan?
At the mouth of the Naktong River, 325 kilometers southeast of Seoul
Who Owns the Port of Busan?
The Busan Port Authority (BPA)
LOCODE: KRPUS
More Port Facts:
Has berths for 169 vessels
Around 130 vessels visit each day
Can handle 91 million tonnes of freight per annum
Processes almost 40% of South Korea's maritime cargo
Comprised of four ports—Dadaepo, Gamcheon, North, and South
7. Port of Qingdao, China
TEUs: 21 million
Qingdao is located on the Twenty-First Century Maritime Silk Road and serves Shandong Province in China.
Where Is the Port of Qingdao?
Between the Bohai Rim and the Yangtze River Delta on the Yellow Sea, 664 kilometers southeast of Beijing
Who Owns the Port of Qingdao?
Qingdao City Port Group
LOCODE: CNQDG
More Port Facts:
Renowned for its capacity for dry bulk vessels
Annual cargo handling capacity is 400 million tonnes
The largest port in China for crude oil transportation
8. Port of Hong Kong
TEUs: 18.3 million
The Port of Hong Kong offers natural shelter and deep waters, making it ideal for handling all types of shipping vessels.
Where Is the Port of Hong Kong?
On the Kowloon Peninsula, on the coastline of the South China Sea
Who Owns the Port of Hong Kong?
Hutchison Port Holdings
LOCODE: HKHKG
More Port Facts:
300 container liner services connect to 420 destinations every week
Its nine container terminals are located in the Kwai Chung-Tsing Yi basin
Site occupies 279 hectares and features 24 berths
9. Port of Tianjin, China
TEUs: 17.2 million
Tianjin is the biggest port in Northern China and is the nation's largest man-made seaport, occupying a 131 square-kilometer site.
Where Is the Port of Tianjin?
160 kilometers from Beijing in the Haihe River Estuary, west of Bohai Bay
Who Owns the Port of Tianjin?
Tianjin Port Group
LOCODE: CNTNG
More Port Facts:
Connected to around 500 ports in almost 190 countries
Formed of four main port areas: East, North, South, and Haihe River
Infrastructure includes 140 berths
10. Port of Rotterdam, the Netherlands
TEUs: 14.8 million
Rotterdam was the largest port in the world between 1962 and 2004. It is still the biggest port in Europe and the deepest port in Northwestern Europe.
Where Is the Port of Rotterdam?
In the province of South Holland, 21 kilometers southwest of The Hague
Who Owns the Port of Rotterdam?
The Port Authority of Rotterdam
LOCODE: NLRTM
More Port Facts:
The port extends for 42 kilometers
Committed to delivering CO2 neutral operations
Directly accessed from the North Sea
Why It's Good to Know the Largest Sea Ports In the World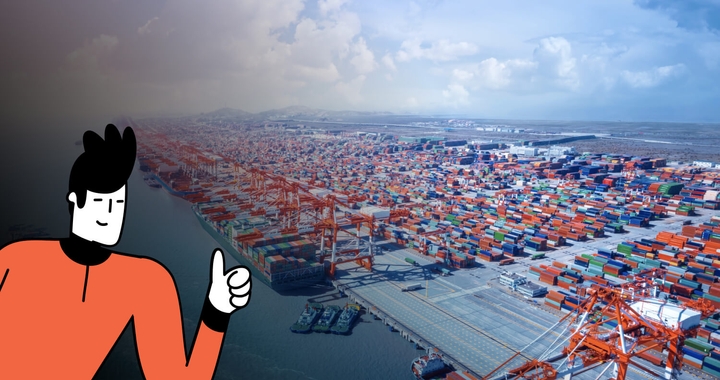 All the ports on this list provide international shippers with the world's biggest gateways for their containerized imports and exports. But it's useful to know that many smaller ports don't have berths for large shipping vessels and cannot process container shipments. For more information about the busiest ports across the world, please see our articles on the Largest Ports in Europe and the Largest Ports in North America.