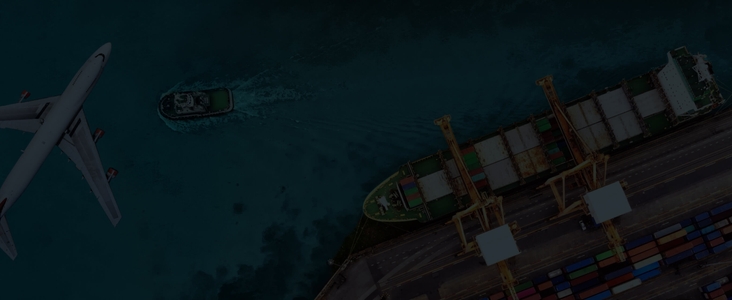 An export guide to transporting cargo from Egypt
Get information and quote for FCL and LCL shipping
Effortless Shipping
Real-Time Tracking
24X7 Customer Support
Updated on 23 Nov 2021
9 min read
This shipping guide is meant to introduce you to Egypt, an emerging market that has a well-balanced economy by regional standards. It is diversified across manufacturing and extraction activity, including the mining, oil and gas sectors, agriculture, construction, tourism, as well as various segments in a rapidly emerging services sector.
Manufacturing activity is the largest single contributor to GDP, accounting for 16.2 percent of the total GDP in 2016. The manufacturing sector is also an important element of the broader national expansion plan, with six segments identified as areas of potential growth: engineering, machinery and equipment, consumer electronics, life sciences, biotechnology, automotive components, and handicrafts.
Source: World Economic Overview Database
What are Your Options for Shipping Freight From Egypt?
You can ship cargo from Egypt to another country by sea or by air.
Ocean Freight From Egypt
Ocean freight is a viable option to transport goods from Egypt. In this mode of shipment, you will need to make a decision between less than container load or full container load. In less than container load shipping, your goods will be consolidated with cargo belonging to other sellers. Hence, it is a more economical shipping opening. On the other hand, full container load allows you to utilize the space in an entire container for your cargo exclusively, although FCL can be more expensive.
Air Freight From Egypt
Despite the global pandemic, air freight continues to remain a viable mode of shipping from Egypt. Several direct and indirect flights are operating from Cairo International Airport to the United States each week, along with select destinations worldwide.
How Much Does it Cost to Ship Cargo From Egypt?
The cost of your shipment from Egypt would depend on a variety of factors, among which include:
The type of goods you are shipping
Your chosen mode of shipment (ocean freight or air freight)
The weight and volume of your cargo
The size/ dimensions of your cargo
The distance between Egypt and your destination country
Specific movement types, i.e. door-to-door, port-to-door, door-to-port, port-to-port
If you need a more accurate estimate of your shipping costs, contact your freight forwarder and request a quote.
How Long Does it Take to Ship Cargo From Egypt?
A lot of factors come into play to determine the duration of your shipment. These include the type of shipping mode you select, whether ocean freight (FCL/ LCL) or airfreight, if your route is direct or has multiple stops, and the distance between Egypt and your country of destination.
Below are some estimated transit times:
Ocean Freight From Egypt
Destination Country|Transit Time LCL|Transit Time FCL| ------- | ---------------- | ---------------- |----------: Australia||51 days Belgium||36 days Canada||28 days Hungary||18 days Kuwait||26 - 51 days Malaysia||36 days Saudi Arabia|16 days|16 - 61 days UK|15 - 26 days|36 days USA|31 - 59 days|32 - 48 days
Air Freight From Egypt
Destination Country|Transit Time| ---------------- | ---------------- |----------: Germany|2 - 10 days India|4 - 8 days Indonesia|4 - 7 days Kuwait|4 - 10 days Saudi Arabia|8 - 10 days UK|2 - 4 days
Exporting Goods From Egypt
Egyptian law demands that all commercial agents and importers have Egyptian nationality. If it is a company, the chairman and all members of the board must be Egyptian, and it must be 100% Egyptian-owned.
For commercial purposes, a registered trade with a concerned license (if required) as per the business and have enlisted in the Trade and Company Register of the country is a must for exporting and importing goods from and into Egypt. It also requires those who want to work in the export activity to be listed in the exporter's register.
The Egyptian Customs Authority administered by the Ministry of Finance is the agency that is assigned with the execution of all the decrees issued by the country's ministries and governmental institutions which concerns levies taxes, controls illegal trade, and is the facilitator of genuine trade.
The documents may have to be prepared in a special way to comply with the requirements of the import or export country. Understanding the right export documents is essential for smooth import and export procedures.
Customs clearance procedures in exporting country
After goods are packed for export, necessary export customs clearance documents required by the exporting country's load port customs are prepared. A packing list and other required export documents for Exporting country's customs are arranged before movement of the export cargo to the customs port of the country.
The export documents are filed with the exporting country customs electronically. The cargo is moved from the exporter's location to the location of the customs where international carriers are also operated. The export cargo is unloaded at the exporting country's customs bonded area under the control custodian of cargo. The handling of export cargo at export port locations is operated by such custodian in the exporting country.
Once the export process is completed by the exporting country's customs, necessary permission is given by customs authorities to move export cargo. Necessary export inspection procedures by the exporting country's customs authorities are undertaken wherever required.
Necessary Documents for Export
Entities engaged in exportation from Egypt are obliged to register with the Register of Exporters. No restrictions are imposed on foreign and local entities wholly or partially owned by foreigners with regards to the export of products from Egypt.
Entities subject to the Investment Law can export products directly or via a third party without a license. They are not obliged to register with the Register of Exporters.
Documents required for the exporter
An Export Card: Issued by the General Authority for Import/Export Quality Control at the Ministry of Industry.
Tax Card: Obtained from the Taxation Authority or any of its offices.
Original invoice.
Customs Procedural Certificate: A customs form that lists information and data of the exported goods.
Insurance Certificate: The following clause must be included in the Insurance Certificate – "Egyptian buyer not to bear extra insurance premium due to vessel's coverage"
Pro-Forma Invoice: The pro-forma invoice must show the country of origin, name of importer, kind or commodity, customs tariff item, the unit, the quantity, price per unit, the basis of contract, and the amount in foreign currency.
Conditions, forms, proceedings and documents related to registration and its renewal, modifications of registry data including cancellations and deletions are defined by a decision issued by the Minister of Foreign Trade and Industry. The Minister also defines levels of duties imposed on the registration, renewal and modification of data and extracted copies.
Aside from that, the Minister also establishes prohibitions and restrictions of the export of certain commodities from Egypt. Thus, the export of restricted commodities must comply with the conditions set forth.
A duty may be imposed on certain exported goods (not exceeding 100% of the value) for the exporter to realize a reasonable profit. The imposed duty and its increase are not applicable to export permits issued prior to such an imposition. Goods to which duties are applicable, their amount, mode of collection, refund, total or partial exemptions are defined by a decision issued by the Minister of Foreign Trade and Industry.
Exporters may be required to present a guarantee for export operations, which is defined by the Minister or authorized by the Minister person, through a decision which shall specify the kind of guarantee, its period of return, and cases wherein it can be withdrawn.
Commodities subjected to control cannot be exported without obtaining an investigation certificate attesting that they conform to the conditions and specifications set forth in the decision of the Minister of Foreign Trade and Industry, upon agreement with competent authorities.
The export of restricted goods must take place within the period specified in the certificate, otherwise, a new certificate will be required.
Source: Custom Procedures for Egypt Export
Shipping From Egypt: FCL or LCL?
If you select to ship by sea, you need to choose between FCL and LCL shipping. Here are some tips to help you make a decision, considering the particulars of your cargo.
Less than Container Load from Egypt
Less than container load may be the right shipping option for you if your cargo is:
Small in size and quantity
Suitable for consolidation with cargo from other sellers
Not expected in your destination country at a specified time
Suitable for frequent handling and movement
Not perishable, fragile, or delicate
Full Container Load from Egypt
If the above does not match your needs, you may consider full container load. This shipping option is ideal if your cargo is:
Large, bulky, and oversized
Better of shipped in isolation
Expected in your destination country at a specified time
Not suitable for frequent handling and movement
Perishable, fragile, or delicate
Egypt's Primary Port
Port Said East
The Port of Said is the 28th busiest seaport in regards to container transport. It is located in the city of Port Said in Egypt and is the second busiest in the Arab world. The Port is split into two, there is the Port Said and East Port Said.
Port Said East is home to the Suez Canal Container Terminal (SCCT) and is over 19 kilometers long (12 miles). It is located east of the Northern entrance to the Suez Canal and is considered to be one of the most important ports in Egypt.
Source: Egyptian City of Port Said, Where East Meets West
Egypt's Primary Airport
Cairo International Airport
The Cairo International Airport is the principal international airport of Cairo and the busiest airport in Egypt. It is the cargo hub for the nation, with destinations across several metropolises worldwide. The following cargo airlines service these destinations.
Airlines|Destinations| ---------------- | ---------------- |----------: Air France Cargo|Bangui, Paris–Charles de Gaulle, N'Djamena, Reunion Cargolux|Beirut, Luxembourg DHL International Aviation ME|Bahrain EgyptAir Cargo|Cologne/Bonn, Istanbul–Atatürk, Milan–Malpensa, Ostend/Bruges, Sharjah Emirates SkyCargo|Dubai–Al Maktoum Ethiopian Airlines Cargo|Addis Ababa, Beirut, Liège Kalitta Air|Charleston Lufthansa Cargo|Frankfurt, Hong Kong, Milan–Malpensa, Sharjah Martinair|Amsterdam Royal Jordanian Cargo|Amman–Queen Alia, Maastricht/Aachen Turkish Cargo|Istanbul–Atatürk
Top Commodities Exported from Egypt (2018)
Crude Petroleum 14%
Refined Petroleum 5.64%
Gold 5.28%
Insulated Wire 2.59%
Non-Knit Men's Suits 1.55%
Source: OEC Egypt Profile (2018)
Top Tradelanes from Egypt
Italy 7.57%
United States 7.05%
Turkey 6.83%
United Arab Emirates 5.69%
Saudi Arabia 4.55%
Source: OEC Egypt Profile
Ocean and Air Shipping From Egypt: Why Choose Shipa Freight?
If you need to ship cargo from Egypt, engage your reliable freight forwarder, Shipa Freight for a hassle-free and easy process. Our digital platform allows you to manage your entire shipment from your mobile device. From comparing quotes to tracking your cargo, Shipa Freight provides the functions of traditional freight shipping at the convenience of modern technology.
Get started with your shipment today.