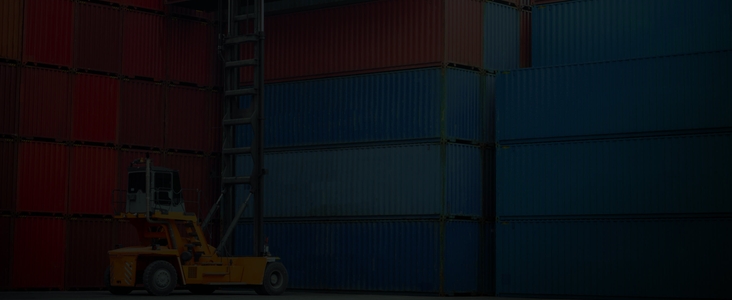 An export guide to transporting cargo from Turkey
Get information and quote for FCL, LCL and Air shipping
Effortless Shipping
Real-Time Tracking
24X7 Customer Support
Updated on 22 Nov 2021
7 min read
Shipping from Turkey may be both a challenging and rewarding experience for freight forwarders, as it is an emerging commerce center. This guide will help you navigate the intricate regulations for shippers and useful information about the Turkish business climate.
What are Your Options for Shipping Freight From Turkey?
Shipping from Turkey to your destination country can be done via ocean or air freight.
Ocean Freight From Turkey
Ocean freight from Turkey gives you two options to ship by sea: full container load (FCL) and less than container load (LCL). In full container load, your goods will be shipped in isolation, which allows you to utilize the space in an entire container as needed. On the other hand, LCL shipping consolidates your cargo with consignments from other shippers. Hence, it's best for small cargo.
Air Freight From Turkey
Air freight is a great mode of shipment from Turkey if you are looking to get cargo to your destination country quickly. It is a fast mode of shipment but can cost more than ocean freight and is not ideal for cargo that is too big or heavy.
How Much Does it Cost to Ship Cargo From Turkey?
The shipping cost of cargo originating in Turkey to a destination country would differ depending on various factors that include:
The type of goods you are shipping
Your chosen mode of shipment (ocean freight or air freight)
The weight and volume of your cargo
The size/ dimensions of your cargo
The distance between Turkey and your destination country
Specific movement types, i.e. door-to-door, port-to-door, door-to-port, port-to-port
You can request a more accurate estimate from your freight forwarder.
How Long Does it Take to Ship Cargo From Turkey?
The duration of your shipment would differ depending on the chosen mode of shipment you select (ocean freight or air freight), whether the route of your transport is direct or has multiple stops, and of course, the distance between Turkey and your port or airport of destination.
Below are some estimated transit times:
Ocean Freight From Turkey
Destination Country|Transit Time LCL|Transit Time FCL| ------- | ---------------- | ---------------- |----------: Bangladesh|43 days|39 - 41 days Canada|36 days|36 days Peru||36 days U.S.||41 days Spain||10 - 12 days Chile|56 days China||41 days India||22 - 46 days Indonesia||41 - 46 days Jordan||26 - 31 days Kuwait|||26 days Lebanon|45 days Saudi Arabia|37 days UAE||17 - 31 days U.K.|26 days Australia||56 days Hong Kong||24 days Oman||19 days
Air Freight From Turkey
Destination Country|**Transit Time **| ---------------- | ---------------- |----------: Australia|6 days Bangladesh|2 days Germany|2 days India|1- 5 days Indonesia|2 -4 days Kuwait|2 days Malaysia|2 days Oman|2 days Saudi Arabia|4 - 6 days Singapore|2 days UAE|1 - 6 days U.S.|3 - 5 days
Customs Clearance Requirements
When you ship out cargo from Turkey, you will need to provide the destination country with requirements for customs clearance. These include documents such as:
Commercial invoice
Packing list
Certificate of origin
Letter of credit/ payment terms
Bill of lading (ocean freight) or airway bill (air freight) - This will be provided by Shipa Freight
We have a full documents list that you can refer to for examples of each document.
Shipping From Turkey: FCL or LCL?
If you choose to ship by sea, you will need to select between FCL or LCL. The right choice would depend on your priorities, as well as the particulars of your cargo. Here are some tips to help you decide.
Less than Container Load from Turkey
Less than container load may be the right ocean freight shipping option for you if your cargo is:
Small in size and quantity
Suitable for consolidation with cargo from other sellers
Not expected in your destination country at a specified time
Suitable for frequent handling and movement
Not perishable, fragile, or delicate
Full Container Load from Turkey
Full container load may be a more suitable option if your cargo is:
Large, bulky, and oversized
Better of shipped in isolation
Expected in your destination country at a specified time
Not suitable for frequent handling and movement
Perishable, fragile, or delicate
Cargo ports in Turkey
Major ports are owned and operated by the Turkish State Railways (TCDD) or Turkish Maritime Organization (TDİ), which are State Economic Enterprises.
Port Haydarpasa
The seaport of Istanbul, Turkey's capital; it is a general cargo seaport, RORO, and container terminal situated in Haydarpasa. The port is operated by the Turkish State Railways TCDD, and is the Marmara region's biggest container port, as well as Turkey's third-largest port. It has an annual cargo volume exceeding sixty-six million tons.
Port Ambarli
Ambarli Port Facilities Trade Company Inc. (ALTAS) is the port authority in charge of this port, which is hailed as the largest port in Turkey. Marport is the port of Ambarli's main container terminal. In 2011, it handled over 1.5 million TEUs of containerized cargo. Marport is spread over Piers 1, 2, and 3 of the Limar Kumport Terminal. The terminals provide reefer services and hazardous container services.
In 2011, the port of Ambarli's Kumport Terminal hosted 1,919 vessels carrying 237,000 tons of general cargo and 844 thousand TEUs of containerized cargo. This terminal has a total of 6,824 feet of berths and covers nearly 99 acres. The port has the capacity to handle 1.7 million TEUs annually. There are yard slots for 8,994 TEUs, a 2.5-acre container freight station, and 1.7 acres of warehouses.
Port Gemlik
The port of Gemlik is one of Turkey's most important ports. Its main business is container services, but it is an important exportation port for the automotive sector in the Marmara region. It has a container storage capacity of 600,000 TEUs.
Port Mersin
The port of Mersin is Turkey's largest port and it is owned by the Turkish State Railways, with the PSA-Akfen consortium having the concession to manage the port. Containers can be handled with no need for shunting.
Five of the berths have railway connections, from which loading and unloading to and from vessels can be done directly. The port features RORO, bulk cargo, container, and oil terminals.
Top Airports in Turkey
Airport code|**Full name **|Est. Passengers (2017)| ------- | ---------------- | ---------------- |----------: IST||Ataturk International Airport |64,106,014 SAW |Sabiha Gökçen International Airport|31,386,038 AYT|Antalya Airport|25,872,451 ESB|Esenboğa International Airport|15,817,158 ADB|Adnan Menderes Airport|12,824,310
Top Commodities Exported from Turkey
Cars - 7.33%
Delivery Trucks - 3.05%
Jewelry - 2.43%
Raw Iron Bars - 1.89%
Gold - 1.82%
Non-Knit Women's Suits - 1.67%
Top Tradelanes from Turkey
Germany - 9.42%
United Kingdom - 6.75%
Italy - 5.74%
India - 7.65%
Spain - 4.47%
Manufacturing Map of Turkey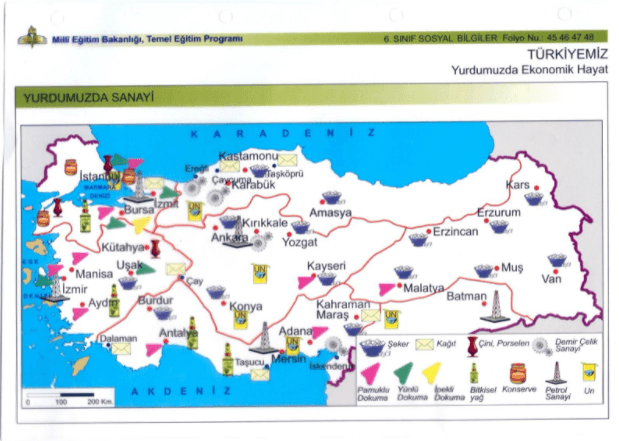 Source: Map of Turkey Industry
Top Trends in Manufacturing
In Turkey, Manufacturing is the most important sector and accounts for 84 percent of total production. The biggest segments within Manufacturing are:
Food products (16 percent of total production)
Basic metals (11 percent)
Motor vehicles, trailers and semi-trailers (9 percent)
Textile (8 percent)
Other non-metallic mineral products (6 percent)
Rubber and plastic products (5 percent)
Chemicals and chemical products (5 percent)
Electrical equipment (5 percent)
Wearing apparel (5 percent)
Fabricated metal products (5 percent)
E-commerce in Turkey
Revenue in the eCommerce market is projected to reach US$11,300m in 2020 and has a projected annual growth rate (CAGR 2020-2025) of 17.8%, resulting in a projected market volume of US$25,673m by 2025. User penetration will be 44.1% in 2020 and is expected to hit 67.0% by 2025 with average revenue per user (ARPU) is expected to amount to US$303.75.
The average annual growth rate of the e-commerce industry in Turkey was around 35 percent in the last five years. Online-only retail grew the most, with the market's largest segment being Fashion with a projected market volume of US$4,721m in 2020.
54 percent of the e-commerce industry's value comes from multichannel retailers and online-only players. The remainder comes from online betting and holiday & travel bookings. Of all these sectors, pure online retail posted the largest growth, rising 48 percent year on year.
Ocean and Air Shipping From Turkey: Why Choose Shipa Freight?
Shipping from Turkey can be a very complex process — but we can help navigate it for you. Shipa Freight is your reliable shipping partner that can get your goods from Turkey to your destination country with ease and convenience. Our digital platform allows you to:
Compare quotes
Book your shipment
Pay for your shipment
Manage your shipping
Track your shipment
Get access to customer support
And more
Get started with your hassle-free shipping with Shipa Freight today.