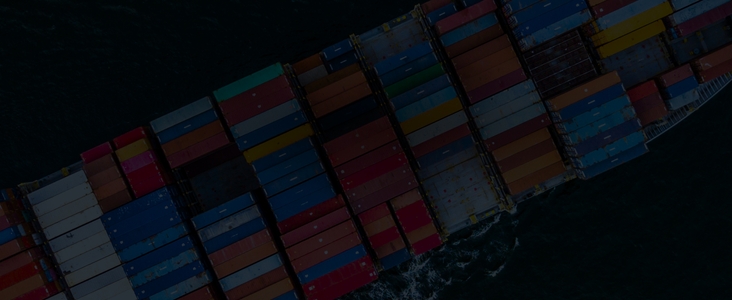 Ocean & Air Freight Shipping to Denmark
Get information and quote for FCL, LCL and Air shipping
Effortless Shipping
Real-Time Tracking
24X7 Customer Support
Updated on 16 Sep 2021
8 min read
Denmark has a very trade-oriented economy and is the 36th-largest importer in the world. In 2017, the Scandinavian country imported goods worth $84.4 billion (USD). Most imports came from neighboring Germany, Sweden, Norway, and the Netherlands, as well as China.
Importing to Denmark can be complicated due to the traditional complexities of international ocean and air shipping. We are here to help. On this page, you will find important information on different modes of transport, costs, transit times, and customs clearance procedures.
What Are Your Options for Shipping Freight to Denmark?

Unless your goods can travel via land through Germany, your only two options are ocean and air shipping to Denmark. Each choice has particular benefits and drawbacks that you should know about.
Ocean Freight to Denmark
Less than Container Load (LCL): LCL shipping means that your cargo will be loaded into a shared container together with consignments of other shippers. This is a viable option for small shipments. LCL can be significantly cheaper than hiring a full container.
Full Container Load (FCL): If you are shipping large and heavy freight, then it might be worth renting a full container for its journey to Denmark. You will pay a flat fee for the entire unit. This way, your goods will remain sealed until they reach the final recipient.
Air Freight to Denmark
Air shipping easily outperforms sea freight when it comes to speed and flexibility. However, these advantages come at a price. Flying your goods can be very expensive.
How Much Does it Cost to Ship Cargo to Denmark?
There is no quick answer to this question because the final rates depend on many different factors. Quotes for your ocean and air shipping needs will take the following into consideration:
Nature of goods
Chosen mode of transport (FCL, LCL, Air)
Weight of the cargo
Dimension of the cargo
Distance between origin and destination
Type of service (such as port-to-port, door-to-door)
Here is an important rule of thumb to remember: Ocean shipping is usually the most economical choice for freight weighing 100 kg or more. On the other hand, smaller cargos of less than 100 kg can be moved by air or sea because the costs for either option will be very similar. For cargo lighter than 35 kg, consider engaging an international courier service instead of a freight forwarder.
How Long Does it Take to Ship Cargo to Denmark?
The ocean port or airport of origin will largely determine how long it will take your freight to reach Denmark. Air-freight shipments from any major international airport can arrive in Denmark within four to eight days. Your goods will be at sea much longer than that. Ocean freight transit times range from 21 to 46 days.
How Long Does It Take to Ship Cargo by Sea to Denmark?
Below you can find examples of transit times for a shipping container from various international ports to Denmark:
| Country of Origin | Port of Origin | Destination Port | Transit Time LCL | Transit Time FCL |
| --- | --- | --- | --- | --- |
| Australia | Brisbane | Copenhagen | 49 Days | |
| Canada | Montreal | Aarhus | 21 Days | |
| China | Shenzhen | Copenhagen | 43 Days | 37 Days |
| China | Shenzhen | Aarhus | 41 Days | 37 Days |
| China | Shanghai | Aarhus | 46 Days | 46 Days |
| China | Shanghai | Copenhagen | 46 Days | 46 Days |
| China | Shantou | Copenhagen | 46 Days | |
| China | Ningbo | Copenhagen | 51 Days | 46 Days |
| China | Qingdao | Aarhus | 46 Days | |
| Hong Kong | Hong Kong | Copenhagen | 38 Days | |
| India | Mundra | Aarhus | 31 Days | |
| USA | New York | Copenhagen | 19 Days | |
| USA  | Seattle | Copenhagen | 39 Days | |
How Long Does It Take to Ship Cargo by Air to Denmark?
Below you can find sample transit times for air shipments bound for Denmark from assorted international airports:
| Country of Origin | Airport of Origin | Destination Airport | Transit Time |
| --- | --- | --- | --- |
| China | Shanghai | Copenhagen | 8 Days |
| India | Mumbai | Copenhagen | 4 Days |
| India | Delhi | Copenhagen | 4 Days |
| Indonesia | Jakarta | Copenhagen | 7 Days |
| UAE  | Dubai | Copenhagen | 7 Days |
| USA | Charlotte | Copenhagen | 7 Days |
| USA | Miami | Copenhagen | 4 Days |
| Vietnam | Ho Chi Minh City | Copenhagen | 4 Days |
Import Customs Clearance in Denmark
In order to receive the import clearance for your freight in Denmark, you have to follow proper customs clearance procedures. Many first-time shippers, as well as experienced ones, rely on experts to perform this task. Engaging a qualified freight forwarder can save you from delays and guarantee that you follow Danish customs rules and international shipping regulations.
The first step in the customs clearance process is to gather the required paperwork. Danish customs officials are likely to request at least the following documents:
Commercial Invoice

Packing List

Certificate of Origin

Letter of Credit or other payment terms (depends on the contract between the parties involved)

Bill of Lading for ocean freight or Airway Bill for air freight (Shipa Freight will provide this for you)
Under certain circumstances, the customs authorities might request other documentation, such as certificates, permits, licenses. Your freight forwarder will brief you on the exact requirements when necessary.
If you want to prepare yourself and learn more about the different document types, take a look at our comprehensive documents list.
Ship Ocean Freight to Denmark: FCL or LCL?
The majority of commercial goods reach Danish ports inside standard 20ft or 40ft containers loaded aboard cargo ships. These specialized vessels are also capable of carrying sea freight that isn't suited for standard containers. Carriers and freight forwarders typically offer a large variety of different container types and even break-bulk shipping options.
When it comes to containerized ocean shipping, you have two alternatives: LCL and FCL. Let's dive into the pros and cons of each option so you can make the right choice.
Less Than Container Load (LCL) Shipping to Denmark
Pros:
LCL is likely the most affordable option for small amounts of cargo that don't exceed 14 cubic meters in volume.
LCL provides more flexibility for suppliers and buyers as they can simply drop off and pick up their goods from the freight forwarder's warehouse.
The ability to ship your cargo without having to wait until you've accumulated enough freight to fill an entire container can expedite your supply chain.
**Cons: **
You have to accept that your goods will share a container with the consignments of other shippers.
Additional process steps such as consolidation and deconsolidation of the container can add a few days to your overall transit time.
Your freight will likely be moved and handled more, which may damage delicate, fragile, or perishable products.
Learn more about Less than Container Load on our dedicated page on LCL shipping.
Full Container Load (FCL) Shipping to Denmark
Pros:
FCL usually offers quicker transit times than LCL.
It's best suited for shipments that occupy at least half the load capacity of a 20ft container.
Your cargo remains sealed off in your container for the entire journey to Denmark unless customs officials decide to inspect it.
Cons:
You have to pay for the full container even if you can't fill it.
It can limit your options for pickup and delivery because not all businesses are equipped to handle containers on their premises.
Learn more about Full Container Load on our dedicated page on FCL shipping.
Cargo Ports of Arrival in Denmark
Aarhus
Port Facts:
Largest container port in the country.
Processes more than 50% of Denmark's container traffic.
Situated at the mouth of the Aarhus River.
Facilities include a container terminal with a 1,300-meter pier and eight cranes.
Owned By: Aarhus Municipality.
Annual Container Volume: >540,000 TEUs.
UN/LOCODE: DKAAR.
Copenhagen
Port Facts:
One of the largest Nordic ports and a vital gateway for the Baltic region.
Located in the heart of the Oresund.
Container terminal features a 175,000 square meter storage area.
Offers other dedicated terminals for automobiles, general cargo, liquid and dry bulk.
Owned By: Copenhagen Malmo Port and By & Havn.
Annual Container Volume: >194,000 TEUs.
UN/LOCODE: DKCPH.
Air Shipping for Your Freight to Denmark
Air freight is ideal for shippers who prioritize a fast delivery over cost. No cargo vessel can beat the speed and flexibility of an airplane. Many businesses use this mode of transport only as an exception, though, because it is often much more expensive than sea freight.
Pros:
Viable options for small consignments of three pallets or less.
Short transit times are ideal for perishable goods.
Very reliable delivery dates because air transport is less affected by the weather.
Tight security standards in the airports are best for high-value freight.
Convenient for suppliers and buyers located close to an international airport.
Cons:
Very pricey for large quantities of products and very heavy freight.
Not an option for bulky or awkwardly shaped cargo that can't fit into the body of an aircraft.
Airports of Arrival in Denmark
Copenhagen (IATA Code: CPH)
Airport Facts:
Largest airport in the Nordic region, and one of the oldest in Europe.
Located on the island of Amager, eight kilometers from Copenhagen's city center.
Has three cargo terminals with a combined storage capacity of almost 40,000 square meters.
Suitable for cargo destined for southern Sweden as the nearby Oresund Link connects the two countries.
Ocean and Air Shipping to Denmark: Why Choose Shipa Freight?
No matter the size of your businesses – shipping your cargo to Denmark is easier than ever with Shipa Freight. With our cutting-edge online platform, you can be free from all hassles and simply manage your entire ocean and air freight shipping in one place. This could speed up your supply chain more than you think.
When you ship your freight to Denmark with us, you can take advantage of:
Instant, straightforward online quotes.
Fast online booking and payment.
One single tool to handle your imports and exports.
Transparent, easy-to-understand shipping documents.
Customs clearance procedures explained and executed for you.
Full compliance with international and national shipping rules and regulations.
Friendly customer service team available 24/7 via phone, email, and online chat.