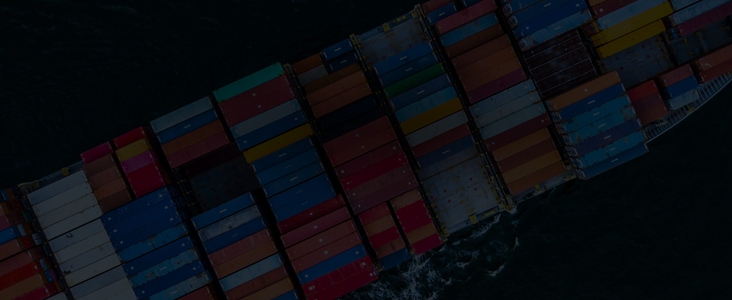 An import guide to transporting cargo to Kenya
Get information and quote for FCL and LCL shipping
Effortless Shipping
Real-Time Tracking
24X7 Customer Support
Updated on 28 Nov 2021
12 min read
Kenya is a country in East Africa famed for its scenic landscapes and vast wildlife preserves. Its Indian Ocean coast has provided historically important ports by which goods from traders worldwide have entered the continent for many centuries.
This guide will go through some important aspects of shipping to Kenya, such as customs processes, documentation, and tax regulations.
What are Your Options for Shipping Freight To Kenya?
Shipping to Kenya can be done either via ocean freight or air freight.
Ocean Freight To Kenya
Ocean freight to Kenya is your first option for transport. You can choose to ship by sea via less than container load or full container load. Less than container load is best for small cargo. Here, your goods will be consolidated with consignment from other sellers and shipped together in one container. Hence, it's an economical choice, but the shipping duration can be prolonged to give way to the consolidation process.
On the other hand, full container load is a faster but more expensive mode of ocean freight. Here, your goods will be shipped in isolation without the need to go through consolidation. This mode of ocean freight is best for large, heavy, bulky, and delicate cargo.
Air Freight To Kenya
You can also ship to Kenya by means of air freight. Shipping by air is a relatively faster process but can be more expensive because of the fuel and flight costs. There are also limitations in shipping via air freight, such as the weight and dimensions of your cargo, among others. However, it remains to be a good alternative to ship small and light freight to your destination country.
How Much Does it Cost to Ship Cargo To Kenya?
The cost of shipping cargo to Kenya depends on factors such as:
The type of goods you are shipping
Your chosen mode of shipment (ocean freight or air freight)
The weight and volume of your cargo
The size/ dimensions of your cargo
The distance between your origin country and Kenya
Specific movement types, i.e. door-to-door, port-to-door, door-to-port, port-to-port
Your freight forwarder can provide you with a more accurate estimate.
How Long Does it Take to Ship Cargo To Kenya?
The duration of your shipment would depend on factors such as your chosen mode of shipment, whether your route is direct or has multiple stops, and the distance between your country of origin and Kenya. Here are some estimated transit times for shipping cargo to Kenya.
Ocean Freight to Kenya
Origin Country|Transit Time LCL|Transit Time FCL| ------- | ---------------- | ---------------- |----------: Australia||33 days Belgium||29 days Canada|44 - 45 days China|36 days|20 - 31 days Finland||51 days Germany||35 days Hong Kong||19 days India|16 - 26 days|12 - 26 days Indonesia||36 days Italy||45 days Japan||31 days Malaysia||36 days Netherlands||51 days Pakistan||21 days Philippines||34 days Poland||46 days Saudia Arabia||21 days Singapore|20 days|14 days Thailand||18 days UAE|30 days|12 - 20 days UK|46 days|46 days USA|46 - 58 days|39 - 52 days
Air Freight to Kenya
Origin Country|**Transit Time **| ---------------- | ---------------- |----------: Germany|5 days India|5 - 8 days UK|2 - 8 days USA|5 days
Importing to Kenya
It is important to know when importing that the importer or clearing agent will capture all the mandatory details required when declaring an import in the customs System through a declaration to the government done prior to cargo inspection and shipping.
Clearing Agent
The Importer will need to acquire the services of a licensed customs clearing agent. A clearing agent is mandated to process the importation documents in the customs system and assist in clearing goods on your behalf.
Duties and Taxes Payable
Taxes are payable depending on the value of the imported item(s) and the duty rate applicable outlined under different legal documents as follows.
Import Duties
Depending on the item to be imported, the Import tax rates vary between 0%, 10% and 25% as provided by the East Africa Community Common External Tariff (CET). However, sensitive items attract duty higher than 25%. The sensitive items are listed in the schedule 2 of the EAC Common External Tariff.
Excise Duties
Excise Duty depends on whether the imported item is excisable or not. The Excise duty rates are prescribed under the Excise Duty Act 2015.
Value Added Tax (VAT)
The normal rate of VAT is 16%. However, the Items exempted from VAT as provided by the VAT Act of 2013 attract a rate of 0%.
Import Declaration Fees (IDF) & Railway Development Levy (RDL)
An import declaration fee of 2% and Railway Development Levy of 1.5% are levied on the value of imports as provided by the Miscellaneous Fees and Levies Act of 2016.
Documents Required in Clearance of Imported Goods
To clear any imported goods such as a car, machinery or general merchandise requires the engagement of a licensed customs clearing agent. When engaging with your preferred clearing agent ensure you always provide importation documents including but not limited to:
A Certificate of Conformity (CoC) from the PVoC agent for regulated products;
An import standards mark (ISM) when applicable;
Valid Commercial Invoice from the exporting firm
Valid pro forma invoices from the exporting firm.
Bill of Lading (sea cargo)/Airway Bill (air cargo)
Certificate of origin
Freight invoice for sea cargo
Logbook and its translation if it is not in English (motor vehicle)
Permit/License for restricted goods
Personal or Taxpayer Identification Number (PIN certificate)
Exemption letter (in case goods are exempted)
Purchase Orders/Contracts
Certificate of Roadworthiness for Motor Vehicles
Packing List
Letter of Credit (if available)
The customs clearing agent is then allowed to declare the goods you are importing in the customs system by creating an entry.
Goods Clearance Process
IDF Lodgment & Processing
The importer on obtaining the Pro-forma invoice will engage a licensed clearing agent to lodge an import declaration form. The importer should then send the IDF to the supplier for pre-shipment inspection.
Entry Declaration, Payment of Taxes, and Processing
The appointed clearing agent should make a customs declaration and provide the importer with a payment slip. The importer makes the payment to the bank and issues the agent with the official bank slips. Customs will process all valid declarations.
Verification and Other Enforcement Measures
The agent should present the physical file at the customs station where the goods are housed and where physical verification is conducted.
Clearance and Release
Upon verification, all valid declarations are cleared and released.
Prohibited Items for Kenya Shipping
The following items are specifically not allowed to be sent to Kenya.
Airline tickets, blank stock (negotiable instrument)
Asbestos
Dangerous goods, including hazardous or combustible materials
Firearms, parts of
Furs
Invoices, blank
Size and Weight notes
Illegal drugs
Knives and hunting weapons
Hazardous materials
Meat and meat products
Plants and plant products – unless you have a relevant written permit
Soil
Counterfeit money and goods
Single-use plastic bags
Pornographic material.
The maximum weight per shipment is 3,000 kg (6,600.0 lb). The maximum weight per piece is 1,000.0 kg (2,200.0 lb). Shipments exceeding these weight limits may incur additional delays. The maximum dimensions of each shipment are length: 120.0 cm (47 in); height: 160.0 cm (62.0 in); width: 100.0 cm (39.0 in). Pallets are accepted.
Shipping To Kenya: FCL or LCL?
If you choose ocean freight to ship cargo to Kenya, you will need to make a decision whether to ship with FCL or LCL. To help you choose wisely, here are some pointers to consider:
Less than Container Load To Kenya
Less than container load is a good shipping option for you if your cargo is:
Small in size and quantity
Suitable for consolidation with cargo from other sellers
Not expected in Kenya at a specified time
Suitable for frequent handling and movement
Not perishable, fragile, or delicate
Full Container Load To Kenya
Full container load shipping is best for the following types of cargo:
Large, bulky, and oversized
Better of shipped in isolation
Expected in Kenya at a specified time
Not suitable for frequent handling and movement
Perishable, fragile, or delicate
Top Cargo Ports in Kenya
The Port of Mombasa is the key entry and exit point for cargo belonging to a vast hinterland that includes Kenya, Uganda Rwanda, Burundi, Democratic Republic of Congo, Tanzania, South Sudan, Somalia, and Ethiopia.
Cargo Airports in Kenya
The top airports for cargo traffic are as follows:
Jomo Kenyatta International Airport (Nairobi)
Moi International Airport (Mombasa)
Moi International Airport (Eldoret)( not for formal customs processes)
Top Commodities Imported to Kenya (2018)
Refined Petroleum (16.4%)
Cars (2.78%)
Packaged Medicaments (2.51%)
Wheat (2.34%)
Hot-Rolled Iron (2.2%)
Top Tradelanes to Kenya (Kenya is the destination)
Uganda (9.9%)
United States (8.73%)
Netherlands (7.78%)
Pakistan (7.04%)
United Kingdom (6.18%)
Economic Map of Kenya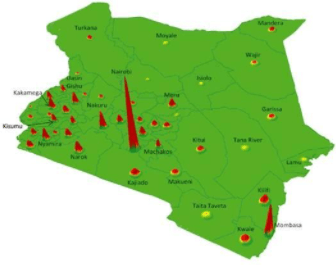 Source: Kenya Economic Map
E-commerce in Kenya
Kenya has one of the most vibrant e-commerce ecosystems in Africa and has shown steady growth. Exact data and statistics are lacking but revenue in the Kenyan e-commerce market is expected to result in an approximate market volume of USD $2 billion by 2024 (Statista). During the COVID-19 lockdown period, even more businesses have decided to open up online shops and it is expected that e-commerce in Kenya will further accelerate and grow.
Cross-border vs. domestic e-commerce in Kenya
Cross-border e-commerce
There is a large appetite for products that are not accessible within Kenya. These products are mainly ordered via e-commerce platforms such as eBay, AliExpress, and Amazon. Also export in Kenya via e-commerce is popular, there is especially a large appetite from Europe and Asia for authentic African products, predominantly sold via eBay.
Domestic e-commerce
The domestic e-commerce ecosystem has been steadily growing the last couple of years, attracting more local players — think of marketplaces adapting to the local context, but also traditional brick and mortar businesses are becoming active with e-commerce.
E-commerce however has been a challenging space in Kenya due to infrastructure gaps and customer reluctance. Physical goods need to be delivered, which require logistic infrastructure. This logistic infrastructure is lacking, making e-commerce restricted to larger cities such as Nairobi and Mombasa. E-commerce focused on selling local products like FMCG is also facing fierce competition from informal retailers and markets in Kenya.
Apart from the difference between cross-border and domestic, there is a difference between B2B and B2C e-commerce, whereby B2B has taken the lead in Kenya the last couple of years. Domestic players such as Twiga Foods, a marketplace for suppliers and vendors, Sokowatch, a stock solution provider for informal retailers, and cross-border e-commerce players such as Alibaba and AliExpress.
B2C is catching up with B2B and it is expected that a lot more will happen in this space in the coming years. Domestic players such as Copia, Sky Garden, Kilimall and Africa Sokoni, and Jumia are transforming the space. All these players are active in Nairobi and most of them in large cities such as Mombasa and Kisumu. Some of these players also target rural areas.
E-commerce is popular among millennials, cities, and certain products. Data from Jumia Kenya from September 2019 shows that the largest group of e-commerce shoppers is 25-34 living in larger cities such as Nairobi.
Top three products in e-commerce:
What are the drivers for e-commerce in Kenya?
Mobile connectivity improves access to the internet
In Kenya, more than four million people became connected to the mobile internet between 2014 and 2017, increasing adoption from 16% to 24%. According to The Mobile Economy 2019 report by GSMA, this growth was due to performance on two enablers: infrastructure and affordability.
The former was driven by improved network coverage, with 3G increasing from 67% in 2014 to 85% in 2017, and 4G reaching more than a third of the population.
Online payments to facilitate transactions
Debit and credit cards such as Mastercard and Visa have low penetration in the Kenyan market, so the most popular domestic methods of payments for e-commerce are:
M-Pesa
Airtel Money
T-Kash
Equitel
According to the Communications Authority (CA), Kenyans performed 425.3 million mobile commerce transactions between July and September 2019. Although online payment infrastructure is in place, with several payment gateways providing solutions for e-commerce players to accept payments online, cash should not be underestimated. Companies selling online often accept cash on delivery as a payment option.
Future growth of e-commerce in Kenya and Africa
To accelerate the future growth of e-commerce in Kenya there are four key bottlenecks that need to be overcome:
Trust among consumers
Lack of reliable data
High shipping and delivery cost
High import duties among East African borders regarding clearance, fees, taxes.
Opportunities are not only in Kenya. According to Brookings, intra-African trade is only 17% compared to 59% in Asia and 69% in Europe. The implementation of the Africa Continental Free Trade Agreement (AfCFTA) is expected to boost intra-Africa trade by up to 52%, by eliminating import duties and reducing other barriers to trade.
Although the uptake of e-commerce in Kenya has remained relatively low in comparison to more developed countries in the past, the expectation is that e-commerce in Kenya will further advance and develop its own model based on the characteristics and demand of the market. Kenya's e-commerce ecosystem will be interesting to watch in the coming years.
Ocean and Air Shipping To Kenya: Why Choose Shipa Freight?
If you are planning to ship cargo to Kenya, you need to work with a freight forwarder that knows all the ins and outs of international shipping and can offer you the utmost convenience throughout the process.
Shipa Freight is your reliable freight forwarder that offers you the traditional freight forwarding services at the convenience of modern technology. Our digital platform allows you to manage and track your shipment at the convenience of your smartphone. Get started with a more seamless shipping process with us today.