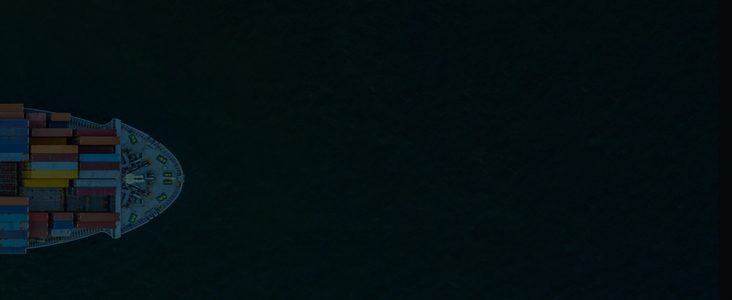 An import guide to transporting cargo to South Africa
Get information and quote for FCL and LCL shipping
Effortless Shipping
Real-Time Tracking
24X7 Customer Support
Updated on 28 Nov 2021
12 min read
South Africa located on the southern tip of Africa, boasts a growing population and economy. The country has a population of approximately 58 million and a total GDP of about $301 billion, making it an emerging player in the global economy.
This guide will go through some important aspects of shipping to South Africa, such as customs processes, documentation and tax regulations.
What are Your Options for Shipping Freight To South Africa?
Freight shipping to South Africa can be conducted via ocean freight or air freight.
Ocean Freight To South Africa
Shipping cargo to South Africa by sea gives you two options, either less than container load (LCL) or full container load (FCL). In less than container load, your goods will be consolidated with consignments from other sellers, which will then be shipped together in one container. LCL is best for small cargo and those that are not perishable or delicate.
In case you are shipping large or heavy cargo, you may need to choose full container load shipping instead. In FCL, your goods will be shipped in isolation, which means that you have the space in an entire container all to yourself. While this is a preferred mode of shipment for delicate and perishable items, it can cost more than LCL.
Air Freight To South Africa
You can also ship freight to South Africa by air. While this is a more expensive shipping option, it is very quick and flexible, thus allowing you to get your cargo to South Africa more seamlessly. However, air freight may have certain limitations when it comes to the size, volume, and type of cargo that you can ship.
How Much Does it Cost to Ship Cargo To South Africa?
The cost of shipping cargo to South Africa is dependent on a variety of factors, such as:
The type of goods you are shipping
Your chosen mode of shipment (ocean freight or air freight)
The weight and volume of your cargo
The size/ dimensions of your cargo
The distance your origin country and South Africa
Specific movement types, i.e. door-to-door, port-to-door, door-to-port, port-to-port
You can request a more accurate quote of your shipping costs from your freight forwarder.
How Long Does it Take to Ship Cargo To South Africa?
The transit time for your cargo will depend on the chosen mode of shipment you select, whether the route of your ship or airplane is direct or has multiple stops, and the distance of your origin port or airport from the port or airport in South Africa.
Here are some estimated transit times:
Ocean Freight to South Africa
Origin Country|Transit Time LCL|Transit Time FCL| ------- | ---------------- | ---------------- |----------: India|21 days |15 - 39 days Poland||31 days Singapore||29 days UAE|25 days|28 - 35 days USA|37 days|30 days
Air Freight to South Africa
Origin Country|Transit Time| ---------------- | ---------------- |----------: China |3 - 8 days France|5 - 8 days Hong Kong|2 - 6 days India|1 - 6 days Netherlands|5 days Singapore|4 days UK|8 days USA|5 - 7 days
Importing to South Africa
South Africa has a complex import process. The South African Revenue Service (SARS) lists nearly 90,000 product tariff codes that are strictly enforced on all imports. U.S. exporters are encouraged to engage the services of a reputable freight forwarding/customs clearance agent well versed in South African conventions.
Customs South Africa (Customs SA), a division of SARS, requires that an importer register with its office and obtain an importer's code from SARS. This has an impact on many importers and could delay the clearance of goods.
SARS uses a Single Administrative Document (SAD) to facilitate the clearance of goods for importers, exporters, and cross-border traders. The SAD is a multi-purpose goods declaration form covering imports, exports, cross-border, and transit movements.
Requirements for South African Shipments
For customs purposes in South Africa, one negotiable and two non-negotiable copies of the Bill of Lading are required.The Bill of Lading may be made out either "straight" or "to order."
A Declaration of Origin Form, DA59, is used in cases where a rate of duty lower than the general rate is claimed as well as for goods subject to antidumping or countervailing duty. DA59 is a prescribed form with stipulated format, size and content. This form does not require certification from the Chamber of Commerce. One original signed copy of the form must be attached to the original commercial invoice covering goods, which require such a declaration.
Four copies and one original Commercial Invoice are required. Suppliers must give, in their invoices, all data necessary for the importer to make a valid entry and for the South African Customs to determine the value for duty purposes.
Invoices from suppliers will not be accepted as satisfying the requirements of the customs regulations unless they state, in addition to any proprietary or trade name of the goods, a full description of their nature and characteristics together with such particulars as are required to assess the import duty and to compile statistics.
One copy of the insurance certificate is required for sea freight. It is important to monitor the importer's and/or insurance company's instructions in other matters.
Three copies of the Packing List are required. Data contained in this document should agree with that in other documents.
To reduce the likelihood of a dutiable assessment of samples, the shipper must state the following: "Sample: Of no commercial value/Value for customs purposes is $xxx." Zero-value invoices are not accepted by South African customs authorities; the correct value must be stated of the shipment in question.
Import licenses are required for restricted items. Importers must possess an import permit prior to the date of shipment. Customs SA may impose penalties on importers who fail to produce a required permit. The permit is only valid in respect of the goods of the class and country specified. It is non-transferable and may only be used by the person to whom it was issued. Further, import permits are valid only for the calendar year in which they are issued.
The Director of Import and Export Control at the Department of Trade and Industry issues import permits required for specific categories of restricted goods. These categories have been reduced, but still must be obtained for most used or second-hand items. During the course of 2020, medicine exports were placed under close scrutiny, but these controls have been partly lifted to ease exports to neighboring states.
Prohibited Items for South Africa Shipping
The following items are specifically not allowed to be sent to South Africa:
Ammunition
Coffee and Coffee Samples
Cotton seeds
Dangerous Goods as defined by IATA (Intl. Air Transport Association)
Drugs and narcotics
Drugs, Prescription and Non-Prescription
Dry Ice
Furniture
Furs
Grain samples
Honey, beeswax, bees, and their larvae or eggs, used beehive appliances
Personal Effects
Plant products
Plants
Plants, seeds, bulbs, raw cotton
Pornographic or objectionable materials
Seeds
Ship spares
Shoes
Tea
Textile articles
Tobacco and Tobacco Leaves
Uncooked meat/poultry
Uncut diamonds
Unwrought gold
Shipping To South Africa: FCL or LCL?
If you have chosen to ship your cargo to South Africa by sea, you will need to decide if you will go with a full container load or less than container load shipment. The right choice would depend on your priorities, as well as the nature and particulars of your cargo.
Less than Container Load To South Africa
Less than container load shipping may be a viable option for you if your cargo is:
Small in size and quantity
Suitable for consolidation with cargo from other sellers
Not expected in South Africa at a specified time
Suitable for frequent handling and movement
Not perishable, fragile, or delicate
Full Container Load To South Africa
On the other hand, if the following is true about your cargo, full container load may be a better option:
It is large, bulky, and oversized
It is better of shipped in isolation
It is expected in South Africa at a specified time
It is not suitable for frequent handling and movement
It is perishable, fragile, or delicate
Top Cargo Ports in South Africa
South Africa has six major commercial ports: Durban, Richards Bay, Cape Town, Saldanha Bay, Port Elizabeth, and East London.
Durban
Durban has five deep-sea and two coastal container berths and provides 15,195 meters of quayage for commercial ships. Durban also has repair facilities, including a floating dry dock, in a port that encompasses 893 hectares of the bay area.
Richards Bay
Richards Bay, a deep-water port 193 kilometers northeast of Durban, can accommodate bulk carriers of up to 250,000 tons, with five berths for general and bulk cargo, and a coal berth.
Cape Town
Cape Town includes five berths for container vessels and general cargo carriers, a pier for coastal traffic, and extensive ship repair facilities. The port at Cape Town has a water area of 112.7 hectares.
Port Elizabeth
Port Elizabeth's enclosed water area of about 115 hectares has more than 3,400 meters of quayage for commercial shipping and a container terminal that has two berths. Facilities at Port Elizabeth include a mechanical ore-handling plant, which can process up to 1,500 tons per hour, and a precooling storage area with a capacity of 7,500 cubic meters.
Saldanha Bay
Saldanha Bay's port provides anchorage in the protection of a breakwater where the minimum water depth is 14.6 meters. With a port area of about 5,000 hectares, Saldanha Bay is larger than the combined areas of the ports of Durban, Cape Town, Port Elizabeth, and East London. The ore-loading jetty can handle carriers of 350,000 tons.
East London
East London, South Africa's only river port, is situated at the estuary of the Buffalo River in Eastern Cape Province. East London is the smallest of the six major ports, but it has a 75,000-ton capacity grain elevator, which is the largest in South Africa.
Top Airports in South Africa
The top airports for traffic are as follows:
IATA|Name|City|Airlines|Destinations| ------- | ---------------- | ---------------- | ---------------- | ---------------- |----------: JNB|OR Tambo International Airport|Johannesburg|49|81 CPT|Cape Town International Airport|Cape Town|19|23 DUR|King Shaka International Airport|Durban|6|13 GRJ|George Airport|George|3|3 HLA|Lanseria Airport|Johannesburg|3|2 PLZ|Port Elizabeth Airport|Port Elizabeth|3|4 BFN|Bram Fischer International Airport|Bloemfontein|2|3
Top Commodities Imported to South Africa (2018)
Crude Petroleum - 10.1%
Refined Petroleum - 4.8%
Cars - 4.35
Vehicle Parts - 3.47%
Gold - 3.05%
Top Tradelanes to South Africa
China - 18.2%
Germany - 11.1%
United States - 6.14%
India - 4.72%
Saudi Arabia - 4.17%
Manufacturing Map of South Africa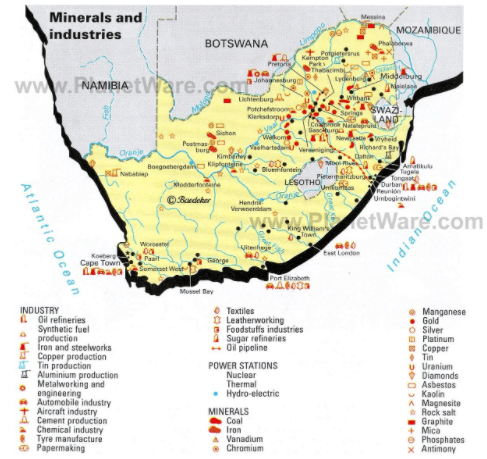 Source: South Africa Minerals and Industries Map
E-commerce in South Africa
Clothing and apparel are the top two e-Commerce products in South Africa followed by media products. There is also growth in most food delivery platforms both grocery and fast food/convenience. UberEATS is available in South Africa and competes with the local platform called Mr. Delivery. Consumers are price-sensitive, favoring online promotions and coupons.
Cross-Border E-Commerce
South Africans purchase mostly from South African websites or online marketplaces, but 27% purchase from the United States, and 14% from Europe. The U.S. version of Amazon.com is the third most visited e-commerce website in South Africa.
If a South African imports goods in excess of ZAR10 000 ($580) or more than three times a year they will have to get an importers code, irrespective if it is for personal or business use.
Online Payment
Credit cards and debit cards are the most preferred payment methods. Consumers also use e-wallet services and EFT for online payment. Due to the growth of credit card fraud, the Payment Association of South Africa mandated the use of 3D Secure in 2014.
Merchants have reported that increased flexibility in the application of 3D Secure to online transactions in recent years has reduced cart abandonment by consumers. Currently, around 71% of potential customers abandon their carts because of payment gateway failure.
Mobile E-Commerce
Cell phones have largely replaced wallets, as banks, card operators, retailers, and communications companies provide alternatives to cash as a means of payment. M-commerce, where cellphones are used to pay for goods and services, has advanced beyond mobile banking to debit and credit transactions.
M-commerce is particularly attractive in South Africa due to the rapid increase in the number of smartphones, and poor fixed-line infrastructure. This provides an immense opportunity for online retailers, as mobile spending is projected to increase. Companies need to include mobile optimization in their e-commerce offerings to increase the buying experience.
Digital Marketing
Social media platforms are becoming more pervasive as marketing tools in South Africa. More than 90% of South African major brands advertise on social media platforms. On a consumer level, growth for most networks has slowed down, but engagement by users has intensified.
Major Buying Holidays
International online sale days such as Black Friday and Cyber Monday are popular in South Africa and offer opportunities for retailers to reach more customers.
Ocean and Air Shipping To South Africa: Why Choose Shipa Freight?
Shipping freight to South Africa can be a tedious and overwhelming experience, so you need a reliable partner who can help you navigate the process seamlessly and conveniently. That's where we come in.
Shipa Freight is your digital-first freight forwarder with a digital platform where you can control and manage your entire shipping process. From requesting a quote to tracking your cargo, you can do it all from the comfort of your smartphone.
Get started with a convenient and hassle-free shipping experience with Shipa Freight today.