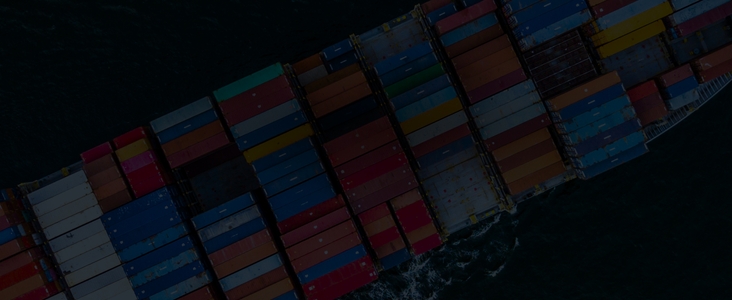 Ocean and Air Freight Shipping From India to Germany
FCL, LCL and Air freight forwarding: information and online quote
Effortless Shipping
Real-Time Tracking
24X7 Customer Support
Updated on 01 Mar 2022
14 min read
Trade routes from India to Germany are long-established and well-traveled. This article contains useful information about importing from India to Germany along those routes using air and ocean carriers.
You'll discover information about key ports and airports in both nations, and details about customs clearance and transit times. It makes this page essential reading if you are:
A German importer purchasing products from India for the first time
A Business looking for information about trading between India and Germany
A logistics manager for an enterprise with a supply chain connecting India with Germany
Anyone with commercial goods to export from India to Germany
What Are Your Options for Shipping Freight From India to Germany?
More than 5,750 kilometers separate Delhi in India and Berlin in Germany. Given the vast distance between the two nations, the only feasible means of transporting goods between them are ocean shipping and air freight. Let's take a look at both.
Ocean Freight From India to Germany
Less than Container Load (LCL): Ideal for consignments of 14 cubic meters or less, LCL is a mode of container shipping that entails consolidation of cargo belonging to several importers and exporters to create a full container load.
Full Container Load (FCL): FCL shipping requires you to pay a flat fee for the use and transportation of a shipping container from India to Germany. The container will be for your use alone, and you can fill, or part-fill it as you wish.
Air Freight from India to Germany
Ocean freight shipping between India and Germany may not be quick enough to meet the needs of your supply chain. In that case, air freight offers a quicker method of moving your goods for export from India to Germany. It is also the most expensive mode of freight transportation.
How Much Does it Cost to Ship Freight From India to Germany?
Do you have a small shipment to import from India to Germany? LCL ocean freight is likely to offer the most economical option for you. If you have a bigger consignment to send, shipping it as a full load in a container from India to Germany will almost certainly cost less per unit than LCL.
That's because LCL shipping rates are based on the weight and dimensions of freight, whereas FCL rates are calculated on a per-container basis.
Air freight is significantly more expensive than ocean shipping for large consignments. But if the weight of your goods is around the 100 kilogram mark or less, it's likely to be nearly as cost-effective to fly it from India to Germany, as to ship it with an ocean carrier.
Shipments with a weight of 35 kilograms or less are not handled by freight forwarders. You should contact an international courier for help transporting such consignments.
How Long Does it Take to Ship Cargo From India to Germany?
If quick delivery is critical to your business, ocean freight may take too long to get your shipping container from India to Germany. Air freight offers a quicker but more expensive option.
How Long Does It Take to Ship Cargo by Sea From India to Germany?
Shipping ocean freight from India to Germany takes at least 22 days and as many as 36 days. FCL shipping tends to be quicker than LCL, but that's not always the case. Much depends on whether stops at additional ports are required along the way.
There are plenty of nautical miles between India and Germany and many trade lanes your freight can take. Actual journey times will be longer than the estimated transit times stated below, because this is only a port-to-port guide. It doesn't take into account delays before launch, at sea, or the extra overland transit times required in the country of export and import.
Chennai to Hamburg – 35 days FCL, 36 days LCL
Mundra to Hamburg – 22 days FCL
Nhava Sheva to Hamburg – 27 days FCL, 28 days LCL
How Long Does It Take to Ship Cargo by Air From India to Germany?
Air freight is the fastest way to ship your merchandise from India to Germany. All air transit times stated below include:
Consolidation at the airport of loading
Export customs procedures
Unloading at the airport of discharge
Import customs clearance
The majority of flights from India to Germany require a stop on route.
Chennai to Frankfurt – 3 days
Delhi, Cochin, Ahmedabad, or Mumbai to Frankfurt – 6 days
Bangalore to Frankfurt – 5 days
Hyderabad to Frankfurt – 4 days
Kolkata to Frankfurt – 2 days
Customs Clearance in India and Germany
Ask commercial importers and exporters which is the most complicated aspect of international shipping, and they'll likely tell you it's customs clearance. Processes and procedures must be adhered to, and many shippers choose to hire a freight forwarder to manage the complexity.
Forwarders will use their expertise to ensure all shipping regulations are observed and that no unnecessary delays affect your shipment. You will still need to take action to help your consignment pass customs checks in India and Germany. Key to this will be the provision of the following documents for examination by customs authorities:
Commercial Invoice
Packing List
Certificate of Origin
Letter of Credit or other payment terms (depending on the contract between the parties involved)
Bill of Lading for sea freight or an Airway Bill for air freight (Your freight forwarder should supply you with this document)
Our Shipping Documents page is the place to go to see examples of the above documents. Please note that you might need to provide extra documents to accompany your shipment. These could include certificates, licenses, or permits.
Should You Choose Ocean Freight or Air Freight?
Ocean Freight
Ocean shipping is usually the most affordable way to bring freight from India to Germany. It's likely your goods will ship inside a container. Most commercial ports in India and Germany have container-handling facilities, so you should choose the port that's closest to your supplier in India and consignee in Germany.
Your freight forwarder will help you decide which kind of container is best for your sea freight as many types are available. The forwarder will also help you choose between LCL or FCL ocean shipping. To give you a heads-up, here's an overview of both options:
Considerations for LCL Freight Shipping
If you can answer 'yes' to many or all of the questions below, it's likely that LCL will be the best way for you to ship goods in a container from India to Germany:
Are you OK with your goods sharing a container with other shippers' freight?
Is your shipment small in terms of volume and light in weight?
Will it occupy less than half the load capacity of a 20-foot standard shipping container?
Are you shipping so frequently that you can't afford to wait until you can fill a container?
Can you accommodate the longer transit times that might arise from the need to consolidate and deconsolidate goods?
Considerations for FCL Freight Shipping
FCL is the other ocean freight option you might want to consider. It's important to note that even though you pay a flat fee for a container and its shipment with FCL, you do not need to fill the container. Even half-filling a container could work out more cost-effective than LCL shipping under some circumstances.
Other advantages FCL shipping has include:
Usually slightly shorter transit times than with LCL (as no consolidation is required)
Your freight is sealed and secured in its container throughout the shipping process
Delays arising from issues affecting other shippers' goods won't affect your shipment
Your goods will undergo less handling than with LCL, thereby reducing the risk of loss or damage to your cargo
Air Freight
If ocean freight cannot meet the demands of your supply chain, air shipping could be the answer. It might be the best option if you:
Don't want a lot of risk: the more time your freight spends getting from A to B, the higher is the risk of losses or damage. If you're risk-averse, the quicker you can get your consignment to its destination, the better.
Only have a small consignment to transport: air freight is ideal for smaller quantities of freight, for example, a shipment that occupies no more than two to four pallets.
Are sending perishables: your consignments of perishable goods might not withstand several weeks of ocean shipping. Even vessels with refrigeration units can only keep stock fresh for a limited time. Although the cost to ship air freight is higher, it will get your perishables to Germany well before their best-before date.
Need reliability: airlines tend to be far stricter with their scheduling, rectifying any delays quickly, and flight transit times don't vary much from those advertised, due to fuel limits. Ocean freight, on the other hand, can be subject to delays on departure, arrival and at sea.
Need security: if you are shipping high value goods, the security measures taken by airlines and airport operators can give you peace of mind.
Seek cheaper insurance: insurers will set lower premiums for freight that gets to its destination by air, simply because less time in transit means less risk.
Ocean Cargo Port Guide
Cargo Ports of Origin in India
Kattupalli
Port Facts
Located to the north of the extensive container freight facilities at Chennai
24/7 congestion free approach roads for easy access to the port
Containers can be granted Direct Port Entry status if they have been factory-stuffed or self-sealed
Owned By: Kattupalli Port Private Ltd. Annual Container Volume: >345,000 TEUs. UN/LOCODE: INKAT.
Chennai
Port Facts
Excellent rail links to and from its two container-handling terminals
Located on the Coromandel Coast in Southeastern India
India's second-largest container port
Broke records by handling more than 15.7 million TEUs of cargo in the year to March 2019
Owned By: Chennai Port Trust. Annual Container Volume: >1.5 million TEUs. UN/LOCODE: INMAA.
Mundra
Port Facts
India's largest port that is owned by a private entity
A world top-50 port in terms of size
Infrastructure includes four cargo terminals
Ideal for any supplier based in the state of Gujarat, or elsewhere in the Northwest of India
***Owned By: ***Adani Group. ***Annual Container Volume: ***>4 million TEUs. UN/LOCODE: INMUN.
Krishnapatnam
Port Facts
More commonly referred to as KPCL
A privately-owned deep water port in Eastern India
Located 180 kilometers north of Chennai
Its container terminal handles 1.2 million standard-size containers per year
Exports a broad variety of freight, including cars, edible oils, and fertilizer
Owned By: Navayuga Engineering Co. Ltd. Annual Container Volume: >450,000 TEUs. UN/LOCODE: INKRI.
Mormugao
Port Facts
Located in Goa
A natural harbor
One of India's oldest ports
Lies on the south bank of the River Zuari
Products exported from here include frozen fish, liquor, and pharmaceuticals
Owned By: Government of India. Annual Container Volume: >5,000 TEUs. UN/LOCODE: INMRM.
Other Ports in India
The other gateways in India from which LCL and FCL services to Germany can be delivered include:
Kandla
Nhava Sheva
Cochin
Tuticorin
Pipavav
Haldia
Visakhapatnam
Kolkata
Cargo Ports of Arrival in Germany
Bremerhaven
Port Facts
Features a quartet of container terminals
Europe's fourth-busiest port
Handles a variety of freight
Strong transport links to the rest of Germany
Quay stretches for over five kilometers with room for up to 14 container vessels to simultaneously load or unload
Owned By: Free Hanseatic City of Bremen. Annual Container Volume: >5 million TEUs. UN/LOCODE: DEBRV.
Hamburg
Port Facts
Europe's third-busiest container hub
Germany's biggest port
Located on the Southern side of the River Elbe
Room for 22 container vessels to dock and unload at the same time
80 quay cranes are available for container-vessel loading/unloading
Owned By: Hamburg Port Authority. Annual Container Volume: >8.5 million TEUs. UN/LOCODE: DEHAM.
Flying Your Freight: Airport Guide
Airports of Origin in India
Bangalore
Airport Facts
Also known as Kempegowda International Airport
Serves the state capital of Karnataka
Facilities include a cargo village and three cargo terminals
Has pharmaceutical storage facilities
Connects to Bangalore City via National Highway 44 and the Metrolink
Germany Airports Served: Frankfurt, Leipzig/Halle. Bangalore to Germany Cargo-Only Operators: None. IATA CODE: BLR.
Hyderabad
Airport Facts
Full name is Rajiv Gandhi International Airport
Located south of Hyderabad, the capital of the Indian state of Telangana
Has two runways and a single freight terminal covering over 14,000 square meters
Impressive temperature-controlled pharmaceutical storage facilities
Lufthansa Cargo chose the airport as the location of its first dedicated pharma hub
Germany Airports Served: Frankfurt. Hyderabad to Germany Cargo-Only Operators: Lufthansa Cargo. IATA CODE: HYD.
Mumbai
Airport Facts
Overtaken by Delhi as India's busiest freight hub a few years ago
Also known as Chhatrapati Shivaji Maharaj International Airport
Serves Mumbai and Western India
Germany Airports Served: Frankfurt, Leipzig/Halle, Munich. Mumbai to Germany Cargo-Only Operators: Aerologic, Cathay Pacific Cargo, Lufthansa Cargo, UPS Airlines. IATA CODE: BOM.
Chennai
Airport Facts
India's third-busiest airport behind Delhi and Mumbai
Cargo complex accommodates three wide-bodied freighter aircraft simultaneously
A new integrated freight terminal with state-of-the-art storage facilities is currently under construction
Germany Airports Served: Frankfurt. ***Chennai to Germany Cargo-Only Operators:***Aerologic, Cathay Pacific Cargo, Lufthansa Cargo. IATA CODE: MAA.
Delhi
Airport Facts
India's busiest air cargo hub
Serves Northern India
Handles around one million tonnes of goods every year
Direct flights to three German airports
Germany Airports Served: Frankfurt, Leipzig/Halle, Munich. Delhi to Germany Cargo-Only Operators: None. IATA CODE: DEL.
Other Airports of Origin in India
Other airports from which you can get your goods aboard indirect flights to Germany include Ahmedabad, Kolkata, Jaipur, Pune, Cochin, and Coimbatore.
Airports of Arrival in Germany
Frankfurt
Airport Facts:
The home of Lufthansa Cargo
Europe's largest multimodal cargo-handling hub
More than two million tonnes of goods are handled here every year
Handles all types of goods including pharmaceuticals and dangerous goods
Features four runways, three of which are 4,000 meters-long
Connected Airports in India: Mumbai, Bangalore, Chennai, Delhi, Hyderabad. India to Frankfurt Cargo-Only Operators: None. IATA CODE: FRA.
Dusseldorf
Airport Facts:
Seven kilometers outside Dusseldorf City Center
Ranks as Germany's third-largest air freight hub
Infrastructure includes three terminals.
Can accommodate wide-body aircraft
Connected Airports in India: None. India to Dusseldorf Cargo-Only Operators: None. IATA Code: DUS.
Berlin-Tegel
Airport Facts:
Germany's fourth-biggest air freight hub
Situated eight kilometers outside of Central Berlin
Ideal if your freight from India is destined for Berlin, Potsdam, Oranienburg
Connected Airports in India: None. India to Berlin Cargo-Only Operators: None. IATA Code: TXL.
Munich
Airport Facts:
Serves Bavaria and Southern Germany
Second-busiest airport in the country
Boasts an 84,000 square-meter cargo terminal
Over 33% of Germany's air cargo is handled here
Annual freight volume is almost 400,000 tonnes
Connected Airports in India: Delhi, Mumbai. India to Munich Cargo-Only Operators: None. IATA Code: MUC.
Hamburg
Airport Facts:
Located eight kilometers outside of Germany's second-biggest city
Known locally as Flughafen Hamburg
No direct flights from India
Connected Airports in India: None. India to Hamburg Cargo-Only Operators: None. IATA Code: HAM.
You can also fly your freight from India into Germany via airports in Nuremberg, Leipzig, or Stuttgart.
Why Ship From India to Germany With Shipa Freight?
International shipping doesn't need to be stressful. With Shipa Freight's online platform, the process is so much easier. Our digital-first approach removes much of the complexity from international shipping.
Here are just some of the advantages of making Shipa Freight your freight forwarder:
Get free shipping quotes fast
Book, pay for, and track ocean and air freight shipments online
Receive expert guidance about which documents your freight needs
24/7 access to a friendly customer service team, available via email, phone, and live chat
Our customs clearance expertise ensures your consignment adheres to rules and regulations
Know Your Shipping Terminology
To help build your understanding of the language of shipping, we're ending our country-to-country pages with definitions of potentially confusing terms and jargon. It's a great chance to familiarize yourself with the 'lingo' so you can communicate your needs more effectively.