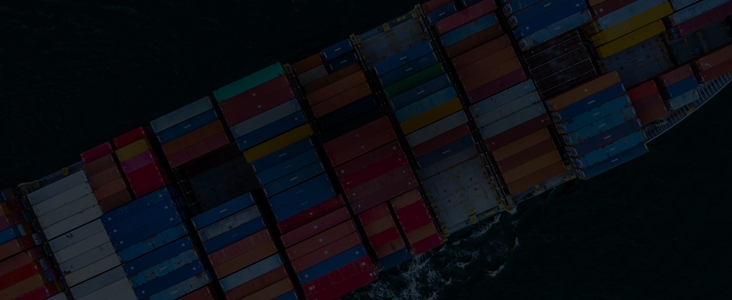 Container Shipping to France
Get information and quote for FCL, LCL and Air shipping
Effortless Shipping
Real-Time Tracking
24X7 Customer Support
Updated on 29 Aug 2022
8 min read
France is the world's six largest importer, playing a big role in global trade by partnering up with other top importers in the world, including China, the European Union, and the United States. It imported a total of $672,549 USD of goods in 2018, making it a viable destination to expand your products.
If you are thinking about shipping your goods to France, you've come to the right place. In this comprehensive guide, we discuss everything that you need to be aware of to ship a container to France. Learn your options for container shipping, estimated cost of shipment, container capacity requirements, customs clearance, Incoterms, and more.
What are your options for container shipping to France?
To ship a container to France, you can either select less than container load or full container load ocean freight options.
Less than Container Load (LCL) to France
Less than container load shipping is ideal if you are shipping small cargo or transporting goods in small quantities. In this type of shipping option, your goods will be consolidated with cargo belonging to other sellers. Upon consolidation, the goods will be shipped together in one container. Because you're sharing the container space with other sellers, LCL is a more economical option.
Full Container Load (FCL) to France
Full container load, on the other hand, means that you ship your cargo exclusively in one container. Your shipping cost would include the cost of the entire space, but your goods will be in isolation. Because of the lack of consolidation, FCL is relatively faster than LCL. However, it can cost more.
How much does it cost to ship a container to France?
Several factors come into play to determine your container shipping cost to France. These include:
Type of goods you are shipping
Your choice of shipping service (LCL or FCL)
Weight of your cargo
Volume of your cargo
Distance between your port of origin and destination
Movement type (door-to-door, port-to-port, etc.)
Your freight forwarder can provide you with a more accurate estimate, taking these factors into consideration.
What type of cargo can be sent in a container?
Container shipping via ocean freight is more versatile compared to air freight. This is because there are fewer restrictions when it comes to the type of cargo that you can ship. Generally, you can ship any goods by sea, from small bulk such as toys, clothing, and appliances to large cargo such as vehicles and machinery.
However, it's worth noting that you should be aware of the prohibited and restricted goods in France to prevent any problems with your shipment.
How long does it take to ship a container to France?
Similar to determining the cost of your shipment, there are also several things to consider to identify how long it will take to ship a container to France. Such factors include:
Whether you select LCL or FCL shipping
The distance between your origin and destination
Whether the ship's route is direct or has multiple stops.
The average shipping time to France is 20 to 54 days. Below are some estimates categorized by country of origin.
Country of Origin|LCL Transit Time|FCL Transit Time| ------- | ---------------- | ---------------- |----------: Australia||41 to 54 days China|34 to 39 days|20 to 46 days India |34 days|25 to 39 days Indonesia |26 to 45 days|26 to 40 days Malaysia|45 days| Pakistan||36 days Thailand|45 days|42 days UAE||36 days USA|24 days|23 days
What container capacity do I need for my cargo?
There are various sizes of ocean freight containers, ranging from 20 feet to 45 feet. Which capacity you should choose would depend on the size and volume of the goods you are shipping.
For LCL shipments, we recommend that your cargo does not occupy more than half of a standard container. This is for cost-efficiency reasons. If your cargo is larger than half of the unit, it would be more ideal to simply choose FCL and ship your goods in isolation.
FCL shipping does not limit your cargo in size or volume because your goods will be exclusively shipped in one unit. You can ship small or large cargo via FCL.
Which mode of ocean shipping should I choose, FCL, LCL, or Break Bulk?
The right choice of ocean shipping for your particular needs would depend on the unique characteristics of your cargo, as well as your priorities when it comes to costs and duration. Below, we give you some pointers to help you choose the best ocean freight option for you.
Less Than Container Load (LCL) Shipping to France
LCL is a good choice for you if:
You are shipping in small quantities
Your goods are small in size
Your goods are not delicate and fragile
Your goods can withstand frequent moving and handling
Your can afford the longer transit time
Full Container Load (FCL) Shipping to France
On the other hand, FCL might be a better option if:
Your goods are large, heavy, oversized, or bulky
You are shipping in large quantities
Your goods are fragile and delicate
Your goods requires isolation
Your goods cannot withstand frequent movement and handling
Your goods are expected in France at the soonest time possible outside of air freight
Break Bulk
There is another option called break bulk shipping for goods that cannot fit in one standard container. In this mode of shipment, your goods will be separated in different units and shipped individually.
Customs Clearance in France
Only goods that are accompanied with complete and correct customs clearance requirements will be admitted by French customs authorities. Be sure that you provide the following paperwork to ensure a smooth customs clearance process:
Commercial invoice
Letter of credit/ other payment terms
Packing list
Certificates of origin
Import licenses
Bill of lading or airway bill, provided by Shipa Freight
Check out our full documents list for examples of these requirements.
Which Incoterms would be the right choice for my shipment?
Choosing the right Incoterms is crucial to determine your responsibilities and liabilities during the shipping process. Below are some Incoterms that you can use for your container shipment.
Best Incoterms for Exporters
CPT (Carriage Paid To): The seller must bring the goods to the agreed destination and carry out a contract of carriage. The seller is liable until the goods have been handed to the carrier.
CIP (Carriage and Insurance Paid To): Similar responsibilities as CPT, but with the added requirement on the seller's part to obtain insurance.
DAP (Delivered At Place): The seller should deliver the goods to the buyer's selected location and is responsible for the majority of the shipping process.
DDP (Delivery Duty Paid): The seller is responsible from the beginning to the end of the shipping process. This leaves the buyer with minimal responsibilities.
FCA (Free Carrier): The seller must deliver the goods to the carrier and shoulder the costs of customs.
Best Incoterms for Importers
FCA (Free Carrier): The seller must deliver the goods to the carrier and shoulder the costs of customs.
EXW (Ex Works): More responsibility is put on the buyer's part, from picking up the goods at the seller's premises or warehouse to arranging transport.
Processes to follow to ship a container to France
When shipping a container to France, we strongly recommend that you engage the services of a freight forwarder. They can help you ensure a smooth and easy shipment, advising you on requirements as well as the best options for your particular needs.
If you select LCL as your mode of ocean freight, your goods will be consolidated in a container freight station. FCL goods do not undergo consolidation.
All shipments are loaded into containers and undergo fumigation, which is the process of exterminating any bugs, insects, pests, or other harmful organisms.
When your goods arrive in France, LCL shipments will be deconsolidated and will join FCL shipments for customs clearance. When the authorities get your complete and correct documents in hand, this process will be a breeze.
Goods that are cleared for import can be picked up at the port of destination. If you select a specific movement type, such as door-to-door or port-to-door, the goods will be brought to your nominated location.
Main container ports of arrival in France
The Port of Le Havre is the largest port in the country located on the Seine River near Paris. It has three container terminals and docks that span 6.5 kilometers. The Le Havre port provides access to various European destinations.
Owned By: Grande Port Maritime du Havre Annual Container Volume: >2.8 million TEUs UN/LOCODE: FRLEH
The Port of Fos-Sur-Mer is located on the Mediterranean coast and is near Marseille. It is the main port choice for shippers in Southern France, as well as Avignon, Marseille, and Montpelier. The port is equipped with container terminals and gas terminals.
Owned By: Marseille Fos Port Authority Annual Container Volume: >1.25 million TEUs UN/LOCODE: FRFROS
The Port of Marseille is the leading port in France, contributing abundantly to international trade. It houses 10,000 ships and delivers 79 million tonnes of goods annually. It is the second largest port in the country.
Owned By: Marseille Fos Port Authority Annual Container Volume: >900,000 TEUs UN/LOCODE: FRMRS
Why Ship a Container to France With Shipa Freight?
Shipa Freight is your reliable digital-first freight forwarder offering you cutting-edge freight forwarding services with the convenience of technology. Your entire shipping process can be accessed and managed through our online platform. Get quotes, arrange shipments, manage and track your cargo from your mobile device.
We also provide you with access to our 24/7 customer service as well as a team of import and export specialists who can assist you with shipping your container to France. Get started with us today by requesting a FREE quote.