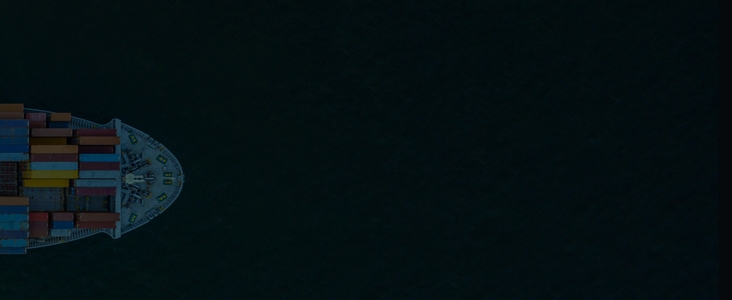 Container Shipping to Hong Kong
Get information and quotes for FCL and LCL shipping
Effortless Shipping
Real-Time Tracking
24X7 Customer Support
Updated on 29 Aug 2022
8 min read
Hong Kong, despite a seemingly small region, houses over 7.2 million people who are active in the retail and purchasing market. Many commercial goods thrive in Hong Kong, which is why it's a good market for different types of goods. As a leading international financial center, Hong Kong has low taxation for imports and exports and free trade. Imports also make up a huge bulk of the region's food supply, particularly 90%.
If you are thinking about expanding your business' reach to Hong Kong, you need to know everything you can about shipping a container to the region. In this article, we discuss everything you need to know, including your options for container shipping, average costs and transit time, customs clearance, and more.
What are your options for container shipping to Hong Kong?
To ship a container to Hong Kong, or any country for that matter, your cargo will need to go through ocean freight. In this mode of shipping, you have two options: less than container load (LCL) or full container load (FCL).
Less than Container Load (LCL) to Hong Kong
Less than container load is an economical shipping choice that is best for small goods or small quantities of cargo. This shipping option requires the consolidation of your goods with cargo belonging to other sellers, which will occupy one shared container. Although cheaper than FCL, LCL can have a longer transit time.
Full Container Load (FCL) to Hong Kong
If you want your goods to be shipped more exclusively, you can consider full container load shipping. FCL is a more isolated form of ocean freight shipment. Instead of sharing a container with other sellers, you have one unit all to yourself. Because of this, FCL can be a little more expensive, but it also has a fast transit time.
How much does it cost to ship a container to Hong Kong?
The cost of container shipping to Hong Kong is dependent on a variety of factors, including:
Type of goods you are shipping
Your choice of shipping service (LCL or FCL)
Weight of your cargo
Volume of your cargo
Distance between your port of origin and destination
Movement type (door-to-door, port-to-port, etc.)
Because of this, there is no rate set in stone. However, your freight forwarder can provide you with an accurate estimate of your shipping costs.
What type of cargo can be sent in a container?
Ocean freight can ship almost all types of cargo, from foodstuff to large machinery and vehicles. However, you need to be aware of the prohibited and restricted goods for import in Hong Kong to prevent problems with customs.
How long does it take to ship a container to Hong Kong?
Depending on your chosen mode of ocean freight (whether LCL or FCL), the route of your ship (whether direct or has multiple stops), and the distance between your origin country and Hong Kong, the transit time for your shipment can differ.
On average, it can take 4 to 74 days for your cargo to arrive in Hong Kong. Below are estimated transit times from Spain and the United States.
Country|Estimated Transit Time| ---------------- | ---------------- |----------: Spain|74 days United States|4 to 67 days
The longest transit time to Hong Kong is for cargo coming from the Santa Cruz De Tenerife port in Spain, which can take up to 74 days. The shortest route, on the other hand, is from Charlotte, U.S. to Hong Kong, which takes only 4 days on average.
What container capacity do I need for my cargo?
Ports house containers in various sizes, among which include:
20 foot - 33.2 CBM
40 foot regular - 63.5 CBM
40 foot high cube - 76.4 CBM
45 feet high cube - 86 CBM
Which size you should select depends on the measurements and volume of your cargo. If you select LCL, we recommend that your goods do not occupy more than half of a standard unit. Otherwise, it may be more economical for you to simply select FCL as your mode of shipment.
FCL shipments, on the other hand, often do not need to worry about the size of their cargo, as long as it fits in the container. Because you're not sharing the space with other sellers, you are free to ship cargo of any dimensions or volume.
Which mode of ocean shipping should I choose, FCL, LCL, or Break Bulk?
The first step to a successful shipment is selecting the right mode of shipping. Below, we give you pointers to help you decide.
Less Than Container Load (LCL) Shipping to Hong Kong
Less than container load (LCL) shipping may be the right choice for you if your cargo:
Is small in size or quantity
Is not fragile or delicate
Can withstand frequent movement and handling
Can be shipped with other cargo
Is not necessarily urgent.
Full Container Load (FCL) Shipping to Hong Kong
On the other hand, full container load (FCL) may be a better option if your cargo:
Is large, bulky, overweight, or heavy
Is fragile, perishable, or delicate
Is not suitable for frequent movement and handling
Is better shipped in isolation
Is expected in Hong Kong at a specific time.
Break Bulk
If your cargo cannot fit in any of the containers available, your freight forwarder may recommend break bulk shipping. In this mode of ocean freight, your goods will be separately packed and shipped in different containers.
Customs Clearance in Hong Kong
As with imports to any country, the goods that you send to Hong Kong need to go through customs clearance before it can enter the country. Customs authorities will require you to submit and present the following documents:
Commercial invoice
Letter of credit/ other payment terms
Packing list
Certificates of origin
Import licenses
Bill of lading or airway bill, provided by Shipa Freight
We have compiled a full documents list that you can refer to, including examples of each required customs document.
Which Incoterms would be the right choice for my shipment?
Incoterms define your liabilities and responsibilities throughout the shipping process. Below are the suitable Incoterms for container shipping to Hong Kong.
Best Incoterms for Exporters
CPT (Carriage Paid To): The seller must bring the goods to the agreed destination and carry out a contract of carriage. The seller is liable until the goods have been handed to the carrier.
CIP (Carriage and Insurance Paid To): Similar responsibilities as CPT, but with the added requirement on the seller's part to obtain insurance.
DAP (Delivered At Place): The seller should deliver the goods to the buyer's selected location and is responsible for the majority of the shipping process.
DDP (Delivery Duty Paid): The seller is responsible from the beginning to the end of the shipping process. This leaves the buyer with minimal responsibilities.
FCA (Free Carrier): The seller must deliver the goods to the carrier and shoulder the costs of customs.
Best Incoterms for Importers
FCA (Free Carrier): The seller must deliver the goods to the carrier and shoulder the costs of customs.
EXW (Ex Works): More responsibility is put on the buyer's part, from picking up the goods at the seller's premises or warehouse to arranging transport.
Processes to follow to ship a container to Hong Kong
When shipping a container to Hong Kong, we recommend that you engage a freight forwarder who can help you ensure a smooth shipment. They are knowledgeable about the import and export process, as well as customs requirements for your country of destination, so you can achieve a hassle-free shipping experience.
When you are ready to ship your cargo, you will need to choose your mode of ocean freight, either LCL or FCL. LCL shipments go through the consolidation process in container freight stations while FCL shipments do not.
Goods that are loaded in containers then undergo the fumigation process, which extinguishes pests, insects, and other harmful organisms that may contaminate the products. When the ship is all set for voyage, it begins its journey to Hong Kong.
Upon arrival, the goods will go through customs clearance for checking. If you provide complete and correct documents to Hong Kong customs authorities, this process should be easy and your goods will be cleared for import.
When the goods have passed customs clearance, they can be picked up in the Hong Kong port. If you select a specific movement type, such as door-to-door or port-to-door shipping, your goods will be delivered to your nominated location.
Main container ports of arrival in Hong Kong
Hong Kong has one main container port, the port of Hong Kong, which ranks as one of the busiest container ports in the world. It houses nine container terminals that are operated by five different authorities and are all located in the Kwai Chung-Tsing Yi basin.
Owned By: Government of Hong Kong Annual Container Volume: > 18 million TEUs UN/LOCODE: HKP
Why Ship a Container to Hong Kong With Shipa Freight?
Shipa Freight offers you complete traditional freight forwarding services with the convenience of modern technology. We have an innovative digital platform where you can manage your entire shipment from the comfort of your smartphones. Our platform allows you to:
Book your shipment
Get a quote
Manage your shipments
Track your cargo
Settle shipping costs
Access 24/7 customer support
And more.
Enjoy stress-free and hassle-free shipping with Shipa Freight. Get started today by requesting a quote.