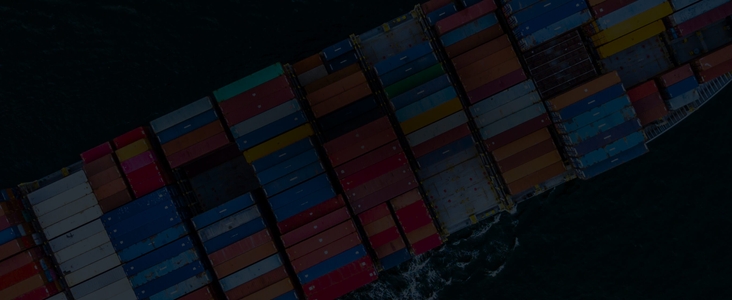 Container Shipping to UAE
Get information and quote for FCL, LCL and Air shipping
Effortless Shipping
Real-Time Tracking
24X7 Customer Support
Updated on 29 Aug 2022
10 min read
UAE is a bright and booming country, with the import and export industry one of the top contributors to the country's economy. This makes it a good place to expand your business. If you are thinking of shipping a container to the UAE, you've come to the right place.
In this article, we give you all the information you need to know to ship a container to the UAE, including your shipping options, customs clearance requirements, ocean freight routes and transit times, as well as important things you need to know to ensure a smooth and successful shipment.
What are your options for container shipping to UAE?
Shipping a container to the UAE is done by sea. You have the option of choosing between two types of ocean freight services: less than container load and full container load.
Less than Container Load (LCL) to UAE
In less than container load shipping, your goods will be consolidated with cargo belonging to other shippers and shipped together in one container. Because of this, LCL is more ideal for small cargo or if you are shipping in small quantities. It's an economical choice for minimal shipments to the UAE.
Full Container Load (FCL) to UAE
If you want your cargo to be shipped in isolation, you can avail of full container load freight services. In FCL shipping, you have an entire container all to yourself, which means that you can ship large, bulky, or big quantities of goods at once. FCL may be more expensive compared to LCL, but it also has a faster transit time.
How much does it cost to ship a container to UAE?
Several factors will affect the cost of your container shipment to the UAE. These include:
Type of goods you are shipping
Your choice of shipping service (LCL or FCL)
Weight of your cargo
Volume of your cargo
Distance between your port of origin and destination
Movement type (door-to-door, port-to-port, etc.)
Request a quote from your freight forwarder to get an accurate estimate of your shipping costs.
What type of cargo can be sent in a container?
Because you are shipping by sea, you have more liberty in terms of what type of goods you can send. Ocean freight accommodated everything from dry bulk and food items, to machines and vehicles. Despite that, you need to be aware if your goods are prohibited or restricted in the UAE.
Prohibited Goods for Import in UAE
These goods are not allowed to be imported in the UAE under any circumstance:
E-cigarettes
Gambling tools and devices
Goods originating from Israel
Items not allowed by Islamic principles
Narcotics
Nylon fishing nets
Used tires
Restricted Goods for Import in UAE
The following goods may be allowed to be imported to the UAE but would require additional permits or licenses:
Alcoholic beverages
Arms and ammunition
Fireworks and explosives
Pharmaceuticals
Printed materials
Radio equipment
Tires
How long does it take to ship a container to UAE?
The duration of your shipment would differ depending on your choice of ocean freight service (FCL or LCL), the distance between your origin country and UAE, and whether the ship is direct or has multiple stops. It can take 9 to 65 days for your container shipment to complete. Below is a table with estimated transit times arranged by origin country.
America to UAE
Argentina - 48 days
Brazil - 40 to 46 days
Canada - 34 to 58 days
Chile - 65 days
Ecuador - 60 days
Mexico - 47 days
Peru - 64 days
United States - 40 to 63 days
Uruguay - 51 days
Europe to UAE
Austria - 36 to 58 days
Belgium - 29 to 40 days
Bulgaria - 56 days
Croatia - 41 to 53 days
Denmark - 36 to 45 days
Finland - 38 to 48 days
France - 18 to 27 days
Germany - 27 to 33 days
Greece - 20 to 57 days
Hungary - 38 to 59 days
Ireland - 60 days
Italy - 16 to 53 days
Lithuania - 38 to 45 days
Netherlands - 25 to 35 days
Norway - 37 to 46 days
Poland - 40 to 49 days
Portugal - 36 to 38 days
Romania - 36 days
Slovakia - 36 to 57 days
Slovenia - 42 to 57 days
Spain - 22 to 65 days
Sweden - 35 to 45 days
Switzerland - 29 to 33 days
Ukraine - 42 to 58 days
United Kingdom - 24 to 58 days
Asia and Oceania to UAE
Australia - 20 to 32 days
China - 13 to 39 days
Hong Kong - 14 to 20 days
Indonesia - 15 to 23 days
Japan - 22 to 39 days
Korea - 24 to 30 days
Malaysia - 10 to 23 days
New Zealand - 32 to 43 days
Philippines - 23 to 29 days
Singapore - 9 to 13 days
Taiwan - 17 to 30 days
Thailand - 17 to 24 days
Vietnam - 21 to 25 days
What container capacity do I need for my cargo?
Ocean freight containers come in several different sizes. The smallest ones measure 20 feet while the largest ones are 45 feet. Which capacity you choose would depend on the dimensions, weight, and volume of your cargo.
For LCL shipments, we recommend that your cargo does not occupy more than half of the container size. This enables you to reduce costs and maximize the LCL shipping mode. If your goods measure more than half the container, it might be more cost advantageous to ship via FCL instead. Compare the prices of both shipping options and choose the one that you prefer.
If you are shipping via FCL, you do not need to worry about the size of your cargo. FCL can accommodate goods of all sizes, volumes, and weights.
Which mode of ocean shipping should I choose, FCL, LCL, or Break Bulk?
The mode of ocean shipping that's right for you would depend on several factors. Most of them have to do with the nature of your goods. Below are some pointers to help you decide.
Less Than Container Load (LCL) Shipping to UAE
LCL container shipping to UAE is best if:
Your cargo is small You are shipping in small quantities Your goods are not fragile or delicate Your goods can be shipped with other cargo Your goods can withstand frequent moving and handling Your cargo is not expected in the UAE urgently
Full Container Load (FCL) Shipping to UAE
FCL shipping is more ideal if:
Your cargo is large, heavy, and bulky
You are shipping in large quantities
Your goods are fragile and delicate
Your goods need to be shipped in isolation
Your goods cannot withstand frequent handling and moving
Your cargo is expected in the UAE urgently
Break Bulk
For goods that cannot fit in standard containers, a freight forwarder would recommend break bulk shipping. In this mode of ocean freight, your goods will be shipped separately and often in different containers.
Customs Clearance in UAE
Shipping to the UAE would require you to comply with the country's rules on customs clearance. Before you import, you need to get an import code from the UAE Federal Customs Authority. You also need to file your documents online using their customs system. These required documents include:
Commercial invoice
Letter of credit/ other payment terms
Packing list
Certificates of origin
Import licenses
Bill of lading or airway bill, provided by Shipa Freight
Depending on the nature of the goods you are shipping, UAE may require additional paperwork or certifications. See our full documents list for examples of the needed customs paperwork.
Which Incoterms would be the right choice for my shipment?
The Incoterms you choose will dictate your responsibilities and liabilities during the shipping process, so it's important that you know which ones you should use.
Best Incoterms for Exporters
CPT (Carriage Paid To): The seller must bring the goods to the agreed destination and carry out a contract of carriage. The seller is liable until the goods have been handed to the carrier.
CIP (Carriage and Insurance Paid To): Similar responsibilities as CPT, but with the added requirement on the seller's part to obtain insurance.
DAP (Delivered At Place): The seller should deliver the goods to the buyer's selected location and is responsible for the majority of the shipping process.
DDP (Delivery Duty Paid): The seller is responsible from the beginning to the end of the shipping process. This leaves the buyer with minimal responsibilities.
FCA (Free Carrier): The seller must deliver the goods to the carrier and shoulder the costs of customs.
Best Incoterms for Importers
FCA (Free Carrier): The seller must deliver the goods to the carrier and shoulder the costs of customs.
EXW (Ex Works): More responsibility is put on the buyer's part, from picking up the goods at the seller's premises or warehouse to arranging transport.
Processes to follow to ship a container to UAE
When shipping a container to the UAE, it's recommended that you engage a freight forwarder that is knowledgeable about the shipping process and can help you get your goods to UAE easily, seamlessly, and successfully. Your freight forwarder can help arrange the entirety of the shipping process.
Once your booking is arranged, LCL shipments will undergo consolidation. Afterwards, all goods will undergo fumigation to get rid of pests, insects, and other harmful organisms before shipment.
When the goods have arrived in the UAE, LCL shipments will be deconsolidated. All cargo then goes through customs clearance. As long as you submitted your paperwork beforehand, this process should go smoothly.
Once the goods are cleared for import, they can now be picked up or delivered, depending on the movement type you have selected.
Main container ports of arrival in UAE
The port in Jebel Ali is located in Dubai. It is ranked as the ninth busiest port in the world and the busiest port in the UAE. The port of Jebel Ali is the largest man-made harbor in the world.
Owned By: Dubai Ports World Annual Container Volume: >13.6 million TEUs UN/LOCODE: AEJEA
The port in Khalifa is one of the most important deepwater ports in Abu Dhabi. It's considered as the flagship port and can accommodate the largest vessels. The port of Khalifa handles most of the container shipments in the UAE.
Owned By: Abu Dhabi Ports Annual Container Volume: >2.5 million TEUs UN/LOCODE: AEKHL
The Port of Sharjah houses the best deep water harbors in the UAE. It is located in a strategic area, making it an important ship destination. Currently, the Sharjah post is being developed to house new berths and expand its facilities.
Owned By: Sharjah Ports Annual Container Volume: >1.5 million TEUs UN/LOCODE: AESHJ
Why Ship a Container to UAE With Shipa Freight?
Shipa Freight can help you ship your container to the UAE with ease and confidence. We are a digital-first freight forwarder offering the traditional freight services but with the convenience of modern technology. Our digital platform enables you to manage your shipment from the beginning to end, including:
Request for quotes
Book your shipments
Manage your shipments
Pay online
Track your shipment
And more
Enjoy a stress-free shipping process with us. Get started today by requesting a quote.