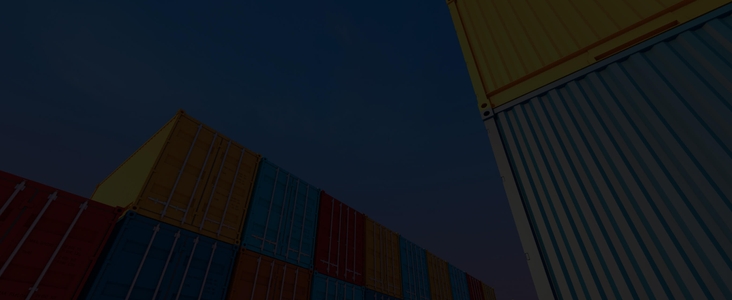 Container Shipping Vietnam
FCL and LCL freight forwarding: information and online quotes
Effortless Shipping
Real-Time Tracking
24X7 Customer Support
Updated on 29 Aug 2022
10 min read
There is a lot of potential to expand your reach and access consumers in Vietnam. If you're thinking about shipping a container to the high-export country, read on as we discuss everything you need to know about importing to Vietnam, including your shipping options and which one you should choose, the type of goods you can import, the cost and expected transit time of your shipment, recommended Incoterms, customs clearance, and more.
What are your options for container shipping to Vietnam?
To ship a container to Vietnam, you will need to avail yourself of ocean freight services. However, that doesn't mean you don't have options. Under ocean freight, you can ship via less than container load or full container load.
Less than Container Load (LCL) to Vietnam
Less than container load shipping is best for small goods or if you are shipping in small quantities. In this type of shipping service, your goods will be consolidated with consignments from other sellers to be shipped together in a single standard container. Because of the consolidation required, less than container load may be more economical but can take a little longer than FCL shipping.
Full Container Load (FCL) to Vietnam
If you don't want your goods to be consolidated with other cargo and instead prefer exclusive shipping, you can opt for FCL. This is also the ideal choice if you are shipping in large quantities or big, heavy, and bulky cargo. In full container load shipping to Vietnam, you pay for the space of an entire container and enjoy being able to ship your goods in isolation.
How much does it cost to ship a container to Vietnam?
A lot of things come into play to determine your shipping cost to Vietnam, hence there is no standard number to accurately estimate your costs. However, freight forwarders can give you a quote for your shipment, depending on the following factors:
The nature of the goods you are shipping
Your chosen ocean freight service, either FCL, LCL, or breakbulk
The weight/ volume of your cargo
The dimensions of your cargo
The distance between your ocean port of origin and destination
Special movement services, i.e door-to-door, port-to-port, port-to-door, or door-to-port
What type of cargo can be sent in a container?
Because you are shipping by sea, the type of cargo you can send is almost limitless as containers can accommodate most types of dry bulk. This is compared to air freight that may have certain limitations. With ocean freight, you can ship anything from toys to appliances and cars to manufacturing materials.
Despite that, however, you must do your research on prohibited and restricted imports in Vietnam. The country may have certain goods that are banned from importation or need additional documents before they can be admitted to the country.
How long does it take to ship a container to Vietnam?
Similar to determining the cost of your shipment, there are also a lot of things to consider to unveil your estimated transit time. Largely, how long it would take for your container to arrive in Vietnam would depend on where your shipment is coming from. Other factors that may come into play include the ocean freight service of your choice and whether the shipping route is direct or has multiple stops.
It can take anywhere between four to 57 days for your cargo to be transported to Vietnam. Check out the table below for more accurate estimates, categorized by country of origin.
| Country of Origin | *LCL Transit Time | FCL Transit Time |
| --- | --- | --- |
Australia||17 to 28 days Brazil|54 days Canada||28 to 56 days China|5 to 16 days|7 to 31 days France||29 days Germany||36 days Finland|52 days India|21 days|17 to 30 days Indonesia|9 to 10 days|11 to 37 days Italy||27 days Japan|18 days|31 days South Korea||21 to 31 days Malaysia|9 to 10 days|8 to 16 days New Zealand||27 days Norway|55 days Philippines|15 days|4 days Singapore||15 days Spain||31 days Taiwan||17 days Thailand|8 days|15 to 21 days UAE||19 to 21 days United Kingdom||32 days USA|36 to 57 days|29 to 53 days
What container capacity do I need for my cargo to Vietnam?
Ocean freight shipping provides containers in various sizes. The smallest container measures 20 feet and the larger ones measure 40 feet, while the largest ones can be as large as 45-foot for the high cube container. Which container capacity you select would depend on the dimensions, volume, and quantity of your cargo. Generally, LCL shipping is used for shipments with a volume of up to 15 CBM. It represents approximately half of a standard container.
If your goods have a volume of more than 15 CBM, it's recommended that you compare the prices of both LCL and FCL shipping as FCL may become economically advantageous in that case.
FCL shipments have no size limit as long as the goods can fit in the standard container. If they don't, you can opt for breakbulk shipping instead.
With FCL, it is not a requirement that the goods take up the entire available space in the container. It is up to you if you simply don't want your cargo to share the space with other shipments' cargo. The only limit is with weight.
Maximum weight with container shipping to Vietnam:
20-foot container: 20 tonnes
40-foot container: 30 tonnes
Which mode of ocean shipping should I choose, FCL, LCL, or Break Bulk?
The best way to decide which mode of ocean shipping is best for you is to identify your needs, preferences, and priorities. Below, we've outlined some points you can consider:
Less Than Container Load (LCL) Shipping to Vietnam
LCL is the best mode of ocean shipping for you if:
Your goods are small in size and quantity
Your goods are not needed in Vietnam at a specified date
You don't mind your goods being consolidated with shipments from other sellers
Your goods are too big, bulky, heavy, or limited by air freight
Full Container Load (FCL) Shipping to Vietnam
On the other hand, a full container load may be better for you if:
Your goods are expected in Vietnam at a specified date
Your goods are large in size, quantity, and volume
Your goods occupy more than half of a standard container
Your goods are delicate, fragile, or perishable
Your goods require minimal handling and isolation.
Break Bulk
If your cargo cannot fit in standard-sized containers, you can opt for ocean freight's breakbulk shipping. In this mode of shipment, your goods will be packed and shipped separately.
Customs Clearance in Vietnam
As with importing to any country, you will need to follow customs clearance rules in Vietnam. This entails preparing and providing some documents with your shipment. Some examples of paperwork you need include:
Commercial invoice
Letter of credit/ other payment terms depending on the contract between the parties
Packing list
Certificates of origin
Importer and exporter code obtained from the Indian Directorate General of Foreign Trade
Bill of lading or airway bill, which will be provided by Shipa Freight
Other documents, depending on the nature of goods being shipped.
For a more comprehensive list and examples, see our full documents list.
Which Incoterms would be the right choice for my shipment?
Choosing the right Incoterms for your shipment can help you determine your responsibilities and liabilities as an importer or exporter. Here are some Incoterms that are recommended for container shipping to Vietnam.
Best Incoterms for Exporters
CPT (Carriage Paid To): You should bring the goods to the agreed destination and carry out a contract of carriage. You carry all the risks until you have handed the goods over to the carrier.
CIP (Carriage and Insurance Paid To): Your responsibilities and liabilities under the CIP Incoterm are relatively the same as those in CPT. However, this Incoterm adds the responsibility of obtaining insurance for the goods.
DAP (Delivered At Place): You must deliver the goods to the location nominated by the buyer. This means that you will handle the majority of the shipping process.
DDP (Delivery Duty Paid): You carry out most of the shipping process from beginning to end and leave minimal responsibilities on the part of the buyer. This is a good Incoterm if you are seeking to provide excellent customer service.
FCA (Free Carrier): You are obligated to deliver the goods to the carrier and shoulder the costs and responsibilities for customs clearance.
Best Incoterms for Importers
FCA (Free Carrier): You are obligated to deliver the goods to the carrier and shoulder the costs and responsibilities for customs clearance.
EXW (Ex Works): This Incoterm is a good one to select if you are not that familiar with the shipping process but your buyer is. The buyer handles most of the responsibilities, which begins when they pick up the goods at your warehouse or premises.
Processes to follow to ship a container to Vietnam
Shipping a container to Vietnam starts with engaging a reliable freight forwarder who can help you arrange the shipping process, pay for the costs of your shipment easily, schedule transport, and more. A freight forwarder allows you to enjoy a more seamless and convenient way to ship your goods.
If you have selected LCL as your mode of shipping, your goods will be brought to a container freight station for consolidation with other cargo. If FCL is your selected freight service, consolidation is skipped.
Goods that are loaded onto carriers will undergo fumigation, which is the process of disinfecting the containers to get rid of pests, insects, and other harmful organisms. This is conducted by an authorized fumigator and with approval from a licensing authority.
When the goods have arrived in the port of destination, LCL goods are deconsolidated and all shipments will undergo customs clearance. With the right paperwork and documents, this should be a breeze and will take only a short while.
Once the goods have been cleared for import, they can now be picked up from the destination port. But if you availed of door-to-door or port-to-door service, your goods will be delivered to your nominated location.
Main container ports of arrival in Vietnam
The port in the city of Ho Chi Minh is the largest in Vietnam and ranked as the 25th busiest port all around the world. Also known as the Saigon Port after its location in the Saigon River, the Ho Chi Minh port is a very important hub for import and export in the main economic center in Vietnam.
Owned By: Saigon Newport Company Annual Container Volume: >6 million TEUs **UN/LOCODE: **VNSGN
The port of Da Nang is located in the Han River and includes two container terminals and a container freight station or warehouse. Its location enables it to serve the central region of Vietnam and also the neighboring cities of Thailand, Myanmar, and Laos.
Owned By: Danang Port. Annual Container Volume: >600,000 TEUs. UN/LOCODE: VNDAD.
The port of Quinon is a provincial port in Vietnam, located in the Binh Dinh province. It caters to shippers looking to transfer cargo to and from the central highlands of Vietnam, as well as some areas of Laos and Cambodia. The port of Quinon offers more than 10 direct international routes.
Owned By: Quy Nhon Port Joint Stock Company. Annual Container Volume: >130,000 TEUs. UN/LOCODE: VNUIH.
Why Ship a Container to Vietnam With Shipa Freight?
Shipa Freight sets itself apart from other freight forwarders in the market by going above and beyond in innovation. We are a digital-first freight forwarder that makes it easier and more convenient for you to schedule, manage, and navigate your shipments. Everything can be done on our digital platform, including:
Getting online quotes
Setting up a shipment
Managing all your shipments in our place
Accessing customer support 24/7
Preparing shipping documentation
And more
Shipa Freight caters to all businesses, big and small. If you're ready to ship with us, get your FREE quote today.