International Shipping and Logistics News Roundup: June/July 2019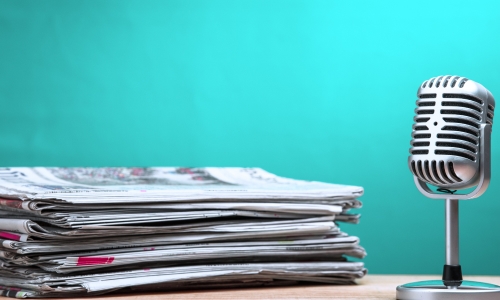 Effortless Shipping
Real-Time Tracking
24X7 Customer Support
Updated on 01 Aug 2019
8 min read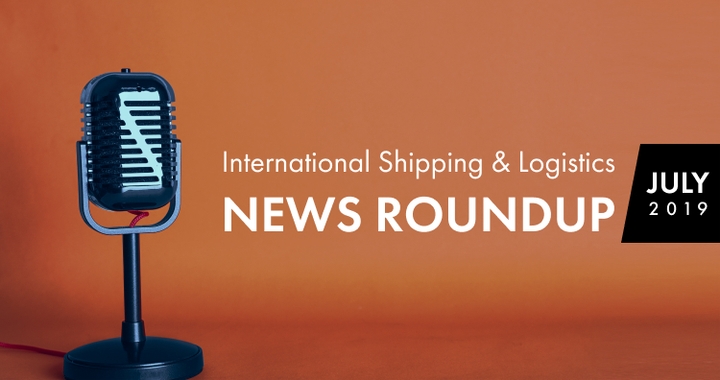 International Shipping and Logistics News Roundup: June/July 2019
In our latest compilation of news stories from around the international shipping and logistics industry, you can get the lowdown on the following issues:
• Amazon's domination of logistics: Is the strain starting to show?
• How are retailers and logistics companies responding to the ultra-fast delivery trend?
• Will global clean-air rules disrupt the supply chain?
• Blockchain adoption increases in shipping and logistics
In our previous news roundup, we reported on Amazon's continued moves to dominate shipping and logistics. Lately, though, it appears that cracks may be appearing in the company's strategies. So let's begin with a look at the latest developments affecting the most famous name in global e-commerce.
Is Amazon Over-Reaching in its Bid to Dominate Logistics?
Two years ago, Amazon was transporting a total of just 15% of its customer orders using in-house resources—today, the figure is close to 50%. It's also no secret that the most powerful brand on earth has been driving hard into the global freight shipping and logistics space. The company's intention is clearly to dominate the industry in the same way that it does e-commerce. Lately, though, emerging reports indicate that the giant may be feeling the strain of its fast and aggressive expansion.
Issues in the Spotlight
While Amazon has committed, both in words and capital investment, to make one-day delivery a norm in last-mile logistics, its customers are experiencing increased delivery delays.
So far this year, the percentage of late Amazon deliveries stands at 16.6%, a four-fold increase in comparison with 2017, during which the figure was only 4.6%. Meanwhile, the company's practice of acquiring or creating logistics companies purely to become their only customer is starting to draw attention from antitrust regulators.
In the United Kingdom, The Competition and Markets Authority is scrutinizing Amazon's investment in a food-delivery startup called Deliveroo. The British antitrust authority is harboring suspicions that the two businesses can no longer be considered as distinct from one another.
Then there is the plight of delivery staff caught between Amazon's drive to decrease delivery times and the desperation of employers in the Delivery Service Partners program to satisfy their benefactor. Tales abound of drivers expected to complete as many as 200 deliveries in a nine-hour shift—an impossibility that leaves them with little choice but to work for up to 16 hours per day.
Is One-Day Delivery a Runaway Train?
Amazon spokespersons are actively playing down accounts like those described above, with good reason, as they are potentially harmful to the brand, but still, they continue to emerge. At the same time, the one-day delivery time-span is a cat that's well and truly out of the bag, and unlikely to want to go back in.
If Amazon has issues improving quality, speed, and cost performance in logistics, other businesses will have a tough time meeting the precedent it has set. Consumers, after all, are unlikely to welcome a return to lengthier delivery times, or the obligation to pay fees for faster delivery—or are they?
Our next story reveals how some retailers are using the art of gentle persuasion to encourage consumers to accept a more traditional pace of order fulfillment.
Can Retailers "Nudge" Consumers to Accept More Efficient Delivery Operations?
The biggest problem with ultra-fast delivery is its impact on efficient operations. However, as the trend strengthens, fed by the Amazon commitment described in the previous story, retail companies and logistics providers are exploring solutions to cater to it, or counter it.
On the one hand, companies like Shipa Delivery are launching, with delivery models based on fleets of small vehicles plugged into a dynamic, app-based scheduling platform. For these startups, responsiveness, rather than efficiency, is the overriding priority. They stake their success on the promise to pick up and deliver items on-demand, supporting fulfillment cycles counted in hours, not days.
On the other, some retailers are exploring the value of "nudging," which means to offer a range of shipping options, but to subtly persuade or incentivize consumers to choose those which facilitate efficiency.
Some Popular Nudging Tactics Revealed
Methods of nudging include:
• Selling slower delivery services as green options, to pique consumers' sense of environmental responsibility.
• Offering discounts to consumers who pick up their ordered items in a local branch of a brick-and-mortar store chain.
• Offering discounts and incentives to consumers in return for accepting delivery times of three days or longer.
• Introducing "consolidation days" for regular shoppers to bundle all their purchases into one single delivery on a set day of the week.
• Setting slower delivery options as the default option on e-commerce sites, making it necessary for customers to change the delivery setting if they wish to opt for expedited delivery.
While Some Nudge, Others Hold
A few logistics companies are taking a different approach altogether, and sticking with two-to-four-day delivery offerings while they wait to see if the tide will turn. Rather than reacting to the current trend, they are looking for a clear mandate from their retail customers or consumers indicating that next-day and same-day deliveries should become the norm.
In the current climate of on-demand consumerism, anything could happen. Consequently, the question of whether to go always-on with last-mile logistics services is one that businesses and brands of every type and size might be forced to consider.
Carriers and Importers Begin to Prepare for "Clean Air" Cost Increases
On January 1st, 2020, the International Maritime Organization (IMO) will impose new clean air regulations, requiring shipping companies to reduce sulfur emissions to 0.5%. In essence, this means that ocean freight carriers must take concrete steps that might include:
• Slow steaming
• Installing cleaning systems to purge harmful sulfur from vessel exhaust gases
• Switching to low-sulfur fuel
• Investing in alternative fuels like liquefied natural gas
All of the options above will increase costs for LCL and FCL freight carriers. The first—slow steaming—will also lengthen ocean freight transit times and could disrupt supply chain cycles for shippers.
The Wider Commercial Effects of Clean Steaming
Depending on the number of carriers that choose low-sulfur fuel, the new regulations may have a knock-on effect for road transport operators. The expected ballooning of demand for diesel could challenge the budgets of trucking companies, as the price of diesel is predicted to increase by as much as 100%.
Some retailers are already putting preparations in place to offset the risk of delivery disruptions and price hikes. One home furnishing retailer in the United States is expediting import of 450 containers of products from China, bringing the delivery dates forward from September/October to July and August.
In light of the possible ramifications of the new regulations, and carriers' response to them, any company using ocean freight services should probably ponder the need for preemptive action. In particular, it will make sense to plan for the absorption of extra costs or take a decision to pass them on to customers.
Will Future Supply Chains be Built on Blockchain?
Whatever you think about blockchain technology and the hype surrounding it, there is little doubting its potential to help companies with supply chain and logistics operations. Indeed, this is the one industry in which blockchain adoption is on the rise in a big way.
The most well-known logistics blockchain, Tradelens, operated by Maersk and IBM, has been joined by many of the world's top ocean carriers, including Ocean Network Express, Hapag-Lloyd, Mediterranean Shipping Company, CMA CGM, and Pacific International Lines, adding to a line-up of participants comprising more than 100 shippers, carriers, port operators, freight forwarders, customs brokers, and even customs authorities in The Netherlands, Australia, Singapore, Peru, and Saudi Arabia.
The Potential Benefits of Blockchain for Shippers
Stakeholders are confident that ultimately, the Tradelens solution will streamline and accelerate the settlement of the millions of transactions involved in global freight shipping. They see it reducing transit delays and shortening supply chain cycle times. That would be good news indeed for manufacturers, exporters, importers, and retailers that rely on LCL and FCL ocean shipping.
Better still, if you have ever had to ask, "Where's my container?" you'll be pleased to know that blockchains improve overall supply-chain visibility. However, results will depend upon the number of organizations joining the network. A successful shipping-blockchain will require participation from stakeholders in all supply chain sectors, a requirement that Tradelens seems well on the way to satisfying.
More Global Freight News Coming Soon
The world of international freight shipping never stands still, and it can be hard to keep up with if you're involved in the equally frenetic global trade environment.
We'll help you get frequent snapshots into what's going on in air and ocean freight, and global commerce too, by posting regular news roundups like this one. Remember to check in with us soon for more of the latest news affecting your industry—and possibly your enterprise.