A Shipper's Preparation Guide for Black Friday and Cyber Monday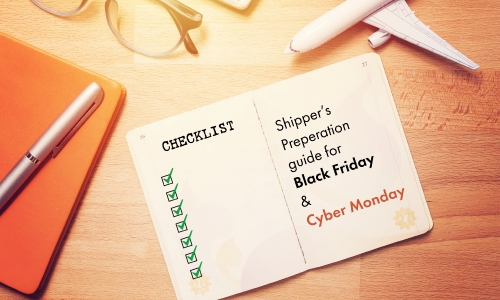 Effortless Shipping
Real-Time Tracking
24X7 Customer Support
Updated on 09 Sep 2019
6 min read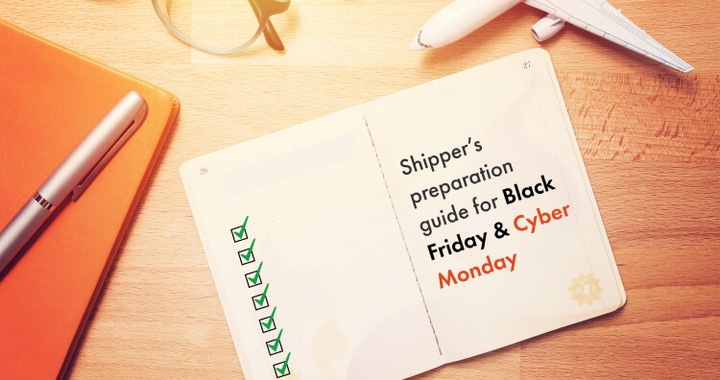 Black Friday and Cyber Monday originated in connection with the American Thanksgiving holiday, but over time, they have gained global importance. Today they are among the most significant days in the year for traditional and online retail businesses everywhere.
Indeed, retail stock building for Black Friday and Cyber Monday contributes to the enormous volumes of air and ocean freight shipped during the worldwide peak, which begins in late August.
If your business procures inventory from overseas sources, the last thing you need is to run short of stock and lose sales during Black Friday and Cyber Monday. That's why we compiled the following tips, to ensure your imported goods are on your real or virtual shelves in good time for the busiest shopping weekend of the year.
Get Familiar With Forecasting
If you're in your first year of business, it will not be easy to forecast sales for Black Friday and Cyber Monday. However, you should still be able to research trends in your retail sector to get some idea of potential sales volumes.
If you've been in business for more than a couple of years, you should have sufficient data for more accurate forecasts. That, in turn, will enable you to calculate how much inventory to ship from overseas well before the end of November—ready for the Black Friday and Cyber Monday sales rush.
Sales forecasting is never easy and is not an exact science. However, it is a valuable practice and should certainly not be considered a task necessary only for larger retail companies.
Similarly, you don't need to reserve it for peak periods like Black Friday and Cyber Monday. If you can develop an effective sales forecasting system, you'll find yourself over or under-ordering less often. Your inventory-turns should increase, which will, in turn, improve working capital and cash flow for your business.
Timing is Everything
Accurate sales forecasting will also help you time your imports, so you don't leave shipping too late. You certainly don't want to be caught with a shipment still in transit when shoppers are in holiday-spending mode. Proper timing is essential for other reasons too.
When the peak shipping season arrives, freight rates increase, as does the risk of rolled shipments. It makes sense, therefore, to time your shipments in a way that avoids those higher rates and mitigates against possible delays to your goods-in-transit.
Keep Your Freight Forwarder Informed
Of course, it's not always possible to avoid shipping during peak season. If you find you need to do it, remember that your freight forwarder is your best friend.
**For shipments comprising multiple products, be sure to let your forwarder know which containers, pallets, or boxes contain high-priority inventory. **
If a carrier should single your shipment out to be rolled, your forwarder's freight managers will be the first to know. They can take steps to keep those vital products on the move—or at least get their onward shipment expedited if your entire consignment is rolled.
Multiply Your Chances of Successful Shipping
You may rightly be wondering how your freight forwarder can keep your prioritized inventory moving in the event of a rolled shipment. Well, it is possible provided you follow the previous tip. For example, if you are using FCL shipping, your forwarder needs to know which containers hold your high-priority goods.
**The secret is to create a separate bill of lading (BOL) for each container, instead of one BOL for the entire shipment. That's because when rolling shipments, carriers do so based on the bills of lading. **
With each container on a separate bill, the carrier may not roll the entire shipment, but only some of the containers. In that case, your forwarder may be able to request that specific BOLs stay on the loading manifest, ensuring your prioritized products aren't left on the dockside.
Reduce the Risk of Rolling
While the previous tip may help prevent your entire shipment from being rolled, this one will reduce exposure to situations where rolling is a risk.
When requesting quotes from freight forwarders for shipping your Black Friday or Cyber Monday sales inventory, refuse to accept any that are based on indirect shipping routes.
Indirect routes involve at least one stop between your port of loading and port of discharge. A carrier can only roll your shipment before its allocated vessel is underway, so the fewer the stops en-route, the less are the chances of rolling. That's why, if your business' shipping schedule is getting a little tight, you should insist upon a direct route.
If it's Getting Late, Think Air Freight
The previous tips can help you if you need to ship within a month to six weeks of Black Friday and Cyber Monday. What if time—and your inventory—are getting very short, however? At this point, you have one option only—air freight.
If you have less than a month to go before Thanksgiving, you could have your entire order shipped by air. If it is a large shipment, you could book a small portion of it as air freight, with the rest to follow as FCL or LCL ocean freight.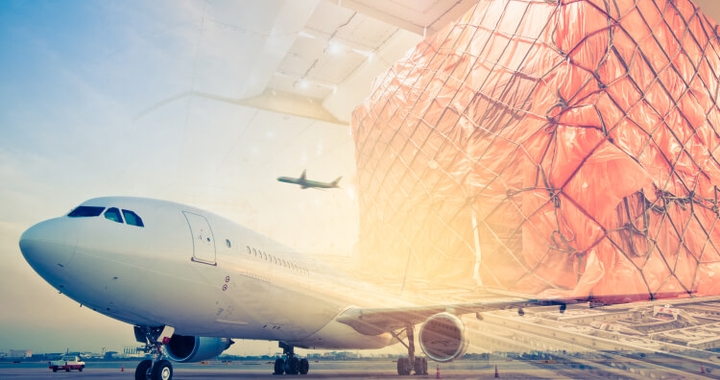 **Air freight should see your goods in stock within a week, from any point of origin. At least you will not immediately run out of inventory as seasonal shoppers begin the holiday frenzy. **
If you are lucky, and the shipping distance is not that far, your ocean shipment might arrive before your customers deplete your air-freighted consignment. If not, at least you will have made some sales. With your ocean-freight on the way, you could potentially offer your customers the possibility to order at your sale price and receive their goods when the ocean shipment comes through.
Make Your Air-Freight Decision Early
Air freight is naturally a more expensive way to import goods than by ocean freight. It might not be ideal at a time when you're already reducing your margins with Black Friday/Cyber Monday discounts. Nevertheless, it will be better than having no stock at all.
Remember too, that the cost of air freight will rise in line with the urgency of shipping. Therefore, once you know you're too late for ocean freight, try not to wait any longer than necessary to get your imported goods flown in.
Consider a Digital Forwarder for Faster Freight
As you'll know if you already work with traditional freight forwarders, it can take a while to get freight quotes, evaluate them, and book your shipment.
If time is getting tight to ship your inventory in time for Black Friday and Cyber Monday, you might try an online freight forwarding platform.
With Shipa Freight, for example, you can get a quote in moments, and enjoy other time-saving benefits, such as the flexibility to quickly choose between ocean freight, air freight, or both, and make a booking online with a minimum of fuss.
Add the fact that we leverage Agility's global logistics resources to move our customers' shipments, and you have every reason to give us a try. We'll get your imports shipped to where you need them, in time for the busiest days of the annual retail calendar.
In fact, why wait until it's getting too late?
If you already know the volume of goods you need to ship between now and Black Friday, it's easy to get quotes for your expected shipping dates. Time is running, so try our platform today.