The US-China Trade Crisis: The Implications for SMEs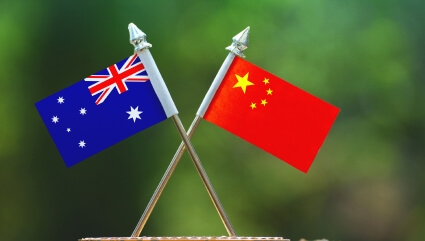 Effortless Shipping
Real-Time Tracking
24X7 Customer Support
Updated on 20 Mar 2019
8 min read

The Implications for Internationalized SMEs
While there are signs that trade talks between the United States and China are tending toward the positive, there is still a sense within the freight shipping industry that "anything could happen," as the two superpowers creep tentatively towards an understanding.
Naturally, outcomes of the latest discussions, which so far have staved off President Trump's implementation of tariff increases on Chinese imports from 10% to a crippling 25%, will be of particular concern to small and medium-sized businesses present in the two embattled nations. Nevertheless, further-reaching effects are inevitable if there is no resolution or if tariffs remain in place.
Based on observations from within the logistics and shipping industry, and opinions from market experts, this article explores some potential implications of the conflict for SMEs and enterprise in general—in China, the United States, and elsewhere.
Implications for Businesses in China
In China, enterprises in both the retail and manufacturing sectors are already feeling the pressure of tariffs on $200 billion worth of US-bound exports. Given that China was already experiencing rising labor costs and an economic slowdown before the trade war began, there is a risk that Chinese manufacturers will no longer be the go-to source for low-cost products and components.
As overseas importers large and small, begin to look elsewhere across Southeast Asia for suppliers, it will be the smaller manufacturing companies in China that suffer the most, with many perhaps being forced out of business. There is much concern about a potential pushback in China toward an export market dominated by large, state-subsidized manufacturers. Such a trend could lead overseas importers to an even more notable departure from Chinese sourcing.
Hong Kong: A Back Door for Chinese Exports?
While the outlook may be rather bleak for SMEs in mainland China, those in Hong Kong, especially in the logistics industry, have good reasons for optimism about the future. As a Special Administrative Region in the People's Republic of China, Hong Kong has a high degree of autonomy. As a distinct, independent customs territory, it also enjoys a privileged trading status with the United States, sparing its exports from the tariffs levied on goods from China.
These fortunate circumstances, arising from Hong Kong's history as a British imperial outpost, are not only fuelling growth inside its borders, but also generating Chinese investment in the neighboring province of Guangdong, where a thriving industrial conclave funnels trade into the Hong Kong SAR.
As Hong Kong is also home to one of Southeast Asia's most important gateway ports, the region has much in its favor. Its accessibility to shipping traffic, combined with Hong Kong's general favorability as a host to foreign businesses, could see it evolve into a haven for small enterprises and entrepreneurs from other Asian countries and even further afield. However, there are fears that the government of Hong Kong is falling under increased interference from Beijing, and that the US could withdraw the trading privileges unilaterally, as it has the power to do.
Implications of the Crisis for Southeast Asia
Elsewhere in Asia, opinion is divided as to whether the trade crisis will harm or help countries in the ASEAN region. Many observers see emerging markets like Thailand, Vietnam, and Malaysia as potential beneficiaries, due to their efforts to improve position on the industrial stage, and the possibilities offered to Western companies wishing to move their manufacturing out of China.
As an example, the Thai government plans to open the country's doors wider to foreign businesses. It will also invest in support for Thai SMEs, especially those in the technology products and services sector.
Of course, to benefit from China's slowdown, some developing countries in Asia will need to overcome traditional agrarian values among their populations and support the adoption of new technologies. If successful though, evidence suggests that they may not only increase trade with Western enterprises, but also with those in China. Some Chinese companies are already shaking off trade tariffs and the "made in China" stigma by outsourcing their manufacturing to ASEAN countries.
The US and the West
If the US-China trade crisis is a fragile but credible source of opportunity for the world's Eastern regions, the West—and the United States in particular—might not find any hidden benefits in the dark cloud of protectionism. In addition to distant China, US import tariffs are hindering trade closer to home, with Canada for instance, as well as low-cost Mexico, an outsourcing destination growing in popularity as China's labor costs increase.

Naturally, the whole idea of US tariffs is to encourage a return of industry from overseas (or across land borders) and allow domestic suppliers to raise prices. However, it is questionable whether consumers will pay more for American goods when they have a worldwide e-commerce market readily available.
Aside from the will of consumers, there could be other troubles ahead for SMEs in the United States, especially in sectors where intermediate products form part of the supply chain. The buyers of those products (many of which are SMEs) may absorb trade war price increases and suffer the reduced margins, rather than passing the price hikes on to consumers. That in itself is a harmful dynamic for the US economy.
Even Walmart is Worried
A lot will depend upon which types of products and materials become subject to tariffs. For example, while the first tariff implementations targeted materials and intermediate products from China, the latest wave has had a direct impact on consumer goods, especially computer products, tires, and furniture.
Retail SMEs that import these products are already experiencing pressures on margins that are more easily withstood by their larger, corporate competitors. That said, even Walmart has been raising the alarm in letters to the US Trade Representative, indicating that damage will not be limited to smaller businesses.
European Businesses Might Be Winners
It should be evident that when a country's' industries must start paying more for imports from a specific trade partner, they will turn their attention to less taxing sources.
In the case of the US-China trade conflict, European enterprises could pick up as much as $70 billion in exports to the United States and China—that's if the trade dispute drags on and the standard rate of tariffs remains as-is. The potential gains for Europe could be much higher if duties do hit the feared 25% mark.
The news for Europe may not all be good though. For example, SMEs that purchase intermediate or finished products from the US for sale in Europe could be forced to pay more for them. That's because certain products manufactured in the United States, especially electronics, are made with components and materials imported into the US from China, and might therefore become more expensive due to tariffs.
Uncertainty Breeds Hesitancy
Another issue for Europe is the general level of uncertainty about the trade dispute and its possible outcomes. For example, many European enterprises will need to invest if they wish to become preferred suppliers to American or Chinese customers, but until there is clarity as to whether tariffs will increase, stay the same, or disappear altogether in the months to come, few will be keen to take the necessary gamble.

Those brave enough to do so might enjoy explosive growth in the future, or on the other hand, they might go out of business if the US and China manage to kiss, make-up, and drop the imposition of tariffs. As an illustration of the problem, one must look not to the EU, but to South America, where Brazilian soybean producers face precisely this dilemma now their country has replaced the USA as China's primary supplier of the product.
General Implications for SMEs Trading Globally
For internationalized SMEs everywhere, business scale will be both an advantage, and a challenge as the US-China trade saga unfolds. On the one hand, smaller businesses have greater flexibility compared to their larger counterparts, which allows them to locate and engage new suppliers unaffected by tariffs.
On the other, they lack the diversity within their supply chains to "carry on as normal" when sources become too expensive, meaning they must switch suppliers and potentially reshape their entire supply chains as a result.
Freight Forwarding in the Spotlight
Another area of concern for SMEs is their choice of freight forwarder. Because of the strong history of trade between China and the United States, many forwarding businesses emerged to specialize in that particular trade lane.
Those forwarders may begin to struggle if tariffs remain in place and demand for carrier capacity falls. Prospects are brighter for larger LSPs with broader service portfolios, since any fall in demand for US-China trade lanes should be counteracted by increased demand elsewhere.
While it might be worth deferring any decisions about changing forwarders until the end of March, after President Trump and Xi Jinping conclude their talks in Florida, small and medium-sized enterprises currently working with specialist China-US forwarders might do well to look around for future alternatives.
Here at Shipa Freight, we plan to keep you posted on shipping and trade-related developments in the United States, China, and around the world, including issues that might influence your choice of freight forwarder. Meanwhile, you may like to look around our website to see if Shipa Freight's services are a good match for your international shipping requirements.