Working with Online Freight Forwarders: A Guide for SMEs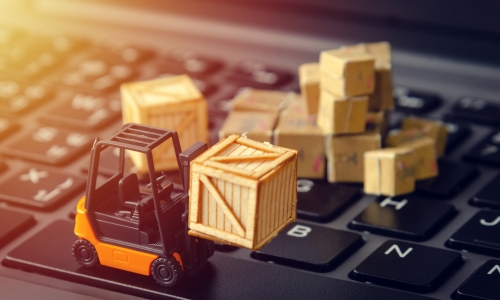 Effortless Shipping
Real-Time Tracking
24X7 Customer Support
Updated on 05 Feb 2022
12 min read

Working with Online Freight Forwarders: A Guide for SMEs
When you run a small or medium-sized enterprise trading across international borders, the management of importing and exporting procedures can be complicated, take a deal of time, and consume many resources.
You have goods and services to organize, trade barriers to overcome, supply chain integrity and customer relationships to maintain, and rules and regulations to comply with, so it follows that you want a good freight forwarder to relieve the supply chain management burden a little.
Guide to Online Forwarding for SMEs
A recent Shipa Freight study revealed insights into the international trading challenges that small and medium-sized businesses face in penetrating foreign markets. Our Ship for Success report found that 94% of SMEs have experienced difficulties including documentation complexities, customs delays, lost cargo, and lackluster service from logistics providers. The last point above is especially relevant to this article, because as you will know if your business ships goods between countries, help from the logistics sector is crucial in overcoming international trade barriers.
As your transportation partner, a good forwarder can ease the flow of goods and materials from source to destination, serve as your guide to exporting and importing, and help you negotiate international borders without hassles or delays.
The good news in this respect is that a new breed of forwarder, operating purely in the digital domain, is emerging, and some of these new entrants can offer SMEs the comprehensive shipping services once accessible only to large multinational conglomerates.
If you're thinking, "great, where can I find one of these omnipresent benefactors and what are they like to work with?" look no further, because this short guide will tell you all that you need to know.
What's Special About Online Freight Forwarders?
If you're not getting excited yet at the idea of a digital service for exporting or importing goods, it is understandable. After all, traditional freight forwarders have sufficed for the majority of international business operators for many, many years. However, as much as anything, that's because the conventional forwarding model was, until recently, the only option available—not because it was without drawbacks.
For the SME, online freight forwarding can deliver a range of benefits that increase competitiveness and reduce barriers to internationalization. Three of those benefits are outlined below.
1. Immediacy
Online freight forwarders can make it easier for your business to conduct global trade, because they develop systems of connectivity unmatched by their brick-and-mortar counterparts.
As soon as you book your import or export shipment, the digital forwarding platform shares the details with the parties to be involved, including the supplier, the recipient, and forwarding agents at the shipment's points of origin and destination.
There is no time lag while people make phone calls or email documents back and forth, so your shipments get underway much faster than is typically achievable with traditional forwarders.
2. Visibility
As an SME, your business might not have the luxury of logistics specialists whom you can task with shipment monitoring, and with traditional forwarders, you may not always receive prompt notification if issues arise when goods are in transit or undergoing customs processing in foreign countries.
Online forwarders typically have real-time shipment tracking facilities built into their platforms, meaning you will receive immediate, automated alerts if exceptions occur in the transportation of your products.
3. Customer Service:
All freight forwarders know the criticality of customer service for the survival of their businesses, but in conventional forwarding, transactional costs can be high. That often translates to a need to segment service levels according to the profitability of customers. In other words, high-volume, frequent shippers get VIP levels of customer service.
For SMEs, who might only make one or two LCL shipments per month, the level of attention is typically much lower, but with online forwarders, the opposite is true.
Because they use the latest technology for issuing quotes, processing bookings, and keeping compliant with shipping rules and regulations, online forwarding platforms reduce transactional costs, allowing the organizations behind them to invest more in providing personal attention and service to a broader segment of customers.
Benefits of Working With An Online Freight Forwarder
​​When it comes to getting your product from point A to point B, you might be interested in using an online freight forwarder. This is a company that specializes in the shipment of cargo and makes the process more streamlined by taking care of all of the logistics for you. If this sounds like something your business could use, keep reading to learn some of the benefits of working with an online freight forwarder.
1. They're familiar with the many different shipping routes
One thing that separates an online freight forwarder from other companies that help with shipping is their extensive knowledge about various routes. When you ship out products yourself, you don't have any control over where they're going or how they get there, but when you work with a freight forwarder, you can tell them where your product needs to go and they'll handle the rest.
2. They handle all paperwork for you
Shipping out cargo internationally requires a lot of paperwork, including commercial invoices and bills of lading. When you work with an online freight forwarder, however, this company takes care of it for you so that your business isn't burdened by administrative duties.
3. You don't have to worry about tariffs or tariffs taxes
Depending on what type of cargo you're shipping, there could be various tariffs or taxes involved when crossing borders. An online freight forwarder is experienced in international shipping laws and will know how to navigate these restrictions so that your products aren't stuck at customs. This means you don't have to worry about your products being held up in a specific country because of restrictions.
4. You can get quotes for parts of a shipment instead of the entire thing
Most companies that offer shipping services will give you a quote based on the entire package, but if you work with an online freight forwarder, they'll allow you to break down quotes into smaller pieces so that only certain shipments are affected by different rates.
For example, if you're sending out various types of cargo from different locations, you could receive separate quotes from the same company for each one so that all of your products reach their destination at once without any delays or extra costs.
5. They offer various pricing options
Many international shipping companies follow set prices for their services, but an online freight forwarder will often have different pricing options available. This means that you can see how much your shipment would cost based on its size, weight, and delivery method before deciding which one is right for your company.
6. You can get quotes without having to provide extra information
Another perk of using an online freight forwarder is that unlike other companies in the industry, they won't require additional information from you beyond what's necessary to fulfill your shipping request. For instance, when you place a quote request through another international shipping company, they might ask for more details about your business or products before providing you with a final price because they don't specialize in this type of cargo.
An online freight forwarder, however, will recognize that your shipment is within their specialty and provide you with a quote as soon as they can because they don't need any extra information to do so.
7. They charge by the weight of your products instead of an hourly fee or flat rate
Another way that an online freight forwarder is different from other companies that help with shipping is how they charge you for their services. As opposed to having an hourly rate or using a flat fee, some international shipping companies will use the weight of your products to determine what you'll have to pay, but an online freight forwarder will take this cost into account when providing quotes so that all prices are transparent before you decide which option works best for your business.
8. They can arrange for one of their partners to handle your shipment if they're not available
All international shipping companies have different policies when it comes to emergencies, but an online freight forwarder will be able to work around this issue by arranging one of their other locations to accommodate your shipment.
If you need cargo picked up immediately or moved right away after it arrives at the warehouse, an online freight forwarder will make sure that this happens so that your business isn't disrupted. Once all shipments are ready for delivery, they'll send them out via the method you requested.
9. They have a wide range of services offered
An online freight forwarder may offer various types of services in addition to just helping with shipping large amounts of cargo internationally. For example, they might have partnerships with other companies that provide specialized services for businesses with unique needs, which means you can send your shipments via a regular shipping company and then let one of these partners handle the rest.
10. They make it easier to send goods to China specifically
There are some international shipping companies that will give you quotes for cargo headed anywhere in the world, but an online freight forwarder is particularly beneficial if you're sending products to several different destinations or if they need to end up in China specifically because it's more common for this type of service provider to specialize in that market.
As opposed to hiring someone who doesn't understand the process or has no connections with Chinese businesses, you'll be able to hire an international shipping company that knows exactly what you need and has a track record of successful deliveries to that country.
How to Find Online Freight Forwarders
Maybe now you're a bit more convinced that engaging an online freight forwarder would be advantageous to your international trade. If so, there is even more good news, because these service providers are easy to find and engage. As you might expect, with a business model based entirely on an online presence, this type of forwarder can be found with a simple keyword search on Google.

Once found, you will typically find it possible to interact immediately with a digital freight forwarder directly through its website.
There may be an instant chat facility to connect you with a customer service adviser, and the most popular online forwarders have instant quote engines, that allow you to get indicative quotes for your shipment. These facilities will help you evaluate each forwarder to get an idea if their services are a good fit for your business.
Types of Online Freight Platform
During your evaluation of potential service providers, it's vital to understand that not all online freight forwarders are the same. Indeed, the service you receive will depend on what type of provider you select. Digital forwarding companies fall roughly into four categories:
Traditional freight forwarders that have implemented technology to digitize, but not necessarily change, the way they operate.

Digital freight markets that connect importers and exporters with forwarding agents, customs brokers, and carriers.

Freight forwarding platforms owned and operated by multinational logistics service providers, with an online front end connected to proprietary technology and supported by a worldwide network of resources and assets.

Independent online platforms operated by tech companies in partnership with one or more traditional freight forwarders or logistics providers.
Try Out Platforms as a Guest User
Your experience of working with an online forwarder will depend on which of the above categories your chosen platform falls into, although the digital front-end functionalities tend to be similar across all of them. Whichever type you opt for, you will probably find that as a guest-user, the services offered will be limited to some degree.
To access the full range of services, such as shipment booking, customs-clearance assistance, and indeed, any service beyond the provision of information and quotes, you will probably need to register on the provider's platform. However, it usually costs nothing to sign up, and the process should not take more than a few moments.
The Online Forwarding Process
By now, you might have warmed to the idea of working with an online freight forwarder, and be keen to understand the process in more detail. Again, simplicity is one of the main advantages.
A typical online process for exporters, for example, is as follows:
The exporter visits the forwarder's platform and fills in an online form to get an instant quote for exporting to Europe.

The quote is returned in moments or, if an instant quote is not available, the platform directs the request to a human agent, who provides the exporter with a customized quote.

The exporter, happy with the quote, follows a simple online procedure to create a booking.

During the booking process, the exporter provides information requested by the platform to meet documentation and compliance requirements.

Before completion of the booking, the exporter is prompted to pay online, using one of a range of payment methods, which might include invoicing on account or instant credit card payment.

The exporter pays the fees as per the quote, and the freight forwarder begins the shipment process.

The exporter can track the progress of the cargo from origin to destination, receiving real-time alerts at defined stages and in the event of exceptions.

If the exporter has questions or concerns at any point, she contacts the platform's customer service team to speak with an agent.
The entire process is managed by the forwarder's front and back-end software in a way that offers maximum convenience for the shipper. This convenience makes digital forwarders especially suitable for SMEs, as smaller enterprises often lack the resources for active supply chain management.
Fast Forward to a Better SME Shipping Experience
If you don't have means within your business to arrange domestic transportation in a foreign country or at home, coordinate air cargo or ocean freight services, or meet the obligations required for customs processing, you will need a freight forwarder to facilitate your imports or exports.
If you want to ship products or raw materials from one country to another competitively, quickly, and conveniently, then forwarders with online capabilities should be at the very top of your service-provider shortlist.